Watching Penguins
I didn't have anything specific planned for the time in Chile, since I didn't know when I would be back from Antarctica. So I went a booking center and booked a hotel room in Puerto Natales for a couple of days and a rental car. (I was in a bit of a hurry and I didn't have much time to shop around, so the car turned out to be a bit larger than I anticipated. The only one available on short notice was a pickup.)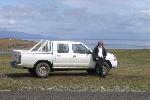 But later, when I found out how much I would be driving on dirt and gravel roads, I was quite happy with it. And, given how the car looked after a mud puddle that was slightly deeper than it seemed, I was glad that the car cleaning was included in the price...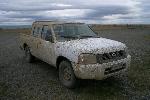 But for now, I parked the car in Punta Arenas and got on the ship to Magdalena Island, which is the home to a large colony of Magellanic Penguins. To put it mildly, the place is infested with penguins...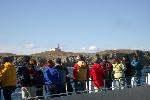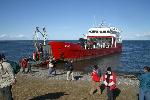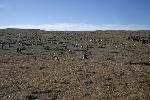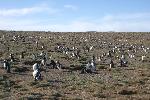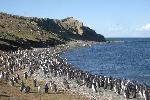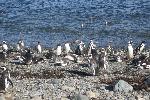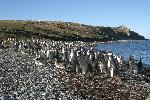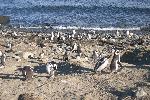 One of them even had it's own door sign. Just in case someone forgot what it was.

The ship took about two hours to get to the island (which I mostly spent at the food counter, depleting the ship's sandwich and coffee supply - since all the day had been spend in a somewhat hectic manner, my last meal had been on board of the Ilyushin) and there was about one hour on the island. There is a marked part to the lighthouse at the center of the island and the one hour matches the time to slowly walk there and back pretty well.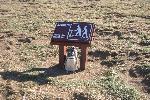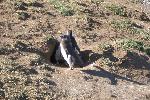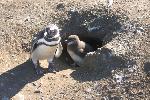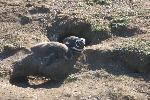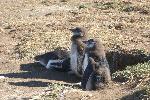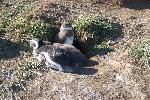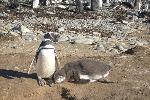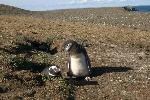 The penguin live in little holes in a ground. [Note that this is not even close to New Zealand, hence no cute Hobbit references. I even resisted rendering an 'Eye of Sauron' into the shiny silver ball at the South Pole.] The holes are pretty evenly distributed over the island, so it's not a tight huddle of penguins (like with emperor penguins), but more like someone had been sowing penguins all over the place. Reasonably even distribution.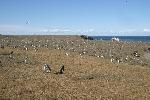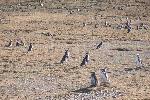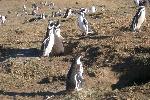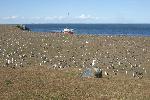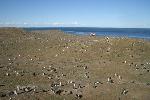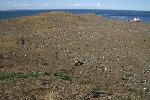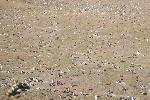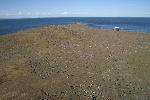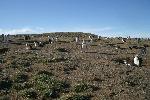 There were typically three penguins per hole. Two chicks, still looking fluffy, but starting to lose that first down, and one adult penguin.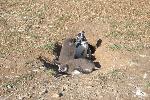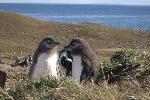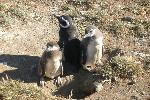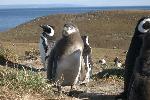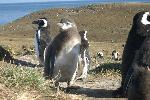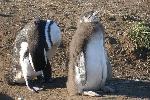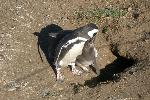 This is the lighthouse in the middle of the island. It offers nice views across the island and the Magellan Strait, which was very calm that day.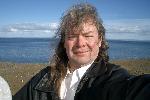 I also had the little penguin with me, who got a chance for a final photo session with his bigger brothers before being retired from office duty...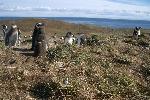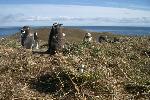 The penguins mostly seemed to ignore the visitors, except for the one 'attack penguin', who stood right at the side of the path, squawked at everyone and tried to bite as many trousers as possible...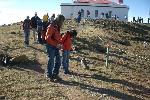 After going up to the lighthouse, it was time to head back to the ship, taking some more pictures along the way.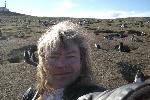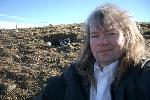 There was this orange pole stuck into the ground somewhere. The penguins around looked almost like its security guards...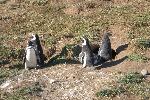 When there was a gap in the stream of visitors, penguins crossed the path in groups. Some of them almost acted like school crossing wardens...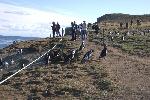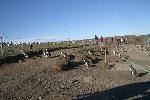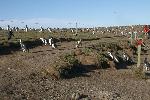 Not only penguins were breeding on this island. Especially in the higher areas, you could see seagull chicks as well.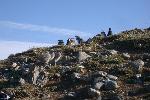 Two more shots of penguins howling at the moon, and it was time to go. (Ok, they didn't howl at the moon. But it was still time to go.)


An interesting thing happened on the way back to Punta Arenas. As it is often the case on such tours, a lot of people were standing outside on the way towards the island. (When I had been more interested in coffee and food.) On the way back, there was this feeling of "that's it" and people went for food and coffee, while I was standing outside, thinking (mostly along the lines "That was great. I should be enjoying this. But I'd rather be back and look at snow and ice.") and looking out across the water. And while doing this, I spot a large jet of water to port. Looks familiar. (Ok, I've seen that only on one occasion, a couple of years ago, so 'familiar' isn't quite the right term.) In Summer 2003, I was on a whale watching tour that was looking specifically for blue whales (and got to see one - see here). And blue whales have a fairly distinctive single column blow, unlike humpbacks, which supposedly have a much wider spray.
A short time later, the water jet appeared again, the ship was changing direction towards it and people started coming outside - someone must have made an announcement and everyone was very excited. The whale came up for three more times before diving deep. (The diving pattern was slightly different from the one I had seen near Iceland (five short dives before going deep instead of three), but the flukeprint looked similar and there are blue whales in that area at that time of the year, so there's a reasonable chance that it was a blue whale.
It felt slightly odd. It wasn't that long ago that I had flown to Iceland for a long weekend, with the specific aim to see a blue whale and had been almost ecstatic that I had seen one, and now I had seen one as a sort of 'free bonus' after seeing thousands of penguins, but my main though was "I should enjoy this. But I'd rather be on the ice again." Took me a couple of days to get over this feeling.