Canada Snowmobiling and Dogsledding, March/April 2010
In the meantime, the rest of us was sledding in a small group, with Kris guiding on a snowmobile and Veronica and me following with the dogs.
Since the other dog teams weren't running that day, there was a bit of a change to my team that day, with Kettle standing in for Legolas and Roo running instead of Lady, allowing me to have the two cutest dogs of the bunch running side by side.

Sled

| | | |
| --- | --- | --- |
| Kettle | Roo | Maracas |
| Frodo | Tim Tam | Arwen |
So after a warm breakfast and packing the sleeping gear away for one last time, it was time for one last day of mushing.
As far as dogsledding was concerned, that was the best day of the trip.
Since we were running only in a small group, we were moving much faster than a large group anyway, because fewer stops were needed to keep the group from separating too much. We also had more time for the actual sledding, since we didn't have to break and make camp. And we also had more experience with the sleds and the dog teams than on the first couple of days, so we could go a bit faster, there were fewer (well, zero) falls and we could drive the sleds across places where we previously had to be 'ferried across' by snowmobile.
So on that day, we made it almost the whole way to the camp we had started out the previous day and all the way back to Dawson again.
It was also quite fascinating to watch someone mushing in front of me.
For the rest of the week, my team was riding in front, so I didn't see how the others were getting along behind me. Probably fine, since I didn't have any loose teams passing me, but I don't know.
On that last day, I was running the second team, so I could watch Veronica going in front of me. And I have to admit that she was running a lot more stable than I did. While her sled was pretty much going on a straight line and following her dogs, mine tended to go all over the place.
That was quite noticeable on any bit that was sidewards slanted. Her sled remained mostly on track, while mine was sort of 'hanging down' behind the wheel dogs and getting pulled along sidewards.
Luckily, for my ego, I got a lame excuse for that, since my sled was a different built from all the other sleds (a partly wooden instead of an all-metal frame with a lower handle), which supposedly handles differently than the other sleds. (But that's also just 'different', not 'harder to handle'. On trip preceding hours, two people had been exchanging sleds after a couple of days and both needed a while to get accustomed to the different handling, so it wasn't that one sled was inherently more difficult than the other.)
Realistically, I'm probably just not very good at handling a sled.
But I am quite good at enjoying it a lot!
Then it was time to finally say good-bye to the dogs, return to 'civilization' (well, Dawson City, which is a good halfway point) and check into the hotel.
The hotel has a fair bit of character and was originally built in 1900 (when the gold rush was already almost over) and had pretty much turned into a rotting hulk before being moved, renovated and turned into a hotel.
The house supposedly was a brothel in the 1950's, but since all the references to that on the web and also in the hotel brochure are heavily qualified with 'allegedly', 'rumoured to be', 'it has been said' and similar phrases, it might just be a legend to make the place seem more interesting.
The hotel offered the first mirror for a week and convinced me once again that, with a week's growth of stubble, I neither look cool or dashing, and it was time for a shave (and a long, leisurely bath).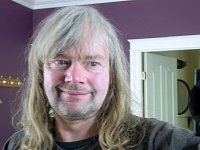 There was also ample time to have a look at Dawson City. It's not a large city anyway, so you can cover most of the historic bits in about 20 minutes, but it's also pretty much dead in mid-April, so most of the places hadn't opened yet for the season.
With almost nobody in the streets, some of the stores being 'pretend-stores' (with some historic stuff in the windows, but with other businesses inside) and half of the rest being closed, the place feels more like a movie set than a real town. That might be different in summer (or maybe the impression of a movie set is stronger with people on it), but at that time of the year it felt strange.
Even though I don't drink beer, I like the motto on the can.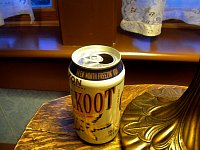 Since there wasn't that much to do or see in Dawson City, I had enough time to walk to a viewpoint above the city and take some pictures from there as well. And while the viewpoint doesn't offer much of a view of historic Dawson City itself (there's a bit of a forest in the way), there are good views of the Yukon and the Klondike.
It was a bit surprising how much you get accustomed to reacting to the togs, though.
I was standing at the viewpoint and heard the yapping of Tim Tam and automatically turned into that direction, saying "Oh, shut up, Tim Tam, learn to bark properly!", before realizing that the dog was about a mile away.
Next day it was time to fly back to Whitehorse, where (except for some crumbling snow banks next to the river), spring had broken out for good.
(No, the ship in the last picture is not the same as the one a couple of pictures earlier. The 'Keno' (further up) is located in Dawson City, the Klondike (last picture above) is in Whitehorse. They look pretty similar, though.)
Whitehorse has one of the most encouraging pieces of graffiti I have seen.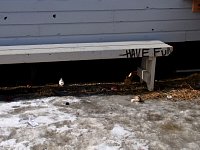 And while I did hat fun, it was time to leave again.
(One of the real downsides of these kinds of trips - there are more endings to the trip than to Lord of the Rings. There is the last night on the river, the last night in the tent, the last day of dogsledding, the last day in Dawson City, the last day in the Yukon Territory and so on. So getting home drags on a bit. And this time, it was dragging even more than expected.)
But at least there was something cute watching me leave.
Right outside the airport building in Whitehorse a little head was sticking out of the ground and watching me walk by.
There are also gophers inside the airport area itself. When I was in the plane and it was taxiing to the runway, I could see a gopher in the grass next to the runway, watching the plane go by...
And that was the end of the Yukon part of the vacation.
Time for some numbers and data. Here are the daily distances covered. And also the GPS trail of the dogsledding trip put onto a map of the area and as a downloadable track to see in Google Earth.
Monday sledding (camp 0 - camp 1): 14.65 km
Tuesday sledding (camp 1 - camp 2): 16.607 km
Wednesday sledding (camp 2 - camp 3): 1.44 km
Thursday sledding (camp 3 - camp 3): 17.78 km
Friday sledding (camp 3 - camp 4): 12.51 km
Saturday sledding (camp 4 - camp 5): 17.88 km
Sunday sledding (camp 5 - camp 5): 29.74 km
And there is also one bit of information I forgot to take the previous year, namely the family relation of the dogs. There was a convenient 'family tree' hanging in the homestead in Whitehorse and I had looked at it for some time, but forgot to write it down or take a picture. Luckily, this time I remembered.
The table is two years out of date, so some dogs like Kettle and Drumlin are missing, but at least it helps me to remember which dogs belong to which litter.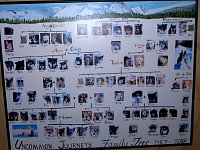 By now the trip was supposedly almost over and all I needed to do was to spend a day sightseeing in Vancouver and fly home, but it got a bit more complicated than that.
Continue to the next part of the Canada 2010 trip.