Qaanaaq, Northern Greenland, March 2007
To have some buffer in case of delays (we might have gotten into a longer storm and not gotten out of the hut), the sledge trip ended on Sunday, while the flight back was on Wednesday, so I had two more days to spend in and around Qaanaaq.
I brought the rented clothing back to the tourist office and walked a bit through Qaanaaq.
I didn't get to eat at the 'Polar Grill', one of the most northern fast-food places in the world, since it was closed. (I assume it's closed for the season, not closed for good.) Too bad, since that is the only place in Qaanaaq where you can actually buy warm food. There are no commercial restaurants or cafes to be found. (Which is not a problem, since there's a small hot dog stand in the supermarket and Hotel Qaanaaq has breakfast and dinner and coffee is available 24 hours, but you can't go anywhere else.) Although the web page of the tourist office has some pictures from a 'cafe opening', but that seems to be more like part of a community center than a commercial place. And I didn't find it...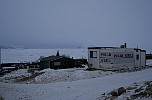 The polar cafe wasn't the only place waiting for warmer seasons. Whoever parked his car at that place will probably also be waiting for the snow to melt, to be able to use it again.

Another victim of the weather was the old mechanical weather station. (Though I assume that it's not really used anymore and all weather measurement is done digitally.)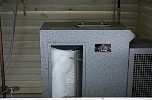 Some of the other Qaanaaq landmarks: The police station, the tourist office, the skateboard rink and freeze-dried fish.
I also wanted to go to the museum, but unfortunately the curator was ill. But this wasn't any problem. Hans Jensen, owner of Hotel Qaanaaq, just got they keys to the hotel and opened the museum.
The building itself is probably the most important exhibit. Back in 1910, Knud Rasmussen built it as a trading post to create fur trading opportunities for the Inuit and make some profit to organize his expeditions in Northern Greenland. Later, the site where the trading post originally stood was turned into an American airbase. So the building (which wasn't used as a trading post anymore, but had historical significance) was dismantled and newly erected in Qaanaaq as a museum.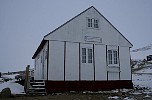 Outside the museum, three cannons are mounted. These were not used for defence, but only for firing a salute and announcing the time.

Although the museum is strongly tied to the memory of Knud Rasmussen, his image is not very prominently displayed...

There were two especially interesting exhibition pieces. One was a piece of meteorite, which was almost completely metallic (I think it was about 97% metal or so) and, for a long time, used to be the only source of metal for the Inuit in the area, to be used for the manufacture of knifes. The other piece, hanging from the ceiling, was an inflatable seal.
It sounds a bit silly, but it used to be an important tool. The inner parts of a dead seal were removed, trying to damage the skin as little as possible (kind of preparing an Easter egg, but not much so) and the cut up buts were sewn back together tightly. Then the seal skin was inflated and attached to a harpoon with a rope. When hunting whales or walruses, this served two purposes. It was easier to see where the animal was going and it was harder for the animal to dive away, especially if a couple of 'seal balloons' had been attached.

The next day was my last full day in Qaanaaq. So it was time to head out onto the ice for one last time and spend some time among the icebergs (and take lots of pictures of icebergs in the sun).
What was strange for me, being mainly a city dweller, is that I was all alone among the icebergs. Sometimes dog sledges passed by in the distance, but I was the only one wandering across the ice.
As far as I can tell, I was the only real 'tourist' that March.
Since there is only one flight into Qaanaaq per week and only one hotel, it's pretty easy to see who is "new in town".
When I arrived, the only other guest in the hotel was a guy from Denmark, who waited for the helicopter flight to Savissivik, where he wanted to visit a friend of my. Since he was going for a vacation, he was the almost a 'tourist', but he was visiting someone he knew, so he didn't quite count.
The second week, the other rooms in the hotel were taken by a group of accountants from Denmark, who were there to check accounts of the local community.
The third week, the other rooms were taken by an international group of scientists, working for a project led by a professor from the university in Nuuk. (And a Greenlandic documentary producer, filming the proceedings.) No tourists either.
And, except for me, nobody seemed to be interested in icebergs and hiking among them.
So, for miles, the only tracks on the ice were mine. It was a good opportunity to take some 'the road less travelled' kind of photographs.
After a couple of hours, I headed back to Qaanaaq. On the ice, I noticed a strange sight: A refrigerator roped to the ice, with a 'guard dog' next to it. I have no idea what it was doing there, but it didn't quite fit into the environment.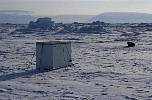 (Qaanaaq and refrigerators are an odd combination anyway. There is this old stereotype about 'selling fridges to the Eskimos'. Strangely enough, I have seen a couple of refrigerator lying in the streets. But, oddly, no other household items. No cupboards, washing machines or vacuum cleaners, but fridges in at least in four places. All clearly thrown away and not just placed somewhere outside, like the one above. The 'obvious' joke is probably that they had a very competent salesman there last year and everyone bought fridges and then realised that they don't really need them most of the time and just threw them out. Why there were really out there, I have no idea. Maybe it was the week for picking up bulk rubbish. But it looked very stereotypical.)
I also visited the local football field. Unlike in most other places, football has to be strictly a winter sport in Qaanaaq.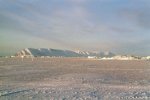 Something 'not so funny' was a dead dog lying somewhere in the ice. Probably a fairly young dog that tried something stupid. (Dogs are allowed to run free - and cause lots of mischief - until they are about half a year old.) What was kind of strange about it was the pose. It looked like it was just frozen while standing somewhere and fell over. (I would have expected a more 'lying' position for a dead dog, but I'm no expert in dead animals.)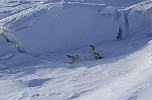 Originally, that walk among the icebergs was supposed to be my last trip over the ice before heading back, but looking out the window after dinner, it looked like it was going to be another great sunset. And instead of watching that from the hotel, I went down to the shore and on the ice again to take some more sunset pictures (the last ones for this trip, I promise...)
Next morning, it was time to get to the airport and fly back to Ilulissat. The helicopter from Savissivik also arrived in time to meet the incoming flight.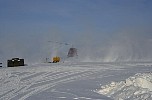 And then it was time to leave Qaanaaq after three rather unusual weeks of vacation and to look back upon the ice out of the plane window.
The flight to Ilulissat brought a little surprise.
After the scheduled stop in Upernavik, the plane took off again, but after less than five minutes it descended rapidly and flying low over the ice and making an 180° turn. There was an announcement, but that was only in Danish and Greenlandic, so I had no idea what was going on.
I assumed that they had forgotten something in Upernavik (Passengers? To refuel? My luggage, again?) and the plane was returning to Upernavik.
But the plane was only flying back a few kilometers and then started circling low over the ice. (To a point where I was asking myself whether the pilots were aware that they were flying a four engine, fifty seater airplane on a commercial flight and not some Cessna on a weekend trip...)
At that point I started to assume that they might have caught some emergency signal from an expedition or something like that and were trying to have a closer look.
The other passengers were looking out of the windows and looked interested, but not alarmed or frustrated. I asked the guy beside me what was going on and he told me that the pilot had spotted some polar bears and wanted to give the passengers to take a look.
After knowing what to look for, I managed to catch a glimpse of a yellowish spot on the ice before the plane ascended again and we continued our flight.
So I managed to see a polar bear in Greenland, after all.
(And I am reasonably glad that I didn't see one when being up in Qaanaaq. The guy from Denmark, who had been with me in Hotel Qaanaaq during the first couple of days, had been out with his friend and a couple of other hunters in Savissivik and managed to see five polar bears, of which three were shot.)
The flight to Ilulissat continued normally, even though it was a bit delayed. But I don't think anyone minded much. And there probably aren't many flights that are delayed by polar bears...
Onwards to the next part about Greenland.