Svalbard - Dogsled and Snowmobile, March 2011
I hadn't pre-booked anything for the next two days, so I didn't do much on the next day. After sleeping late, I just walked around a bit in Longyearbyen.
Partly due to not having much else to do and partly to see whether I would be able to take a picture of the sundial showing the current time.
While it was mostly sunny that day, most of Longyearbyen was still in the shade of the mountains for most of the day. And in the short time where the sun did pass a gap in the mountains, there was a cloud in the way, so this didn't quite work out.
But walking around Longyearbyen was still great, since it seems to be much easier to photograph wildlife in town than out 'in the wild'.
The first thing I noticed was a reindeer.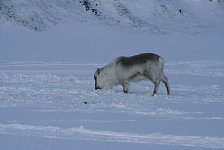 And while this might look like being somewhere at the edge of town, it was actually grazing at the local playground.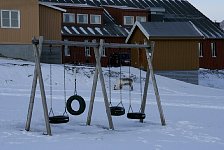 And from the site of the sundial, I could see the back side of "Mary-Ann's Polarrigg", where I had spent the first night in Svalbard on this vacation and noticed an arctic fox obviously looking for some food scraps.
I couldn't get much closer without being likely to scare the fox away, but from my position I could observe it for some time and take a series of pictures.
Moving on and looking out over Adventfjorden, it seemed at first as if bad weather in the form of a sinister looking dark cloud would be forming, but that just turned out to be the usual vapour that tends to appear over the edge between the ice and the open water. And since it was still quite cold (and thus the temperature difference between the water and the air as well as the ice surface quite large), it was not just a bit foggy, but a thick, dark cloud. I hadn't seen the effect in such an extreme form before.
But it was time to walk back to the guest house to take care of two things.
First, I needed to book something for the following days (because walking around Longyearbyen is not enough to fill half a day, much less two) and I needed to check out because I was changing hotels again.
For the next day, I booked a snowmobile trip to Barentsburg, a Russian mining town on Svalbard. While I had visited it in 1998, that was a long time ago. But the main reason for going there specifically was that it's in the opposite direction of Tempelfjorden, so there was no chance that the trip would be re-routed to Tempelfjorden for any foreseeable reason.
Also, the trip was offered by a company that had a 'minimum participants' number of 'one', so even if nobody else booked the trip, it would not be cancelled.
After that, I switched to another hotel.
I had noticed when planning the trip that by now I would have stayed in almost all hotels and guest houses that Longyearbyen has, so it would be fun to go and try this one as well.
Similar to "Mary-Ann's Polarrigg" it's pretty eclectic as far as the common areas are concerned, but while "Mary-Ann's" got fairly bland rooms, the style extends here into the rooms as well.
It's fairly much like a number of small trapper huts built into one building, made mostly from rough materials.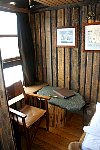 And while some of the individual rooms seem a bit small, there's always the option to sit in the lounge (aka. 'Cognac Room').
It's a bit expensive, but nice. (Ok, this is 'a bit expensive' for Norway, which translates to 'horribly expensive' for almost everywhere else, but it's still nice. And since my next booked tour - after the Barentsburg snowmobile tour - would be kind of 'roughing it in comfort' anyway, it seemed fitting.)
But first would be next day's tour to Barentsburg.
Which was near-perfect.
The weather was great, cold, but not extremely so, and sunny.
And it turned out that I was the only one who had booked the Barentsburg tour for that day, so it was just the guide and me on the tour.
So we took it easy and the tour was more like having a relaxed day out with a friend, with lots of photo stops and detours and some fun driving than a formal tour.
We started out by driving up Longyearbreen (the glacier at Longyearbyen) and stopped for some pictures before going down Fardalen.
While standing there and photographing, a ptarmigan landed right next to us, took a look and posed for some photos.
There was quite a bit of wildlife to be seen in the landscape between Longyearbyen and Barentsburg. A shirt distance farther on, we spotted an arctic fox nearby and another arctic fox when reaching Barentsburg itself. (But I only had a compact camera with me, which had problems focussing on a white fox on white snow, so no pictures...)
We also surprised (and were surprised) by a reindeer darting off right next to the snowmobile (we had taken it for a big rock next to the trail until it unexpectedly started to move).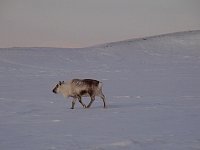 On the way, we a short detour towards Colesbukta, an abandoned group of houses that was used when the coal mine at Grumantbyen was still active. But now the houses stand empty, except for a storage building that still houses coal samples from the mine.
Further on to another stop to look over the sea ice on the properly named Isfjorden and some photo silliness.
We had some instant lunch at the old Barentsburg heliport and then headed on to the 'city limits' of Barentsburg.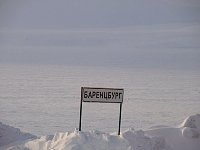 Barentsburg is the remaining Russian presence in Svalbard.
Due to the history of Svalbard, the archipelago is for most practical purposes Norwegian, but a number of other countries have the right to establish settlements there and exploit natural resources. Barentsburg is a coal-mining town, though it is often remarked that the mine is operated more for political reasons then for practical ones.
I had been in Barentsburg in summer 1998 and was quite surprised how little the place has changed since then.
I am not sure what changes I had expected. A town usually doesn't look that different within a bit more than a decade. And Barentsburg is mainly a 'company town' for coal mining. I didn't really expect outdoor stores, fast food chains and coffee shops lining the streets.
But I had assumed that it would be different in some way.
Back in 1998, which was already some time after the end of the USSR, it could be argued that Barentsburg was a bit remote and changes would only slowly make their way up there.
But by now, the Soviet Union is gone for two decades and the place still seems a bit frozen in time. Yes, there's a hotel and you can go to the cafeteria, send some postcards and buy souvenirs. And it's a mining community, so it does not really need to cater to non-residents or employees. (For example, Svea, which is a Swedish mining town on Svalbard, does not have any facilities open to visitors at all.) But even taking this into account, with the Lenin bust, references to the Barentsburg Kombinat, the socialist realism kind of signs, the whole place seems oddly out of time.
Interesting to visit, though.
Even with taking it slow and having a number of stops on the way, we were still comparatively early when leaving Barentsburg. (The main reason was probably that with just two people, a short stop can also be a two minute stop to take some pictures, while with a larger group, it's probably impossible to have any stop shorter than 15 minutes until everyone is ready to move again. Also, with weather like this and good visibility, it was easy driving.)
So after continuing for a while further down the coast of Grønfjorden (due to the availability of sea ice not that much along the coast, but more along the actual fjord) and then down Grønfjorden, the guide made the suggestion that, since we had time to spare, we might ignore the usual route back to Longyearbyen via Skiferdalen and then through Fardalen again, but doing a slightly longer trip by heading towards Reindalen instead and then meeting up with the track from Svea to Longyearbyen along Gangdalen.
A good idea for several reasons. The trip would be longer, we would not retrace a track that we had already covered that day, we would pass through a valley that's rarely on tourist routes and we would drive down the Svea-Longyearbyen track again, which is fun to drive (and this time even in weather where it was possible to see where you were going). It later turned out that there was an unexpected added advantage going that way.
So instead of heading on straight down the track to Skiferdalen, we turned right here.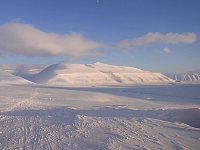 Reindalen was fun to drive through. Nice flat terrain and while the hills on one side of the valley looked like most hills in this area, the hills on the west side of the valley didn't have quite the same eroded look to them.
And the track down Gangdalen was as much fun to drive as I hoped it would be.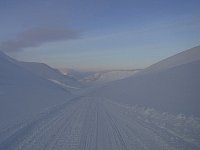 On the way, we met a group doing dog sledding, so we stopped our snowmobiles and I took some pictures. The dog sleds didn't have any relation to my vacations (as far as I could tell, they were private dog sledding teams and not part of a tourist trips), but since you usually don't get to do any good pictures of dogs on the move (because you are busy with your own sled any time you're moving and even if you do photograph while sledding and even if you are not on the last sled in the line, you still only get frontal pictures of the dogs), it was a good opportunity to get at least some 'dogsledding action' photos.
By now, it was time to get back to Longyearbyen.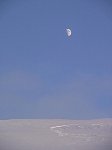 Still a couple of kilometers out of town, we spotted something looking like a group of people standing on the ice.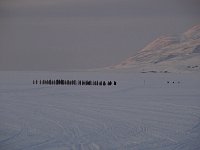 At first I took it for a group of spectators for some minor sports event (parents watching their kids playing ice-hockey, perhaps).
Only when we came closer, we realized that most of the figures weren't moving and they looked kind of strange.
It turned out that these were a large number of statues made from drink cans and building foam, which were put on the ice in long rows as part of an art installation.
The people moving around were the ones setting the whole thing up. There were a couple of shipping containers nearby from which the sculptures were taken and placed on the ice in rows. I didn't get to see the completed installation (when I was there, only two rows were finished and they were in the process of setting up the third - given the number of containers and some of the markers on the ice it seemed like there would be eight or ten rows of them when they were all set up).
I'm not sure how long the sculptures were supposed to be standing - when I passed the spot on the next day, a lot of them had been blown over by a snow storm and when I came back two days later after the second dog sled tour, I didn't see any figures at all - no idea whether I didn't look properly, whether they all had fallen over or were already removed.
Suddenly coming across a big art installation somewhere on the ice was utterly unexpected and made a fitting close to a great day. (And, if we had just followed the planned route, we wouldn't have passed by this spot and never noticed it.)
Sometimes days just work properly. This was one of them.
This is the route we took, covering 140 km: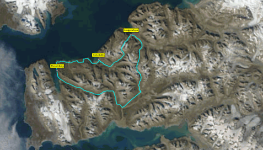 The route of the Barentsburg trip (as a Google Earth KML file) is here.
Onwards to the second dogsledding tour in Svalbard.
Continue to the next part of the Svalbard 2011 trip.