Windsor, October March 2011
About a month after visiting London, I got to spend a weekend in the Windsor area.
Instead of going to Windsor Castle, I decided to visit Legoland.
I was a bit unsure about the visit, since Lego has sold all the parks (except the one in Billund) and they are now managed by another company.
So I didn't know whether I would enjoy the visit or whether I would just go around and grumble.
A little bit of both.
There were quite a lot of things to like, but the rift is fairly noticeable.
The park itself is much nicer than I thought, since it is not in a flat area, but at a hillside and more integrated into the landscape than the ones in Billund or Güntzburg are (I haven't been to the one in California, so I don't know how that looks like) and it has a good view of Windsor Castle.
And the usual 'Miniland' as the centerpiece of the park is also quite likeable, especially since it is mostly 'old style'. Which may need some explanation. In newer Lego presentations (like the one in Güntzburg or the 'Discovery Center' in Berlin), there is a larger usage of 'non-standard' bricks, i.e. bricks that appear in some sets, but are not really that easy to get.
Having such bricks makes it easier to make 'realistic' looking sculptures, but I just like the 'bricky' look and there still were a lot of them.
On the other hand, a lot of the newer attractions have, at best, a couple of Lego sculptures standing around somewhere, but, would those be removed overnight, it would just be any kiddie fun park - there's little in the 'look and feel' of the attractions themselves that say 'Lego'.
Since Legoland Windsor is on the side of a hill and the entrance on the upper end, you need to follow an uphill road for a bit. Something I liked about it was a couple of smaller figures 'moving' a number of letters.
I liked them because they were in an odd order. I was walking up the hill (instead of driving), so I had a bit time to consider them, but the first letter was an 'L' and the second was an 'E', so I expected the letter to spell 'Lego' or 'Legoland', when the next letter turned out to be a 'C'.
I then assumed that the 'C' was supposed to be an incomplete 'G' (the overall theme seemed to be 'building' after all) and felt justified in that assumption when the next letter was an 'O'.
Which was followed by 'M', 'E' and 'W'. Lecomew? Lego-Mew?
Walking on, I realized that the letters would actually spell 'Welcome', but I liked the fact that the letters were jumbled, so it wasn't that obvious and that it played (whether intentional or not) with the assumption that something starting with 'LE' would turn into 'Lego'.
The confirmation then came once I came to the crest of the hill and was greeted by this: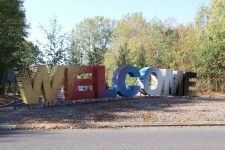 Going up by car would probably be too fast to notice the sequence, but for someone walking there, it was a bit of an added bonus.
There's not much to say about the 'Miniland', which is the center of every Lego park and consists of various buildings from all over the world, rendered in Lego bricks.
So here's a bunch of pictures:
One of the fun things to do in a park like this is to look for oddities.
For example, there were a number of Canary Wharf buildings and on closer inspection there was a Dalek lurking in the corner of one of them. (If that doesn't ring a bell, look up Battle of Canary Wharf...)
Or a shady street salesman in a side street somewhere.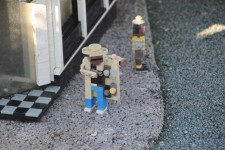 There were also cute additions to other 'old fashioned' areas, for example a wolf hiding in an unusual fashion or Prince Charming being nagged on his mobile phone.
While the Miniland is the primary area with Lego sculptures, there are quite a few others scattered around the park, mostly related to some smaller rides (like the fairytale land tour above, but also on 'animal safaris' or 'dinosaur experiences'), which mostly cover a wide range of real and imaginary animals.