Canada Dogsledding, April 2009
Visiting Antarctica showed me that standing in places with flat snow and ice is fun.
Visiting Greenland showed me that dogsledding in places with flat snow and ice is fun .
So doing my own dogsledding (instead of just sitting on the sled as in Greenland) in places with flat snow and ice should be even more fun, right?
With a starting paragraph like this, the next line should probably be that it is not, but in fact it is.
The surprising twist (at least for me - seems like everyone else knew that already) is not that dogsledding on icy planes is not fun, but that dogsledding is fun, even if it's not on sea ice.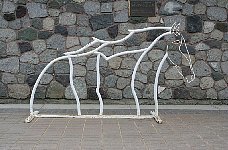 The trip started in Whitehorse, a small city in the Yukon, which, to paraphrase a popular travel guide, is seen as a bit 'yuppie-ish' by the rest of the Yukon. Probably rightly so - Whitehorse has a two Starbucks, as far as I can tell the only ones in the Yukon.
I arrived fairly late in the evening, went to a hotel next to the airport and was a bit surprised the next morning that I couldn't see the city. According to the map, the city should have been right on the other side of the airport, but there was nothing to see.
So I walked around the airport fence to have a look and it took some time until I actually found Whitehorse.
The cause for my confusion was this: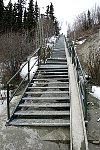 Well, not the actual stairs, but the fact that most of Whitehorse is next to the Klondike river and that lies a bit below the airport. Once you find the city, it turns out to be actually quite large.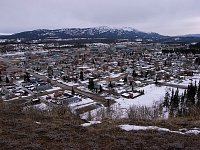 On of the attractions is an old steamer, the S.S. Klondike, which is now a national historic site, but it's not accessible in the wintertime.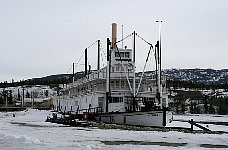 But my primary destination wasn't Whitehorse anyway.
So what was I doing there?
It's a bit complicated, but it's also odd how things sort of just fell into place and suddenly took shape.
Essentially, it started in Antarctica three years earlier. While sitting in the main tent in Patriot Hills, still close to the beginning of that trip, one of the clients asked two of the guides about dogsledding and what would be good companies to go with. One of the guides recommended two companies, with only one being really suitable for tourists (the other one, Matty McNair's NorthWinds, does not do 'tourist trips' as such, they're more aimed towards expeditions and training).
At that time I wasn't considering a dog sled trip at all. I had been on two short two-hour tours in Svalbard and Iceland, but that was all. I only sort of remembered the name of the recommended dogsledding company since their name was uncommon.
While standing around at Patriot Hills and staring at the landscape I found out that I really love that sort of scenery and Cherry Alexander, who is a photographer specialized in Arctic photography and was also at Patriot Hills at that time, recommended going to Qaanaaq, Greenland, since it was likely that I would enjoy the scenery there as well.
Which resulted in my trip to Qaanaaq the following year. I went there mainly for the landscape, but the best way to get around in that landscape is to go with an Inuit hunter on a dog sled. So while I didn't do any dogsledding myself, I liked the way of travelling and thought "This is fun. It would be even more fun to drive the sled myself."
Since my main interest was still landscapes (or, more accurately, the absence of landscapes), I looked for dog sledding tours that were on sea ice, allowed you to drive your own sled, lasted at least a couple of days (mainly I knew it would be fun for two or three days in any case and I wanted to find out whether it's something that is fun in the long run and that takes at least a week to find out) and they would take me along (which is not a trivial issue - many dog sledding operators require that clients on their longer tours have at least done one of their shorter tours).
Turned out that there was only one trip that actually went over sea ice with 'self drive' option. (All other sea ice tours were the same style as the one in Greenland - travelling as guest on an Inuit sled.) At it lasted 13 days (with about a week of actual dogsledding) and they were willing to let me participate.
And, oddly enough, it was offered by the company which I thought was the one recommended by the guide the previous year. (In the end it turned out that I remembered correctly. Denise Martin, who was the guide, and the owner of the dogsledding company knew each other, so it is likely that she recommended his company.) So things fell in place rather neatly.
The only drawback - the trip to Herschel Island happens only rarely and there was no trip in 2008. But I got a mail saying "Would April, 2009 work for you?", so I did something else in April 2008 and hoped that the dogsledding trip would indeed happen in 2009.
Which it did.
And since Uncommon Journeys is based in Whitehorse, the trip started there, though it was back to the airport on the next day to say goodbye to the fairly large weathervane at the airport entrance and fly further north.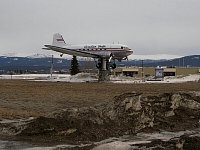 After six hours, we arrived in Inuvik. (It's not that far away from Whitehorse as it may appear, but the plane stops in Dawson City and Old Crow on the way, so it takes a while until it gets to Inuvik.)
Inuvik has only one 'tourist attraction', the 'Igloo Church':
The other claim to fame for Inuvik is that it is the northern end of the Dempster Highway, so for wheeled transport, it's the end of the line (mostly). Although, in the wintertime, there's an ice road connecting Inuvik to Tuktoyaktuk and Aklavik.
But, to quote "Back to the Future": "Roads? Where we're going we don't need roads. "
The plan was to fly with a Twin Otter to Herschel Island and pick up the baton there.
The concept for the trip was (originally) as follows: There would be one trip with three tourists driving the sleds from Aklavik to Herschel Island and one trip with three tourists driving the sleds back from Herschel Island to Aklavik. There would be a flight from Inuvik to Herschel Island in the middle of the trip, picking up the tourists from the trip to Herschel Island and dropping us off. It didn't happen exactly like that, but it didn't matter.
One of the differences was that we were only two tourists flying in, since one of the tourists already on the ice was going for the whole distance and did both tours back to back, so only two 'dog drivers' were exchanged. And the dog teams weren't at Herschel Island. They had a bit of bad luck on the way out, with four dogs injured, a forced layover day due to bad weather, but mostly with unusually rough sea ice, so they hadn't gone the whole distance, but decided to set up camp somewhere on the ice and do the remaining bit to Herschel Island with snowmobiles.
So Sippi (who was the other client flying in) and me headed for the hangar at the airport to get on the Twin Otter for Herschel Island.
We were greeted with bad news.
The weather report for Herschel Island was unfavourable and we were given only a fifty-fifty chance of being able to land there, so there was the possibility that we would fly to Herschel Island and just turn back to Inuvik. We checked back with the tour company in Whitehorse and got an immediate "Go ahead. Fly!".
Turned out we couldn't.
Inuvik Airport isn't one with lots of traffic, but just at that morning an incoming plane reported possible brake problems and they had an ambulance and a fire truck waiting at the runway. The plane came in without any problem, but, just to be on the safe side, it stopped at the end of the runway and didn't taxi away, so the runway was closed for an hour before they moved that plane away.
So we got to wait in the hangar, drinking coffee.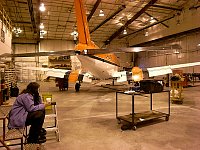 We were quite surprised to find out that the pilots were considering our trip somewhat odd, but interesting and sort of a cool thing to do. We had more or less assumed that dogsledding is a common activity in that area and tourists that come to Inuvik to go dogsledding are somewhat like people that come to Paris in order to ride the Metro. But, except for one small tourist outfit and a dog sled racer, there's almost no dogsledding (and seemingly also little tradition of dogsledding) in that area.
Inside and outside the hangar were familiar sights: Kenn Borek airplanes. They are sort of ubiquitous in Arctic environments. Whether in Antarctica or on the Arctic Icecap, if it's a remote place and there's an airplane there, chances are that it's a Twin Otter from Kenn Borek. (I had the impression that there are probably hundreds of them, but in fact there are only 35 of them. And no, the machine that was out on the runway with troubles was not a Kenn Borek plane.)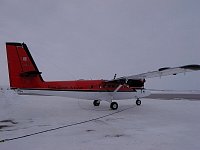 But we weren't flying Kenn Borek anyway, our Twin Otter was from Aklak Air.
We had been told that there was a large pile of dog food stored in Inuvik at that we needed to make sure that this was not left behind, since that was the most critical resource on the way back.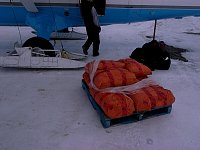 Most of the plane was taken over by dog food, snowmobile fuel and cooking gas. Passengers were sort of surplus.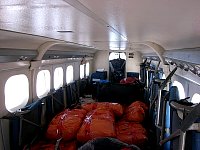 The flight was about an hour, calm and uneventful, with nice views of Inuvik and the Mackenzie Delta.
Then Herschel Island came into view.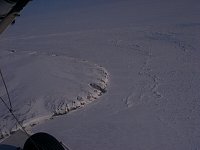 After the original concern whether the weather would allow us to land there, Herschel Island awaited us with near-perfect conditions. Blue skies, clear views and only light winds.
The reception committee at Herschel Island was surprisingly large. There used to be a whaling station on Herschel Island in the 1890s and there are still a number of buildings left on the island. The island itself is now a 'Territorial Park' and one of the buildings houses a number of park rangers, some of them had come out to welcome us and, subsequently, give us a tour of some of the other buildings, most of which serve as a museum.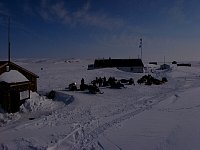 The 'museum tour' was fun (and Sippi got to model a pair of cool looking Inuit sunglasses), though it's a bit mischievous of me to mention that. The ranger giving the tour was very young and new to the job and it was still early in the season (most tourism at Herschel Island is summer based), so a lot of the commentary was along the lines of "This is some sort of old thing that has probably something to do with whaling. Sorry, we haven't the signs put up yet. And this is the bone of some animal. Maybe a musk ox. Or a polar bear. Hard to tell. Probably not a whale, though." Having been through a couple of well rehearsed museum tours before, this one was more interesting and we could handle most of the exhibits if we wanted to.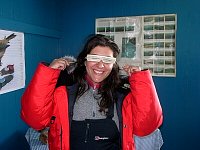 Then it was time for a decision. We didn't have enough time for a 'full' Herschel Island tour, since we had a long snowmobile ride to the ice camp, so we could either go to an interesting iceberg on the other side of the island or to the island interior and look for musk oxen.
For me, it was an easy decision. I really like Arctic scenery and icebergs, so, given the choice, icebergs beat animals by a large margin. Dan didn't care either way (he, the two other tourists and two of the guides had arrived at Herschel Island the previous day and seen the iceberg as well as the musk oxen) and Sippi didn't have any strong preference, so we were off to the iceberg.
A short stop at the old whaling station graveyard (or at least row of graves - luckily the whaling station wasn't that deadly that there was a proper graveyard, though it obviously wasn't the safest of places) and then along the coast to the iceberg.
The iceberg was mainly blue ice and a very nice crack at the side, which was just my size.
I may be overstating the case, but I really enjoyed walking into the iceberg and probably could have stayed there for hours, but we had to head back.
The ice around the iceberg gave an indication why the dog sled didn't get to Herschel Island, since a lot of the ice was a jumbled mess and picking a path suited for a dog sled would have taken a long time.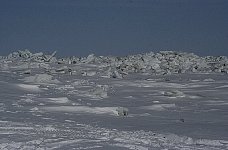 We headed back to the old whaling station, this time taking a path across the island (the way out was along the coast), partly because it was shorter and partly in hope that there might have been a musk ox sighting.
At the whaling station, the transport sledges (skimmers) with fuel, dog foods and other gear were attached to the snow mobiles and we started towards the ice camp.
Time to meet the dogs.
---