Belgium, June 2012
I have been quite a few times in Belgium, but that always meant trips to Brussels.
But I haven't really seen anything outside of that city.
So when I knew that I would have a weekend off in Ghent, this seemed like a good chance to see a bit more of the country.
I checked a couple of web pages looking for interesting things to do and noticed an odd pattern - Belgium is essentially two separate countries, Flanders and Wallonia sharing one government (which is not the odd thing) and all of the interesting things turned out to be in Wallonia.
While it makes sense for some things, since caving, climbing or rafting are inherently better suited for hilly terrain (which Wallonia has, while Flanders is quite flat), lots of other action activities (like paintballing, horse riding or karting) could be equally well presented in both areas - but aren't.
Searching for 'adrenaline activities' in Flanders, you find the Flanders tourism web page and they got such exciting things like guided walks through Ghent or Bruges. And bicycle rentals. And nothing else.
(I have been told since that I didn't search properly and there is paintballing or karting in or around Ghent as well - so maybe there is interesting stuff going on in Flanders, but then they seem to try to keep that to themselves.)
So I found out that being based in Ghent wouldn't help me much and (for most of the stuff) staying in Brussels would have been more convenient.
But that's what rented cars are for. (Even though it meant I had to drive more than a thousand kilometers in just two days.)
I had been kayaking down a river in France about two months earlier and had been considering a slightly longer tour, but the next day turned out to have continuous rain, so I didn't do that.
There were some kayak tours available around Dinant in south-east Belgium, so it seemed like a good idea to do a longer kayak trip there.
There were two different tours available, a 21 km tour and a 12 km tour. I opted for the shorter one for a number of reasons, which turned out to be a good idea.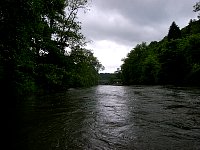 The weather was not too great (heavily overcast, but no rain), which was good for me - with sunny weather the place is probably overrun, but with weather like that, even on a June weekend, the crowds were manageable - if you took the shorter tour.
Most people seem to opt for the longer trip - so while there was full busload of people going to the start of the longer tour, there were only five people going to the start of the shorter one. And since the longer tour is just longer (the main 'attractions' along the route are all in the final 12 km), there is not much advantage in taking the longer tour and (with keeping some distance to the other four people) you essentially have the river to yourself.
(Though that is most likely only true on an overcast day - given the infrastructure of even the 'short distance' starting point, there must be hundreds of kayaks being launched on a busy day.)
There were a couple of 'rapids' along the way, but they were even more harmless than the ones in France.
About halfway down the river there was Walzin Castle, which is looming quite impressively over the river.
It also was a good reminder to 'read the manual' before a trip.
The river went around the base of the castle and it was becoming increasingly noisy and I expected to come around the corner and see a waterfall coming off the hillside, since it sounded like a waterfall.
But getting around the corner the river suddenly acquired something unexpected (to me) - a horizon. And a very close one.
The 'waterfall' noise was from the river going over a weir. And I didn't know whether I was supposed to go over the weir or whether I should go ashore, drag the kayak down and continue below.
There was a large sign, but that was in French and Dutch only.
In the end I decided that there probably would be more obvious signs (most likely including skulls, shorter words and exclamation marks) if I would not be supposed to go down and I just kayaked down. (The actual height difference was just half a meter anyway.)
Was fun, but I got in a bit steep, so some water splashed into the kayak. Not much, but I didn't like to sit on water for the rest of the way, so I went to the river bank a bit downstream, turned the boat upside down to let the water out, before I continued.
Looking it up later, I noticed that the web page mentioned that as one of the attractions, but it had referred to it as one of "2 rapids", so I had expected something else and was taken by surprise. (The Dutch version of the page has "2 watervallen" (which gives more an indication of waterfalls), while the French version has "deux barrages", which sounds more like artificial barriers/weirs.
There was another one about 3 km further on and that was also fun to kayak down (and not less drenching). So as far as 'white-water' was concerned, it was a more exciting trip than I expected.
While laziness was one reason for doing the short kayak trip, there was also another reason. I wanted to do some other activity the same day and I didn't want to risk being late - even though that would have hardly mattered.
I had done some ziplining at Wrightwood the previous year and enjoyed it and I wanted to do something similar.
And while the scenery in Belgium can't quite compete with the one at Wrightwood, there were some interesting aspects to the place.
Wrightwood has been straightforward near-horizontal ziplining, but the place near Dinant had more variety. From going almost straight down a cliff face (speed controlled by a rope) and free sliding on a 45° wire down from a 40 meter high cliff, being slowed down about half way to a 'normal' zipline between two cliff faces (which is quite impressive once you pass the edge and the ground seems to drop away under you) and a back-and-forth 'U' wire, where you almost ride up to the opposite cliff side again, before rolling back and stopping at the middle and getting down to the valley floor.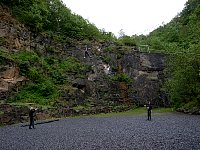 The timing was a bit unfortunate, though since I was booked for 4 pm (and, since I just did the short kayak tour, I easily made it on time) and there was a group getting ready, but I was told that, while they were doing the stuff I had booked, this was the 2 pm group (which had been delayed), And I was on the 4 pm group, which was also delayed, so I had to wait. It took until 5 pm until that group arrived.
As it was drizzling most of the time, that meant I stood around for an hour in a quarry, getting wet.
It later turned out that there had been a misunderstanding - I could just have gone with the earlier group, but they had somehow assumed that I was part of and new the other groups and would want to do the activities with them.
But in the end it worked out well. The first group was 16 persons and it took them quite a while to go through all the activities. The second group was only seven guests (plus me), so the waiting times were shorter. In the end, we finished about 20 minutes after them, with them having a one hour head start. And it had stopped raining by the time we got started.
And I got a bonus ride out of it.
When we were all geared up, we needed to go through a simple 'close to the ground' course, so that everyone got accustomed to clipping into the safety cables. I went through that first and since it took a moment until everyone went through, the guide asked whether I wanted to do an extra 'Death Ride', since the previous group was still at that station.
So I ran up to the upper end of the cable, got clipped in and rushed down. It felt a bit unusual to just run up there and rush down immediately without any short break to catch your breath, look at the scenery or anticipate the ride. It felt a bit Wile E. Coyote style - run up to the cliff edge and then just step off. Someone should have handed me an anvil as well...
Then it was back to the 'official tour'. The first one was (after going over some shaky log and wire bridges) going down a near vertical wire, with the descent slowed by a rope.
Next was the 45 degree wire 'Death Ride' again, this time with a bit more time to look at the scenery before riding the cable down.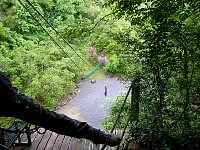 After that it was time to go to another part of the quarry,
This started out with a straightforward zipline ride to the ground (with the landing zone covered with wood shavings).
The next stop was the line that went from one cliff face to another, riding about 60 meters over the ground.
It was also a example why good communication might be useful. As there was a cliff face on the other side, there wasn't any place for a 'soft' landing zone, but there only was a 'crash pad'. And while I was zipping right up to that, the instructor on the other side shouted something at me in French. And the way he was shouting sounded quite urgent, but I had no idea what he was saying. So I smashed into the crash pad with my back - and then, after we had established that I don't speak French, he told me that I should have come in with my feet first, since there was a rock protruding at the side of the crash pad and if you come in with back or shoulders first, there is a fait chance that you hit your head on that...
Everything went fine, of course, but it was a bit irritating.
Last activity was a slightly more 'slack' wire. This meant not only going down the wire, but having enough speed, going up quite a bit on the other side, before going back again. (After stopping in the middle a platform was wheeled beside the cable to allow people to get down to solid ground.)
After driving across most of Belgium for some kayaking and ziplining, I had intended to stay closer to Ghent on Sunday. Maybe visit Bruges or go to the seaside.
Didn't quite work out that way, even though I did go to the seaside at the end of the day.
The reason for changing plans was the "Spa Summer Classics" event. There were a number of races going on at the Spa-Francorchamps race track. Most of them featuring historic cars or fairly obscure racing leagues (Sports 2000, Historic F3, Formule Zetec, Classic Sports Cars, Belgian Historic Cup).
And the entrance was free.
So there was the chance to see some variety of racing and the Spa-Francorchamps race track for free.
The only downside to that was that it was even farther away from Ghent than Dinant had been, so it meant even more driving across Belgium (would have been easier to just stay in the area overnight instead of driving back to Ghent...)
Being at the racing track was unexpectedly strange. For one thing, there was almost nobody on the stands. Even on the grand stand at the start/finish line there were about a dozen spectators - which seemed odd.
The reason for this is that such an event is pretty much less formal than a 'big' race, and areas are much more accessible. So you can just walk over to the big terrace and the paddocks. Some people were wearing coloured wristbands and I expected to be stopped at some point because I didn't have the proper access rights, but I never was (though I didn't try to go into the pit lane - I assume that would have been off-limits, even though there was nobody actually there who could have stopped me going there).
But in short, I could go almost everywhere and that was also the reason why almost nobody was on the stands - everyone was in the paddock area. Also, most of the people attending were the racers, their teams and their families, there didn't seem to be many 'random spectators' like me around. There was more of a feeling of a family gathering (with people putting up tables and having lunch next to their racing cars) than a spectator event.
I didn't quite stay for the final race (Belgian Historic Cup), since I wanted to see something else. And this time it was at the seaside, so I had to drive across Belgium again.
I have visited a couple of sand sculpture exhibitions in Berlin (in 2003, 2004, 2005, 2006, 2007, 2008, 2009 and 2010). There weren't any of those in Berlin in 2011 and 2012, but there was one on Blankenberge at the Belgium coast and I wanted to see that.
I just made it in time - the exhibition was closing at 7pm and I arrived there at 6:15pm (slightly worried that they might stop entrance an hour before closing, but luckily they didn't).
The exhibition was much more impressive than expected - there were a lot of sculptures. In Berlin there were usually about a dozen sculptures, but here there were two tents and an outside area with a total of about eighty sculptures.
And they were recognizable.
The ones in Berlin were usually loaded with some generic symbolism - they often had some grandiose title, some elements that were vaguely meaningful and often a short paragraph about this representing a reflection upon the interrelation between humanity and the unknown (or whatever).
Blankenberge didn't do that at all.
They went for a very specific theme - comic characters and fairy tales, so the sculptures were immediately recognizable.
While that left very little room for artistic expression (beyond creating three dimensional representations from flat characters), it created a very enjoyable exhibition. (Though I had to rush through this a bit - I only had 45 minutes to see it all.)
Since EuroDisney turned 20 this year, the main focus of the exhibition was on characters from that 'universe', though there also were a couple of others.
Once past the 'anniversary celebration' set of characters, the selection was interestingly obscure. Naturally, there was a strong trend towards comics from French and Belgium - some well known elsewhere, some more 'local heroes'.
There were also some strange additions - while there probably is a comic version of the books available, I wouldn't count Harry Potter as a suitable subject for a cartoon based exhibition. And towards the end, there was a bit of a leaning towards specific stories 9Sindbad's Fifth Voyage, Ali Baba and the Forty Thieves, One Thousand and One Nights) as opposed to characters. And the visuals were closer to the look of movies than comics.
And, strangely, Japanese comics were not represented by a specific character or comic, but represented by a generic 'Manga' sculpture. (I also would have loved to see a Marsupilami sculpture, but with so many options to choose from, there was probably a big amount of characters that couldn't be shown.)
But even so, the selection and the artistry were very impressive.
After the first tent there was an outside area with four sand castles, taken from Sleeping Beauty, Alice, Beauty and the Beast and Cinderella.
The second tent was dedicated to fairy tales.
While the look in the first tent was (obviously) quite cartoonish, the sculptures of the second tent were much closer to storybook drawings - the faces and settings were much more detailed.
And added advantage was the indoor setting - partly because the details could be kept (most of them would have gone after the first rain outside), but mostly because the lighting could be controlled, so the highlights and shadows could be arranged as if on a film set or stage.
Generally the sand sculptures looked very detailed and polished, almost to an extent where you start to assume that they are made from plaster with a bit of sand glued to the outside - but they are just sand and there's a video in the entrance area showing their creation. (Although I suspect some minor features are faked - there is a small matchstick at "The Tinderbox" fairytale sculpture that looks a bit too delicate to be made from just sand.)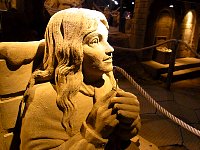 And while most of the fairy tales are well known and easily recognized, there were some oddities.
I am not sure that there actually is a fairytale featuring a rabbit, a beaver and a hippopotamus.
(And the info leaflet is strangely quiet about this as well.)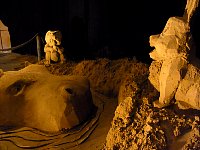 And there are two representations of the "Town Musicians of Bremen".
One of them following the traditional "stack of animals" pattern, but the other one showing them at more "rakish" behaviour, playing games, using musical instruments, smoking a cigar and (presumably) getting drunk. (Though the only readable writing on one of the bottles marks the content as 'Piri Piri', which also seems strange for a story that happens in the Bremen area.)
And while the animals in the tale enter a house and have a good meal there, it isn't implied that they act that human.
But except for some odd presentations, most of the scenes were presented in a quite traditional way.
It was already time to head outside again, since the exhibition was closing, so I just took a final look at the last castle (Cinderella Castle) before getting to my car and driving to Ghent.
---