Southern France, May 2014
Stuck in Sophia-Antipolis.
As far as I was aware, the most boring part of France to be in.
The problem is that Sophia-Antipolis is a science and technology park and designed as this. So there are a lot of company buildings and where people work during the week.
And not much else.
There are some hotels scattered around Sophia-Antipolis, but otherwise there's no real infrastructure. No people living there, no shops, no restaurants.
So when you have a meeting in Sophia-Antipolis, almost everyone advises you to stay somewhere else. Preferably somewhere at the coast. And then commute to Sophia-Antipolis. (And with good reason - after all, that's what even the people who work in Sophia-Antipolis do.)
Last time I followed the advice and stayed in Juan-les-Pins (part of Antibes).
But this time I needed to stay in a hotel in Sophia-Antipolis. Sigh.
So I arrived early Saturday afternoon, checked in and was immediately bored.
Fortunately, the place is not quite as dull as it looks from the street side.
While there are all those company places, fenced in, guarded and closed for the weekend, there is a network of hiking paths in the area. So you can walk through most of Sophia-Antipolis without being in sight of the streets.
It is still not enough to make Sophia-Antipolis a popular tourist destination. But at least there's more to do on a Saturday afternoon than walking down the streets and looking at the entrance gates of the various company sites.
And, as Sophia-Antipolis is almost deserted during weekends, I had the whole place (almost) for myself.
Still, even though the place is not quite as dull as I had presumed and provided something to do on a Saturday afternoon, I didn't trust it to keep me occupied for a whole day.
So I drove to Bar-sur-Loup to walk up to the village of Gourdon.
Last time I was in the area, someone pointed me at the RandOxygène site, which lists hiking paths in the Alpes-Maritimes area.
I walked on some of the trails listed there and they all were fun to do with well-marked paths, good views and a reasonable difficulty rating (meaning that I know to stay away from anything rated 'sportive' or 'alpine', but everything else is fine).
There are some odd quirks on their web site, though. They never tell you the length of the trail, just the time it takes to do it. I am aware that distances in mountainous terrain can be deceiving and a 5 km walk can be an hour trip or a day tour, but it's still an odd omission.
And for some reason, they don't give GPS coordinates for the starting point of the trails, just verbal descriptions, which can sometimes be misleading.
But once you are 'out there' and on the trail, they are well marked and easy to follow.
So I picked a trail named "Circuit du Paradis", which takes you to a village named Gourdon, up in the hills, and then you go down a bit and can follow a water pipeline along the hillside. (The path and pipeline is visible at about mid-level of the second picture.)
It's an interesting mixture of a lot of uphill walking (Gourdon is about 500 meters higher than the starting point of the trail) and walking next to the water pipes (which are fairly level). So there are 500 meters up, then about 300 meters down again, followed by a leisurely level walk and then 200 meters back down.
And the 500 meters uphill are stretched over just 2500 meters trail length, so while it is not steep, it's not an easy stroll either.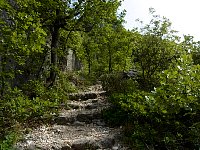 But then, it's just a matter of pacing yourself and taking a lot of breaks (like every 50 meters or so...) and after an hour or so, I got my first view of Gourdon.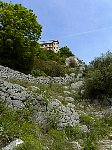 And reached it about ten minutes later.
There isn't much to see in Gourdon. It's a small, touristy place with a lot of smelly things. That's meant in a positive way - that area of France is known for various fragrances (Grasse, the "world capital of perfume" is less than 20 km away.) So most of the shops in Gourdon sell something that smells nice - soaps, herbs, perfumes.
Didn't buy anything, though, and just enjoyed the view.
Then I walked back down again to the water pipeline.
At first oddly, the route description tells you to bring a flashlight with you. The reason for this is that there are some spaces where the water pipeline goes through tunnels and it can get a bit dark in the middle of the longer ones.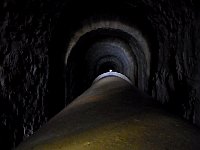 But not all the water is contained in pipelines. The river Loup is running through the valley and has some nice waterfalls a bit further north.
Access to the waterfalls themselves is a bit restricted. There is a little (pay for entry) half-bridge for taking some pictures from above, but there is no way to go down to the waterfalls themselves.
But if you go a couple of hundred meters upriver, there are some nice places where you can go to the river Loup and see some smaller cascades and some natural pools.
I did some more hiking in that area and then decided to call it a day.
I decided to drive to Antibes at the coast for dinner.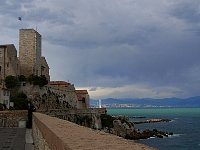 Antibes has some nice restaurants and an old city center with lots of small side streets.
Usually they bustle with tourist, but when I arrived there, the place seemed deserted. No real reason for that, just random chance - half an hour later it was as busy as always. Must have hit the moment between people spending the afternoon sightseeing and going out for dinner in the evening.
At least the giant sculpture had an unobstructed view of the mountains...
A couple of weeks earlier, in Brazil, I headed for an island close to the coast and then to the mountains afterwards. So I reversed this in southern France and, after walking in the hills, I went to Porquerolles and did some sightseeing there.
The island is just a couple of kilometers away from the coast in the Mediterranean Sea.
So I drove to Hyères and took the ferry from there.
Porquerolles pretty much has 'just the right size' for a day tour.
It is about 7 km long and half as wide, so a complete walk around the island can be done in a day.
And there is a reasonable bit of variety - some remains of old forts or other historic buildings...
... nice coast and beaches on the northern side ...
... a hill with some panoramic views in the middle of the island ...
... and photogenic cliffs on the southern coast.
While there are some cars in the main village of the island, most traffic is done with bikes (and some minor stuff with electric golf carts). Simplified, there are some wider paths (suitable for bicycles) going out in a kind of fan formation out from the village to the main attractions. And smaller ring paths that allow you to hike around the island.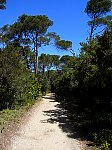 All fairly quaint and relaxed - which would probably drive me crazy after three days, but it is kind of nice for one vacation day.
The only downside of the island (well, except for the prices...) is yet another island animal picture.
It has become a bit of a tradition when I go the Greece, there will be some cat picture. And when I go to Canada, there'll probably be a picture of a squirrel somewhere.
And there seems to be an increasing trend now for me that, when visiting small islands (like Ilhabela in Brazil last month), there'll be a snake picture somewhere.
It turned out to be a harmless ladder snake, but it is still a bit unpleasant to see one right next to the path.
And snake identification sites are sometimes not much of a help. The first page I looked up on snakes in southern France took some efforts to inform me that most of them are harmless and it's mostly the vipers one would need to worry about (a bit - most of them are nasty, but not deadly).
And that the best way to distinguish them from other snakes would be the shape of the pupil. (Vipers have vertical pupils, other snakes usually round ones.) Personally, about the last thing I want to do when encountering a snake somewhere in the wild is to get close enough to be able to see the shape of the pupil clearly...
But then, the same kind of web pages also tend to tell you that snakes are sensitive to vibrations in the ground and usually will be gone away before you even see them. If this would generally be the case - why do they think I am looking them up on the web site?
After taking the ferry back to the mainland, I spent some time to look at the Tour Fondue. (Not due to any particular interest, but right after the ferry arrives, everyone heads back to their cars, so there is a bit of a rush on the street heading north. So looking at the tower helped me to pass some time and then drive off before the next ferry arrived.)
And then it was time to drive back to Sophia-Antipolis and then to Nice the next day and fly home.