Italy, January/February 2012
Since this is mainly a list of failed attempts and non-events, it's going to be quite short.
I was in Italy twice in early for 2012. In Torino in January and Catania February.
Having a weekend off in Torino, I decided to do what I did about a year before, namely go cross-country skiing in Pragelato.
But I didn't pay attention to the snow/weather reports and failed to notice that there hadn't been any snowfall recently, so Pragelato only had some old (mid-December) snow which had become pretty harsh and icy since then. Not good for skiing (and no loipe had been prepared) and not good for walking either.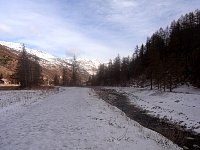 So I headed back to Torino and visited the car museum there instead. It turned out to be nicer than expected (often car museums give just the impression of a stylish garage - lots of cars parked in a big hall and that's it - while this one was a better, more stylish and thematically better structured presentation).
Next day I drove north from Torino and did some walking. Some nice views, but no really special places. Just a relaxed Sunday of walking and driving.
Three weeks later I was in Catania, Sicily.
Since I've never been to Sicily, there was little risk of trying to do something I already did (like cross-country skiing in Pragelato) and get disappointed.
So I looked for cool hotels and a chance to visit Mount Etna.
The first hotel was a bit old-fashioned (as should be expected from a castle hotel) and quite impressive. While probably not really a castle, it seems to be the manor of some rich merchant or landlord and is set in a nice park. Since it was quite definitely off season (I got the impression that only two or three guests were there), they also upgraded me from a normal room to a junior suite, which was quite nice.
I couldn't stay there long, though. My flight to Sicily was delayed a lot, so I arrived much later than expected and I had an Etna tour the next day, so I also had to leave early, hence I couldn't enjoy the luxury as much as I would have liked to. (Also, since it was off-season, the restaurant had closed as well, so no nice dinner either.)
The trip to Mount Etna didn't work quite as planned. There are (essentially) two trips to Etna. One going from Catania towards the top of the mountain (or at least as close as possible to the crater) and one on the north side, going to caves (or, more correctly, lave tubes). Since I like caves, I went for the second option.
So I met up with the tour guide at Milo (about as far as you should drive up Mount Etna with a normal rented car in wintertime) and then we drove further up along snowed-in roads. We stopped at a 'refugio' and continued on foot.
Unlike in northern Italy a couple of weeks earlier, it had been snowing here recently. So the path to the cave was not really walkable and we needed to use snow shoes.
To keep this short - we made very slow progress. I had underestimated the effort of walking in snow shoes (in fact, I hadn't really been aware that I needed to) and I pretty much had ignored the altitude difference. So it took almost two hours to cover 4 km distance (and 420 meter altitude uphill) and we had started rather late anyhow, so the decision was made to turn around and visit another cave closer to the street instead. So the visit to the lave tube was aborted. (Also, since the weather wasn't great, there weren't any views on the way, so it was rather dull trekking.)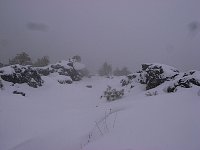 Getting to the smaller cave close to the street was easy, getting into it slightly less so. The entrance was snowed in.
Luckily the cave has a back entrance as well and that was easier to approach.
Then it was back to the car and on to the next hotel. I had read about an art hotel at the north coast of Sicily with a couple of interesting 'art rooms' and wanted to spend a night there. (Since that was about two hours driving from where I was, this was another reason for not going to the big lave tube, since I would have arrived at the hotel very late if the trip had been two hours longer.)
I didn't quite get the room I wanted - there was one I had really fancied, but that had been booked long ago and I had been left with a choice of two rooms that looked cool. But when I arrived there seems to have been some problem (no idea what that was - the receptionist didn't speak English and I don't speak Italian) and I got another room instead.
But it was interesting as well, so I didn't mind much.
The entrance was a small, mostly metal corridor with a small door leading into the actual room.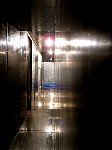 Which was themed (vaguely) after a ship(wreck), with the bed being on a wooden platform (getting smaller towards the floor, suggesting a ship shape), so that the pillar in the room implied a mast on the ship. Beyond that 'mast' and next to the window overlooking the see was a bathtub (looking more like a mini-swimming pool. And the toilet facilities were 'disguised' as oil drums.
And the wall from to the corridor was made of translucent material, so by turning off the light in the main room and setting the light in the corridor (dimmable from the bed), it was possible to have a nice glass-stain window effect in the room.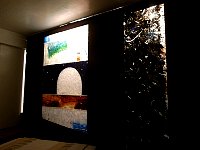 Not as extreme a room as others in the hotel, but nicely unusual.
In theory, the view along the coast must be great in summer, but since it was clearly off-season (and a bit rainy that night), everything was closed and the whole place seemed bit deserted.
Next morning, the breakfast room was nice. With all the high-backed chairs (with the chair backs made from tree branches and such), it looked a bit like a highly stylized forest.
Didn't do much during the day except for driving around and enjoying the scenery along the coast.
Initially I had planned to do some walking in the mountains, but by the time I got there the weather had turned slightly unpleasant, so I decided to skip that and head back towards Catania instead.
And while I like driving along serpentinous mountain roads, some of them were in an interesting condition, which is fun when driving in good weather, but I wouldn't want to encounter after dusk.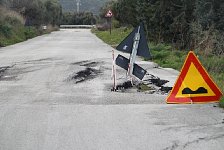 So I returned to Catania.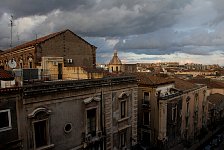 I didn't photograph much in Catania, but took a few pictures of Mount Etna. (Which had a minor eruption a couple of days earlier and was still smouldering a bit, though most of the time it was hard to tell whether smoke was coming up from the volcano or whether there were just low hanging clouds around the summit.