Ziplines, Italy, September 2022
This is a bit like a repeat of last year's trip, but to a different part of Italy.
Last summer I got a bit bored, with the last dogsledding trip almost half a year in the past and no other travels comming up until the next dog sledding tour half a year later.
So I looked for ziplines in Italy, found two interesting looking ones and did a short vacation (essentially a slightly extended long weekend) and went ziplining.
So, this year, with this year's dogsledding trip almost half a year in the past and a long time to wait until the next one, I decided, well, to look up ziplines in Italy, find two interesting looking ones and go there for an extended weekend trip.
Not the most original of travel plans, but it worked.
I also managed to fit in two nights in a somewhat posh hotel, one night in a slightly remote 'hotel room' in the Dolomites and to try out a Via Ferrata.
A somewhat packed long weekend...
Last year I went to the south of Italy, while this time I visited the northern part, to see the Dolomites and a bit of the Alps.
I made an enexpectedly wise choice to fly to Bolzano in South Tyrol with a small airline called SkyAlps. There wasn't any particular reason for doing so, except that they had direct flights to the area I wanted to go to, while all other airlines had flight connections that required to change flights, increasing the chance of missing flights and losing luggage.
I had been a bit concerned about this small airline, as the only fly three or four times a week, so if anything would have gone wrong with the flight to Italy, taking the next scheduled flight would not have been much of an option, as by then the vacation would almost have been over.
But not only did everything go right with my flight, things would have gone wrong with most other flights, as the Lufthansa pilots decided to go on strike on the day I was leaving, so almost all Lufthansa flights got cancelled that day.
I rented a car and drove up to Merano, where I checked in at the hotel and had an easy afternoon walk to a waterfall nearby. Not a big local tourist attraction, but I walked there the last time I stayed at the same hotel, so I decided to do it again.
Unsurpringly, the waterfall was pretty much the same as it had been.
But I am sure the cure squirrel hadn't been around back then.
After doing the 'wildlife photography' I had an idea, went back to the hotel and asked about mountain guides and Via Ferratas.
It was a somewhat planned spontanous activity.
When I planned the trip, I had considered attempting to go on a Via Ferrata (or abseil down a waterfall - but that only happens on Tuesdays and this didn't fit my travel schedule). I had never done a proper Via Ferrata (I kind of went along something like it when I was in Peru in 2019), so I wanted to give it at least a try.
I had contacted a mountain guide about two months earlier about this, but got the reply that it was too early to plan and I should ask again closer to the date.
But when I mailed him again a week before the trip, he didn't reply.
So I figured that I might go hiking in the mountains instead. Or go to a museum. Or, strangest of ideas, take the day off and relax.
But when I returned to the hotel, I wondered "Why not? It won't hurt to ask" and queried at the reception whether they knew any mountain guides that would be available on short notice (i.e. tomorrow).
It turned out they knew someone who was available (as a guiding tour he was supposed to be doing in Switzerland had been cancelled on short notice), so in the morning I met with the guide and we went out to the Heini-Holzer-Klettersteig.
Going to the Heini-Holzer-Klettersteig was the result of a bit of a communication issue.
As I had never done a Via Ferrata (and, technically, still haven't), I wanted to do a short and easy one, mainly to get a feel for it and see whether I would be ok with heights and axposed sections. So I had been assuming we would go to something that would be the Via Ferrata equivalent of a 'kids playground'.
I did explain that at the reception, they mentioned various possible Via Ferratas in the area and then called the mountain guide.
It seems that they explained to the mountain guide that they had a client who wanted to do a Via Ferrata, he mentioned the Heini-Holzer-Klettersteig and they probably said "Yeah, something like that."
So next morning I met up with the guide and we went to the Heini-Holzer-Klettersteig.
Which is not the ideal choice for a beginner who is not sure whether he's going to like Via Ferratas and wants to finde out. (Although, in the end, it probably was.)
The issue with the Heini-Holzer-Klettersteig is that it is about 500 meters uphill (so that's walking up about 130 floors in an office building - not on stairs, but on steep and uneven terrain), has (admittedly short) difficulty sections going up to 'B/C' (somewhat difficult) and has no emergency exits along the way. So either you need to go all the way up, or you have to make your way back down the Via Ferrata again.
It was obvious to me that I would not go up all 500 meters, so at some point we would need to turn around and get back down again.
Fortunately the weather wasn't great.
It was ok. Somewhat cloudy, not too cold. Fairly nice for climbing, in fact. But no 'postcard weather'.
So even though it was a Saturday and it was still tourist season, we were the only ones on the Vie Ferrata,
Which was a good thing, as we were going slow and later, when going down, we were 'going against the flow' and it's always a bit annoying when you slow down the more serious and experienced climbers, as they need to go around you. (Though it wouldn't have been that bad - there are a lot of sections where you can easily walk past each other, so you don't need to pass someone while clinging to a rock face.)
The Via Ferrata itself went mostly better than I expected.
The first parts of it are of difficulties A and B.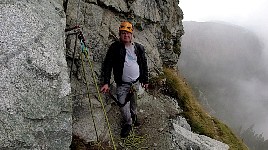 I didn't have any serious problems with these.
A couple of "Where do I need to put my foot?" moments and "How do I get my foot from this hold to that?" elements, but doable. The climb is not covered with metal clamps all the way, so sometimes you need to step onto the rock itself and find some hold there to take the next step, but that was usually a single step in between the clamps.
We continued for about 1/5th of the Via Ferrata until we reached a section with the difficulty of "B/C" called "Steilaufschwung".
I thought it was the first one with that difficulty on the route, but looking at the map of the Via Ferrata it turns out that a section right at the start, named "Einstiegswandl" was already rated "B/C". So I had already been through one of tbe tricky parts (of this Via Ferrata) without knowing it.
I went up a few steps of "Steilaufschwung" section to check whether I could do a "B/C" section (unaware that I already had done one) and it was tricky, but still ok.
At that point I decided that I had learned enough.
We could have continued further up, but there was still a long way to go. Even though a lot of the upper part is mostly walking, it's still walking uphill. A non-trivial amount of uphill.
I think I could have gotten to the midpoint, but as there are no "emergency exits" on Heini-Holzer-Klettersteig, that would have meant going all the way down again.
Which I assumed to be a lot of effort.
Although downhill is generally easier than uphill, it feels more difficult when climbing, as it is easier to see where there's a step or decent foothold when going up. Going down, there's more guesswork.
At least that what I assumed.
In the end, we kind of cheated (well, I did, in any case), as the guide simply used a rope to 'abseil' me down the steeper sections. So I didn't need to bother much with 'climbing' down.
So we got down a bit quicker than I had expected.
While it's not the exact path, we approximately followed the route shown as a yellow line.
The timing of going down again happened to be right. By the time we were back at the cable car to take us back down to where the car was parked, it had started to rain. I think we both were glad that we weren't still clinging to the rock face.
While I still haven't properly 'done' a Via Ferrata, I had essentially achieved what I had planned. I now have a reaonably realistic idea of what I can or can't do on a Via Ferrata. A Via Ferrata that is mostly of difficulty "A", "A/B" and "B" with, at best, some short sections of "B/C" with no more than 200-250 meters altitude gain is something that I will be able to do. Anything that goes significantly beyond these parametrs is probably asking for trouble.
Which is the kind of information I had been trying to get, so all went well.
Although I am not sure whether this will prove useful in the future. I got the impression that, if I ask for Via Ferratas that are mostly difficulties "A" to "B", the answer in that part of Italy might be along the lines of "Yes, we have those. We call them hiking paths." Maybe it's worth noting that most of the descriptons of the Heini-Holzer-Klettersteig include a note that it is suitable for "families with children who like walking and climbing".
Which is the kind of information I had been trying to get, so all went well.
I had a very good five course dinner at the (rather posh) hotel in the evening, which has a great view over Merano.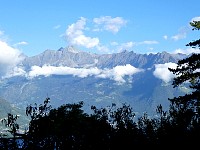 The next day was mostly spent driving to my next 'hotel room'.
It feels somewhat strange that, after spending two nights in a hotel that was significantly above my usual 'hotel room during travels' budget (strange word - if it was something it wasn't, that's 'budget accomodation'), although it was well worth it, I would be spending the next night in much simpler quarters. At about twice the cost.
But location and solitude have their price.
The drive there was somewhat annoyingly unspectacular.
Well, the scenery was fantastic. No doubt.
But the drive itself was a bit lackluster. Sometimes it's irritating when car rental companies 'upgrade' you.
When reserving the rental car, I had booked the smallest category, which was, according to the booking, a small car, the example being a Fiat 500 or similar.
And, in Italy, that often means that you get a Fiat 500.
And I like that car a lot. It's a neat car to drive in the mountains, as it handles like a go-kart and driving up and down serpentines is fun in one of these.
(It's probably also fun to do in a Mini, but you rarely get them as rental cars and for some reason I'm not allowed to drive my sister's car. While it might be simply an insurance thing, it might also have something to do with the fact that I'm going a bit too enthusiastic around corners. And that my sister is a better and more experienced driver.)
But I digress...
Unfortunately I didn't get a Fiat 500 or another small fun car. Nor did I get any cool upgrades.
What I got was something I didn't even expect Italian rental car agencies to have - an Opel Crossland.
Possibly the most annying car to drive. Or look at.
I wouldn't have minded that much if they had given me an actual SUV. I can understand that families might want to rent them for vacations, so the rental company might have a few available.
But the Crossland isn't like that. It tries to have a cool name (though at least that got better, since it used to be the "Crossland X" in a desparate attempt to cash in on "everything is cooler with a X in it"), kind of implying that's a crossover car between, well, something. A city car and an outdoor vehicle? A sports car and a family saloon? Well more like a crossover between dull and boring...
I looked up a car review on it, which had the lines "If people fell in love with cars only for style and driving dynamics, the Crossland would be left at the end of the night with no-one to go home with." and "There are better, more interesting cars in this class".
Right.
Also, though that might depend on the company, rental cars often have many 'optional features' ticked, so you got something to play around with when you get bored. (Aehm, what I mean is to increase the driving comfort and the safety of people renting the cars...)
This one was as bare bones as it gets.
Not even a rear camera. (I like rear cameras in rental cars as they are rental cars and I don't have a 'feel' for the length of the car when reversing. So at least some distance warner would have been apprechiated.)
No display shoing the local speed limit, no auto-braking, no lane indicator. Nothing.
The radio knows Bluetooth, but that's as modern as it gets.
As a car, it's like a 70's family car that is affordable, fuel efficient and carries a family of four and their luggage.
Which would be ok, of course, if it then didn't pretend to be cool.
But for soemthing that is called 'Crossland', you might expect ar least a tiny bit of off-road ability. But it doesn't have (even as an option) a four wheel drive.
For something that wants to be a 'subcompact crossover SUV', you might expect at least a bit of token sportiness. Which doesn't really happen with the diesel engine and automatic gears.
It's also not very agile going around corners.
So while it might be an immensely sensible car to own, it's not the kind of fun car I want to drive on a vacation.
The Crossland also had the most annoying gear changes I've ever had in an automatic car. For some reason it seems to change to the next higher gear only when the rev counter hit a specific mark (probably 5000 rpm or so) instead of paying attention to the speed as well. So sometimes, when starting at a traffic light, it would stay in 1st gear until the car reached about 40 km/h (and then in 2nd gear up to about 70 km/h). So if the traffic was slow or you're going trough a 30 km/h zone, the car would make some rowdy-ish noises, as it was staying in 1st gear. And then you drove through the rest of the village in 2nd gear. The best way to deal with that was to quickly accelerate to 70km/h (desparate looking for speed cameras, of which there are many in the Dolomites), so the car would go into 3rd gear and you could drive at normal noise levels. (It then usually stayed in 3rd gear and only downshifted when stopping.) I've no idea why the car behaved that way (and whether it was the specific car or whether they all do that), but it ensured I liked the car even less.
But that's enough about the car. Usually I wouldn't even mention the rental car, but this one got on my nerves.
My destination was a little 'house' (a bit like the increasingly popular 'tiny houses') in the Dolomites, opposite the Tofane mountain group, which includes the Tofana di Mezzo, the third tallest mountain in the Dolomites.
Or, more precicely, my driving destination was a parking spot about 500 meters away. I doubt that the Crossland would have made it all the way to the 'house'. The last section was covered with a Polaris ATV.
Although I had arrived in the area a bit early, so I did some walking around (not too much though - my legs still recalled the Via Ferrata from the previous day).
There's a Via Ferrata going up one of the rock faces. But with a difficulty up to C/D, it is way out of my league. And the tricky parts aren't simply a few steps, but longer passages. But I still found some descriptions of this Via Ferrata mentioning that it is suitable for beginners and 'families with active children'. Which makes me wonder what the average life expectancy for children in the Dolomites is...
And that's only the 'safe' Via Ferrata. There were also climbers on other pieces of the rock, so I assume that they were regular climbers not following the Via Ferrata.
To show how much the mountain was 'swarming' with climbers, here's a picture at full resolution to be used as a little 'spot the climbers' exercise. I found at least 14 climbers in this picture. (There might be a 15th climber, but that also might simply be a large backpack, so I decided to err on the side of caution.)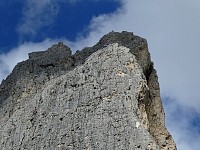 From a slightly different place, there's another (trivial) search picture to play 'spot me'.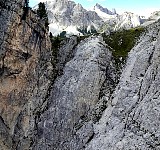 In any case, after some time sitting around in the forest and watching climbers on the mountain, it was time to 'check in' for the night's accomodation.
Which was a 'tiny house' at the top of a ski slope, opposite to the Tofane mountain group.
Most of it is a bed, with glass walls all around and above, so there's an amazing view from there. (You feel a bit like Snow White in her glass coffin. Though, luckily, not as poisoned.)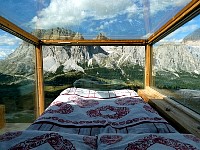 On the other end of the 'house' is a small table for dinner.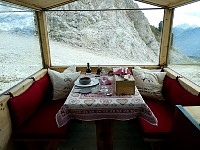 (When you book the room, they set up a dinner with a hot soup in a thermos container, but also bread, wine and cold cuts of meat and cheese, so you can have a proper 'Brotzeit' for dinner.)
There's a small room with a toilet and some water (which you need to be careful with, as the water canisters hold only 20 liters of water, which is about four full flushes).
And that's the whole hut.
Obviously, the main attraction is not the building itself. The selling points are location, view and solitude.
Surprisingly, the location is even better than it looks on pictures.
When looking at pictures before booking, it seems like there were lampposts or something like nearby. And while the photos on their web site seemed do avoid certain viewing angles, other pictures showed other buildings in the vicinity. And there was a rather wide gravel path nearby, possibly some small street, So I started to wonder whether the hut might be less isolated than it was implied to be.
But all of that was because the hut is located on the side of a ski slope, so the 'lampposts' were part of the sli lifts, as well as the 'buildings' (which were kind of storage sheds). And the gravel path was the ski slope itself.
But there was nothing and nobody else up there (except for a marmot I spotted in the morning) and I had the area and the view all to myself.
Though not neccessary the silence of the mountains. For some reason, the room als has a bluetooth loudspeaker, so I was soon listening to deafening loud punk music while sitting on the bed and looking at the mountains during the sunset. (The hut is surprisingly well isolated, though. While I assume that's more for temperature isolation, to keep the room from getting too cold at night, it also keeps the noise well inside.)
One feature that did't really work was the 360° view. In theory, the room can rotate, so you can lie on the bed and turn it towards the setting sun, the rising sun or whatever your favourite view is. But that didn't work. But it was set to face the best panorama anyway, so it doesn't matter much. And you got windows in all directions anyway. So you might need to turn your head if you want a specific view, instead of pressing a button. But that's a small sacrifice.
I got unexpectedly lucky with the weather. When I was on the Via Ferrata the previous day, it was all foggy. Getting to a place for the amazing panorama and then not being able to see that, would have been disappointing. (It happened to me at the Grawand Hotel and at the Zugspitze.)
When I arrived at the 'Starlight Room', however, there was no fog in sight, the views were great and the night sky was as amazing and star filled as I had hoped for.
Another lucky coincidence was that there was a half-moon right 'opposite' of the main mountain range. So the mountains could be seen during most od the night and were well illuminated in long exposure photographs.
The following images were taken in the middle of the night, even though some of them (especially the first one) look like pictures taken on a sunny day. (Although the presence of stars might be a bit of a giveaway.)
(The exposure time for the first one was one minute, for the other ones twenty seconds.)
Next morning it was time to drive to the first zipline.
Or, more exactly, the first set of ziplines.
The "Adrenaline X-Treme" calls itself the 'biggest zipline' in Europe. But that's (as so often with ziplines) kind of depends on a specific interpretation of the wording.
While there are about 3 km of ziplines, that's mostly because it is a sequence of seven ziplines. But the longest one is less than 800 meters.
All of this doesn't really matter, of course - the relevant questions are usually "Is riding the ziplines fun?" and "How are the views?". But this makes it stranger that ziplines promote themselves with such claims as 'biggest zipline in Europe'. For me, it makes me automativcally question on what the claim is based. And, after checking, I tend to distrust everything else they claim. I think I would be more enthusastic, if they simply said "Go ziplining with us. It's fun!".
But putting that aside...
The fact that there's a set of ziplines means that you will zipline in a group.
For simple "A to B" ziplines, it is sufficient if they habe someone at the start of the zipline and someone at the braking point. And if people show up at the start, they clip them in and send them on their way.
As they don't dare to let you go alone (for all sorts of insurance and safety reasons) onto ziplines (except on closed courses like in adventure or climbing parks) you always go on multi-zipline courses in a group. Usually with two guides. (As was the case when I went ziplining near Los Angeles.)
In those cases, one of the guides goes down the zipline first and makes sure that everything is fine at the lower end, while the guide on the upper end waits for the 'all clear' message and then sends the clients down the line, following when everyone has safely made it.
But that doesn't make much sense for an individual customer, so they wait until they have a group of clients.
Access to the top of the zipline was the easiest I've seen so far. There is a ski lift going from the village of San Vigilio di Marebbe up to the start of the zipline. So there's no need for car or bus transfers. They can simply use the existing infrastructure. Every harness has an RFID "ski pass" attached to it, so once you're properlu equipped, you can simply walk through the entrance barrier and enter the gondola.
(Though this might be a recent development. On their web site, they still have a picture of a Land Rover Defender and a note that this will take you to the take-off station. (Maybe the ski lift doesn't run all year round and they'll use the Land Rover then.) But other things seem to be in a state of flux as well. At the moment, there's a short walk between the end of the sixth zipline and the beginning of the (final) seventh zipline. In addition, there is another ziplining platform near the virtual intersection of ziplines six and seven, with cables going to the end platform of zipline six and the start platform of zipline seven. It seems a bit like there might have been two additional (short) ziplines going from and to that platform at some point. But as each of them would have been only about 80 meters long, the effort of clipping everyone in for such a short section might have just taken too much time, so it might have been quicker to let everyone walk a short distance. Or it might have been only one additional zipline. The additional platform seems right in line with the last zipline, so maybe that was a bit longer at some point. (There's a distinct angle between zipline six and the direction to the additional platform, so it's unlikely that there was a direct extension of zipline six.) So it's possible that the last zipline used to be a bit longer. And that there was a short connecting zipline between the end of zipline six and the final zipline. But it might have taken too long get everyone across the connecting zipline and they have abandoned that bit. And as the 'ground path' to that platform is a bit inconvenient, due to the terrain, they might have moved the starting point of the last zipline to a place that is easier to walk to. Maybe. It's difficult to tell from their web site. But as the Italian text mentions eight intermediate platforms, while the German and English pages mention nine intermediate platforms, it seem like there have been changes done to the zipline run, which have not full made it to the web page descriptions. Not that it matters, though. The run is great as it is.)
The way that clients and guides go down the ziplines differ somewhat.
There is a rather clever braking system set up at the end of each line, but that isn't set up when the first guide zips ahead. So instead of relying on the braking system, the guides have a shorter line on their harnesses than the clients do. While clients can not reach up to the zipline when hanging in their harnesses, the guides wear heavy working gloves and can grab the zipline to slow themselves down. Another advantage is that the guides can, if neccessary, grab the zipline and pull themselves along it. So if a client gets stuck along the way for some reason, the guide can zip down or pull himself up to the client, attach the client and then pull the client to the end of the line.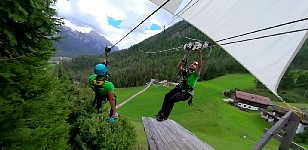 The starting and braking system are also slightly unusual. They got their own company for manufacturing zipline equipment. In many other cases, the starts are done by attaching a safety rope to the 'cable runner' and unclipping that when it is time to go.
Here, the 'cable runner' is held in a sort of frame that keeps it from moving down the cable. And once everything is set and the client is hanging in in harness and pointed in the right direction, the guide simply pulls on a lever, which lifts the frame up and sets the 'cable runner' free, ensuring a smooth start.
On the other end of the cable, there's the braking system. How far the 'braking block' is extended down the cable depends on the (estimated) weight of the client. There's a small table near each end of the cable telling the guide how far to bring out the brake.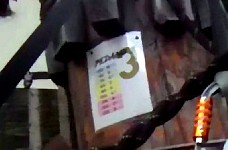 There's also an additional adjustment on the 'cable runner' itself. At the end of each zipline, the guide at the brake takes the 'cable runner' and adjusts the 'rolling resistance'. So if you arrive at the brake too fast, your runner will be running more 'sluggish' on the next line. If you barely made it to the brake, the runners will be more 'freewheeling'.
An interesting feature of the brake is a little metal wire loop, extending from it. It latches onto a notch on top of the 'cable runner' and attaches the brake to it. So if the client hits the end of the cable and then bounces back a bit, the client can be pulled back in. (Otherwise it can happen that someone gets sort of 'stranded' on the cable and needs to be retrived. This happened to me in a climbing park in Cuxhaven, where I got to the end of the zipline, but didn't grab the holding line there properly. So I rolled back on the cable and someone needed to throw me a rope and pull me to the end of the cable. That works well if you're two meter above the ground. On higher ziplines it gets more complicated. Of course, the guides can always pull themselves along the cable to get a client (and they still have to that when a client doesn't make it to the brake), but that takes time. So it's easier when the brake attaches itself to the 'cable runner' and does not let it go away.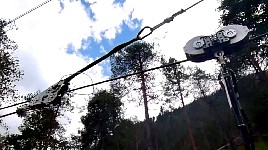 The ziplines provide a decent variety of views.
| | | | |
| --- | --- | --- | --- |
| | First run | Second run | Panorama view |
| 1 | | | |
| 2 | | | |
| 3 | | | |
| 4 | | | |
| 5 | | | |
| 6 | | | |
| 7 | | | |
Some are at tree height through a forest, so you are almost afraid to stretch out your arms or selfie-stick, in case you hit a tree branch or something. Others are across a wide open valley, giving the impression you are freely suspended in the air with open views at the scenery in all directions.
Then the fastest one, zipline six, is in a narrow 'canyon of trees' again, increasing the impression of speed.
The final one, somewhat oddly, ends at the top of a tower that's about 20 meters high.
While that could be due to the shape of the terrain (if the endpoint would be lower, the zipline might get too close to the ground somewhere), it didn't look like that was the reason. All along the way the zipline is sufficiently high above the ground.
The only noticeable reason for having the end point on a tower is the opportunity for an 'offical photograph'. There's a camera next at the final stop and you can have a picture taken while you're still hanging on the zipline. Which, obviously, works much better when you're still above the tree tops, with the mountain scenery in the background, than when you're a foot off the ground.
Though it seems a strange reason to built that tower for that. It might, however, have something to do with the reconfiguration of ziplines. Maybe it had been built when the last zipline went to the other platform and, while not really neccessary any longer, is still used because it is there.
So there are some mysteries to ponder while going down these ziplines, but in reality it is too much fun going down there to do so.
Still strange...
After going down the set of ziplines twice (it's not worth it driving all the way to do the ziplines only once), I got back to the car and drove to a hotel next to another zipline (this time simply a single one), which I wanted to do the next day.
This one had its own mystery - a pylon along the way.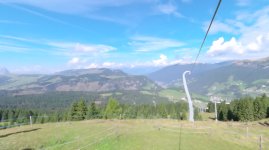 In general, ziplines are free hanging cables. You put the runner over top of the cable, attach your harness with carabiners on the bottom of the runner, so that the carabiners 'close' the system and you can't accidentally fall off the cable.
But at Monte Pana, the zipline goes from the starting point over a pylon and from there down to the valley. So how does the runner get over the pylon?
It works for ski lifts, but they are fixed to the the cable and pulled along with it. So it's alright for them to have an 'arm' that grabs the cable from one side. As long as the cable doesn't fall off the pylon, the lift will be all right.
And for larger cable cars in the mountains (usually the ones with closed cabins), there are three cables - two of them for stability, but the cabin is still fixed to the third, the propulsion cable.
But with the runner needing to be able to run smoothly on the zipline cable and the impossibility of 'closing' the runner system and get over the pylon - what's keeping the runner to bounce off the cable at an inconvenient moment?
Yes, there are things like 'fly lines' that go around corners and things, but they work like in inverted rollercoaster, with clamps going (mostly) around a steel tube, which is then attached with spokes or wires from above.
As it turned out, the system for going over the pylon pretty much works the same way, only upside down.
The 'trick' to it is that the cable runs through the pylon on top of a steel slide that's smaller than the cable.
And the runner is a kind of 'clamp', which has two metal bits on the sides, with a gap that's wider than the slide, but smaller than the cable.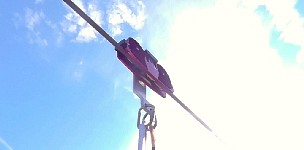 So once the runner is clamped onto the cable and closed, there's still a gap at the bottom that allows it to pass the pylon, but not wide enough to fall off the cable. So even when you bounce a bit after going over the pylon (or for fun), you can't fall off the zipline.
Mystery solved. It's safe going down the zipline. Time to go zip...
The zipline cable is right next to the ski lift as well. You get a ski lift ticket with every zipline ticket and go right up. Once you reach the station at the top, you get outfitted with harness and camera and it's time to go.
As it's just one zipline, they can station one person at the top and one at the bottom, with nor need to go go down themselves before or after the clients. So you don't need to be at the zipline at any specific time. When you do the booking, you get a time slot of two hours and within that timeslot it's "first come, first served". (Or, in early September, whenever you want - it didn't seem to be a busy time. I didn't watch the zipline continously, but in 'my' first two hour slot, I've seen only one other customer go down the zipline.)
At the top, you have a choice of harnesses. They have one very comfortable harness, which feels like a sofa on a zipline. I've been sitting more comfortably in that harness when going down the zipline than when I went up to it with the ski lift.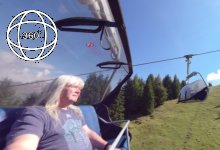 I later learned that harness was a paragliding harness. Makes sense, as paragliders spend a lot more time hanging in their harnesses than zipliners or treeclimbers do (while mountain climbers and Via Ferrata users ideally prefer never to be hanging in their harness at all, in the same sense that most people prefer their smoke detectors at home never to beep).
On the first run down the zipline they recommended the comfortable harness, as I had a 360° camera on a selfie-stick with me. The harness is attached to the 'cable runner' at two points, so it doesn't twist and turn much when going down the cable and provides a steadier platform for shooting video.
While this is undoubtedly true, it makes the ride a bit too comfortable.
Sitting there in my comfy seat, the whole zipline experience felt more like watching a movie (except for a bit of wind in my hair) than being on a zipline. It felt like I should have done it with a glass of wine or a bag of chips in one hand. Fantastic views, amazing scenery - but a bit too comfortable.
So on the second run, I took the climbing harness. Well, technically a safety harness, as it has shoulder straps, so I could also have gone upside down, if I had wanted to. (Didn't do that, though, as I only did two runs on the zipline. But I did that once when ziplining near Lago Maggiore. An interesting experince, even though I didn't dare to let go with my hands.)
But this time, I was simply sitting in the harness and enjoying the ride.
The scenery here was even better than at the previous zipline(s).
The scenery at San Vigilio di Marebbe is pleasant.
Rounded hills with green meadows und lush green forrests around them, a picturesque village, some snow covered alpine peaks in the background. Idyllic.
Monte Pana looks much the same, though with wider views, and everything a bit larger.
But it also has a rough and ominous looking mountain behind the start of the zipline (the Langkofel, next to the Plattkofel), which was mostly shrouded in clouds and backlit by the sun, which gave the place a somewhat sinister feel - like a happy place with a dark secret.
Or, to put it in classic animation terms, San Vigilio di Marebbe did fit the "Pastoral Symphony" setting from the 1940 Fantasia movie while Monte Pana was more like it belonged to "Night on Bald Mountain".
But, anyway...
It's a nice place to be on a sunny day.
I had some spare time after the ziplining, so I walked the nearby 'Art and Nature Trail'. Most of the art installations were essentially decorative - nice to look at at good for photographs. One of them was even specifically 'framing the scenery'.
But there was also one sculpture of giant ants emerging from the ground.
Which made Mount Parna feel even more like it did before - a happy place with a dark secret.
Anyway, I liked it.
Further down the trail was some Highland cattle resting next to the path (which were real and not an art installation). The path passes right next to them, instead of going around the fence that is behind them. But while they look imposing, they are not aggressive (why should they be - after all, we have almost the same haircut). However, they look slightly annoyed when yet another tourist walks by and distrubs their sleep.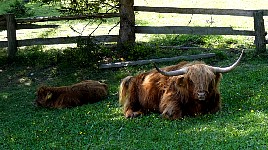 After some more walking around, I drove back to Bolzano, spent the night at a hotel near the airport and flew home the next morning.
Nothing much to say about this, although the hotel had one of these showers that share a glass wall with the main room. I've seen that only once before (and there they had glass that could turn opaque on the flick of a switch) and I can't make up my mind whether it's intended to be convenient (as you can continue watching TV while you're in the shower), kinky or both.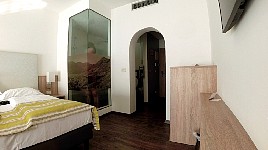 Similarly, I don't see the point of having a (non opaque) glass door between the corridor and the toilet.