Lyon, April 2012
I was in Lyon for a week in April 2012. And I had a weekend with nothing to do. So I tried to find some things to do. April is still a bit early for most 'summer' things (the real tourist season doesn't start until May), but the Gorges de l'Ardèche seemed interesting.
I wasn't quite sure what to do there, but with some caves in the area, a natural rock arch over a river and a river canyon, I figured that, even if everything was closed, I still might at least have a couple of nice walks.
It was a bit of a drive (about 250 km), but the area seemed to be worth it.
Luckily for me, however, it was possible to do some kayaking. And even luckier, the weather was nice and sunny and it was still pretty early in the tourist season, so I could do a quick trip without sharing the river with hundreds of other kayaks.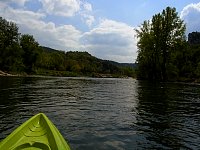 There are basically two different tours you can do - either there's the short tour, which covers (supposedly) eight kilometers and then a longer one of about 24 kilometers (or you can add both for the full 32 km trip).
All tour companies offer essentially the same trips (since, due to this being a canyon, there are no alternatives for taking boats out anywhere else.
Since I was too late for the 24 km tour (because there was a fixed pick up time at 5 pm and I would have needed to be a very quick kayaker to get there in time), I decided to just do the short tour, which also had the natural rock arc as a scenic highlight. And two small rapids. (I have been trying to do some white water rafting for some time now and so far it hasn't worked out - I also looked for opportunities in Southern France on this trip, but the season doesn't start until May...) And while it's not even reasonably close to 'white water' rafting, since the rapids are rather tame (the challenge in navigating them is more in finding a way through the rocks than avoiding to capsize), at least it is something related.
So I went down the river for about twenty minutes and enjoyed the rocks and caves on the sides of it.
Then I arrived at the 'main attraction', the Pont d'Arc.
Just to give a bit of a depth perspective, here's a pseude-3D view using an animated GIF.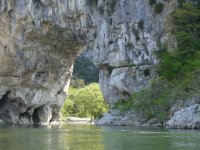 From there it was further down the river, looking at the sides of the canyon, going down another rapid and even entering a small cave at the side of the river with the kayak.
I felt fairly lucky that this was the off-season when I reached the end of the eight kilometer section and did see the number of kayaks stored there. Given that there are probably six or seven companies operating kayak tours and this one alone had more than forty of them lying around at one place, there are probably hundreds of them on the river in summer time.
And then it was time to paddle to the river bank, pull the kayak ashore, relax in the sun and wait for transport.
I didn't have the time to do any more kayaking, but there are a number of caves in the vicinity, so I decided to visit one.
For some random reason I decided to visit Aven d'Orgnac, which is about a dozen kilometers away instead of going to the much nearer Les Grottes de Saint Marcel d'Ardèche or Grotte de la Madeleine. Seems like this was a good decision, since the cave is quite impressive. And while the access is now fairly straightforward (and the exit even simpler, since you descent about 165 meters from the starting point, but then take an elevator back up), there is also a big hole in the ceiling of the cave, which was used originally to access the cave (and lets in a bit of daylight into the cave.
In addition to the tourist part of the cave, they also have caving tours to the more remote parts of the cave (and a large map at the entrance shows you how small the part of the cave is that you usually get to see). The longest tour takes eight hours, but they also have a short but nasty one, which lasts only three hours, but seems to include some serious climbing. Unfortunately none of the special tours was available on the next day; otherwise my plans for that day would have been fixed. (Well, probably not for the climbing tour, but I'd have gone onto the eight hour tour immediately.)
Paddling down Ardeche river was fun and I considered going back on the next day and do the 24 km tour, even though that would have meant getting up early and having another long drive down from Lyon. But the weather report had 80% rain for the next day and when I woke up at 7am and looked out of the window, I decided to ignore that plan, sleep a bit longer and do something else.
Since the rain hadn't changed much by the time I got up, it seemed like a good idea to go and visit some cave (after all, you got a roof over your head and aren't bothered much by the rain).
So I drove to the cave at Cerdon, but I arrived too early (they don't open until the early afternoon) and I drove a bit further to the village of Brenod, which had a small walking track called "Le circuit des 3 cascades", which passes by three small waterfalls and a panoramic viewpoint. Nothing spectacular, but a nice way to spend some time - and waterfalls always look more impressive in the rain, so there is a bit of a justification going there on a day like this - and you got the whole place to yourself as well.
By the time I had finished, the cave had opened.
It was a fairly linear one, pretty much one long widening crack with a huge cavern at the end.
The formations on the way were nice, but not as spectacular as the ones at Orgnac.
The cavern at the end was however quite spectacular. It's hard to tell from the images, since there's very little to give a sense of scale, but it as a seriously big room.
Though it is not quite as daunting as they make it seem on the tour.
The main tour is fairly easy to do. They actually drive you with a little 'tram' from the starting point up to the entrance of the cave, so all you need to do is walk downhill.
Until you reach the big cave, from which you can either return directly to the starting point, or you can continue to a viewpoint. But they warn you that you shouldn't attempt that if you got heart problems, are asthmatic, have joint trouble or other health problems, since it is 'very steep'.
Of course, it was anything but. It does go a bit downhill (which you have to walk uphill again), it's not that bad.
The only downside to it was that the viewpoint is not really worth visiting on a a rainy day (though it must be nice on a sunny one). But just walking through the large cave was worth the (trivial) effort.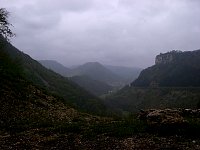 And after all, there are some benches near the exit to rest on. Though they don't look particularly stable. I'm not quite sure whether they look less rotten with more distance from the cave because it's less damp there or whether they just put in a new bank when the previous one is about to fall apart.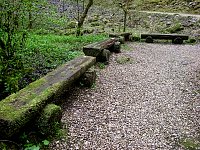 And that was how I spent the weekend in the vicinity of Lyon