Spain, Madrid area, December 2017
Ziplining is nice. I like ziplining.
Traditional mountain climbing - not so.
It's not like I particularly wanted to climb a mountain. Or a rock. Or anything between.
I had a free day in Madrid, a rented car, and was looking for something to do.
So I looked around and found a company that offered a day tour to a via ferrata.
I had never done a via ferrata (I am not too fond of heights and there's usually a lot of uphill work involved), but as I had recently done something similar (the underground mine climbing tour in Wales had a large number of via ferrata elements) and the pictures of the via ferrata in Priego seemed to show that the starting point would be at the side of a cliff, so while there would be a bit of an uphill struggle at the initial 'ladder', most of the rest would be traverses and bridges, going horizontally along the side of the cliff. And it looked very suitable for beginners. An interesting experience without any tough parts.
I didn't to that tour at all.
What I did was to write to the company offering the tour, which was also offering other tours, and to mention that I would be interested in doing their via ferrata tour, but that I was aware that the first of December wasn't the midst of the tourist season (and a Friday as well), so I would pretty much be willing to take whatever day tours they had to offer. Preferring the via ferrata, but also being interested in rappelling, canyoning, caving, cayaking, maybe even scrambling - as long as it would be suitable for someone at beginner level.
So, a bit unexpectedly, the answer was that it would be best if I booked their trad climbing tour.
Which I didn't even know about (it wasn't listed on their 'Adventure Day Tours' list, but on their climbing list, which I hadn't even looked at (as I am not a climber)) and which, given the description, seemed all wrong for me.
Difficultly was given as "Intermediate-High", which didn't quite seem to match my "suitable for beginner level" request. I didn't match any of the requirements for the tour ("Must have completed a rock climbing course or have proven rock climbing experience.", "Proper training in trad climbs is required.", "This is not an area for beginner climbers.") or brought (or even owned) most of the equipment needed ("Each participant must bring their own personal rock climbing equipment (climbing shoes, helmet, harness, and daisy chain/sling) and appropriate seasonal clothing for being in the mountains.")
When I got their mail, I was already in Madrid, so even if I would own the stuff (and the only thing that I do have is a harness), it would have been to late to pack. I had been planning for a via ferrata tour or caving, so all I had were some sturdy gloves, jeans, a sweatshirt and a leather jacket. Ay least I had packed some decent hiking shoes.
So I mailed back, pointing out that this was probably the tour that least fitted my capabilities.
And I quickly got an answer back that essentially said: "Don't worry. We can do this at beginner level. You'll be fine."
So I booked the tour and found myself next morning at the meeting point in Manzanares el Real, wondering whether that was a good idea.
When the guide started to check things, I felt a bit underprepared.
"Have you got a backpack?"
"No, just a shoulder bag."
"Got something to eat?"
"No."
"Water bottles?"
"No."
"Did you read the weather report?"
"No."
"Weather will likely turn bad today. Winter coming in properly, with snow, rain, hail, slush and winds. Got any fleece shirt?"
"No, just a cotton sweat shirt. Long sleeved, though."
"Rain protection?"
"Well, a leather jacket."
"Any rainproof trousers?"
"Only the jeans I'm wearing. I have been to a conference in Madrid, it's already good news that I am not wearing a business shirt, a blazer and a briefcase."
"Well..."
"I have a pair of gloves, though."
"These you don't need for climbing. Only bring them if you get cold fingers."
"I usually don't."
"You can leave them in the car then."

So we went to the next supermarket, got some water, some power bars (the eatable ones, not the one for charging smart phones) and a couple of sandwiches for me. (Which did take some time - I had grabbed some cheese and bacon sandwiches at random and at the checkout they took only half price, but strongly insisted that I would need to eat those today.)
When we got to the starting point, the guide summarized the plan.
The summit of El Yelmo is at 1717 meters and we were at about 1000 meters. The last 100 meters (roughly) is the bit to climb, so we needed to walk roughly 600 meters first.
"An easy 90 minute walk."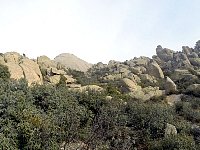 To my surprise, we got there in about 100 minutes, so the estimate was pretty much on target. And even though I was huffing and puffing quite a bit on the way up, it wasn't as hard as I expected it to be.
And the view was great.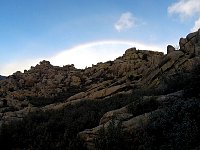 Nice rainbow (and later a more pronounced double rainbow).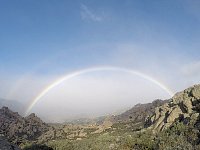 And while there were no wide trails (everything was randomly strewn with granite rocks), the path was easy to follow and consisted mostly of small steps, so there was no scrambling on the way up.
We got to the base of El Yelmo and the guide pointed out the route he wanted to take - an easy mid-level route.
I pointed out again that I was no climber, hadn't the stamina, strength or body shape for it and had no experience at all, not even an introduction day at an indoor climbing wall. And that I would like to have the most beginner route possible (and would also be quite willing to keep it a nice walk out in the mountains and skip the trad climbing bit altogether).
So he pointed out the easiest route on the south wall. (I later found out that this was careful phrasing - the easiest route up El Yelmo is up its north wall.)
He then gave a short summary of trad climbing (which means that you don't use bolted routes, but only rope anchors that you put in temporary and remove afterwards). And showed the 'tools of the trade' - some climbing cams (things with springs that you shove into cracks, where they expand) and hex nuts (which are similar to the nuts you put on a screw, with a cable running through the hole in it, which you push into a crack and then wiggle it until it jams).
With this introduction over, we attached to the ends of the rope. He would climb ahead (about 25 meters, the length of the rope), secure the rope (or, specifically, the belay device through which the rope would run), then shout at me to follow or, if it got too windy to hear, tug at the rope thrice.
And I would then follow to where he was.
Having now learned all I would ever need about trad climbing. I remained where I was and he started climbing.
After he was ready at the top bit, I tried to follow.
We had started at a wide crack in the wall.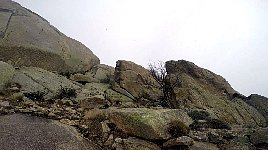 El Yelmo is one big dome shaped block of granite (hence the name, which refers to some medieval helmet). A lot of it is flat granite in various levels of steepness, bet there are some cracks in it and one of the wider ones has some rocks and boulders on it, giving a bit more of a 'step' than the flat rock.
The first two 'pitches' (rope lengths) were indeed nice and reasonably easy.
Part of it was even 'walkable' for me (though it was probably 'joggable' for my guide) and the rest could be done crawling on all fours.
But then the crack got smaller and there was no way to go forward - only upward.
It wasn't much - it took only two meters to get out of the crack and be on walkable surface again. But there were no footholds or handholds I could find.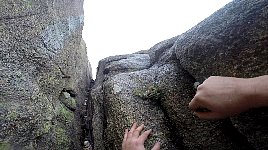 The guide told me that I would need to push my back to the rock, press my feet against the other side of the crack and then slither upward inside it.
Which I couldn't do.
I tried to give it my best wriggle, but couldn't get my legs in a proper position and didn't make any progress.
So I decided that enough was enough and called it a day, especially as the crack seemed to be the easiest part of the route and I didn't look forward towards the unprotected granite slope above it.
We headed down again to the base of El Yelmo.
Stepping out of the protection of the crack, it became clear that it had been a good decision.
The wind had picked up quite a bit and it had started to snow.
That wasn't noticeable while being in the crack itself, but about 20 meters later we would have been out of it and had found ourselves in the open on the rock face with the wind and snow right in our faces.
So we probably would have stopped the ascent ten minutes later in any case. (But I have to state that I didn't know that at the time. I stopped because I wasn't able to get up two meters of rock. The weather condition as a convenient excuse followed later.)
We dis-roped, packed up the gear again, and started to walk back down to the parking lot, this time through a rather more snowy landscape. (And found a sheltered space halfway down, to eat the sandwiches.)
So, in the end, even a beginner's route had defeated me and I did not ascent to the top of El Yelmo.
Which was fine by me.
I didn't especially want to go mountain climbing, so I didn't mind much that I wasn't capable of doing it. And I did find out that it is not something I unexpectedly enjoy. It didn't worry me as much as I thought (but then, I never got onto the exposed rock face with a hundred meter of drop below me), but it also wasn't fun to do.
In any case, it was worth spending a day finding out.
(For example, I didn't expect that ziplining or dogsledding would be as exciting and enjoyable as they are. I only found out when I tried it the first time - although with dog sledding I had already been fairly sure that it would be great.)
Speaking of ziplining...
Next morning (my flight home was in the evening), I drove down to Toledo to do exactly that.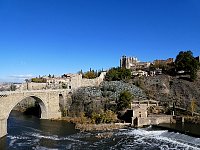 The zipline in Toledo is at 180 meters not particularly long and it's not that high above the ground, but the location is amazing.
The zipline runs parallel to a medieval bridge (the Puente de San Martín) across the Tagus River, and offers a great view across the bridge towards the old city.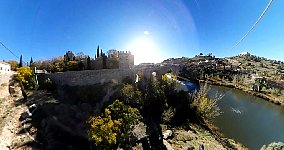 It is amazing to have a zipline that close to a historical place. There is a zipline at the Olympic Stadium in Munich, which is also an unusual location, but this one is an even better place.
The zipline operation is also the smallest one I've ever seen outside a children's playground. When I arrived, I had been looking for some kind of kiosk or ticket office to book a ride across the river. Or at least some van serving as a base of operations.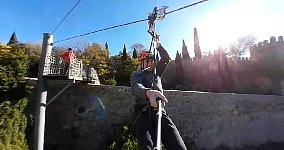 But the starting platform is all there is. And next to the starting platform three boxes for trolleys, harnesses and helmets.
You pay the fee, get your harness and helmet fitted, grab a trolley and someone will clip you in. And off you go.
All very low key and efficient.
On the other side, you zip into a braking system that locks onto your trolley, you can (if you want to) have your picture taken and someone pulls you in.
Then you use the bridge to walk back to the starting point and hand your gear back. (Or go for another zip. And then another...)
Pure ziplining fun. And, unlike the mountains, Toledo was sunny, not windy and not snowed in at all.