Milano, Madesimo and Monza, February 2018
I had been in Napoli a couple of weeks before and I got slightly bored there.
There's Vesuvio and there's Pompeii and that's pretty much it. (You can also go to Capri, to make the Napoli Tourist Triple complete, but then you are mostly out of options.) The only other thing to do seemed to be a kayak trip along the coast, but that wasn't available in January.
So when was in Milano for the fourth time in 13 months, I wondered whether I would still find new things to do in the area.
And, even though I repeated some activities (sort of), there were still sufficient opportunities.
I had one activity planned for Sunday, but that didn't work out as planned (more at the end of this report), so I looked for an alternative.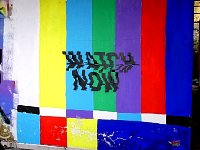 And learned about Consonno.
Back in the 60's, someone bought a small mountain village and tore down all the buildings, except for the church. And built a futuristic/fantasy mountain resort.
It's often described as an attempt of creating an "Italian Las Vegas", but as far as I can tell, this doesn't mean it was intended as a gambling place - more that it was a "themed" hotel, like Circus Circus, Excalibur or Caesars Palace in Las Vegas.
In any case, the main building had a bit of an "Arabian Nights" flair to it, with a tower looking like a minaret and arabesque door and window shapes.
I am not sure how successful it was in its heyday, but at some point in the 70's, the sole road leading to it was washed away in a landslide and by the time the road was rebuilt, the place was bankrupt.
It is difficult to say what would have happened if the road hadn't failed then.
I had visited Portmeirion in Wales a couple of month earlier and there are some parallels - a place owned by one eccentric owner who then built a holiday place according to his specific tastes. And Portmeirion is still doing well.
Multiple attempts to reactivate or sell Consonno failed and now it's a popular "lost place" with unusual ruins.
So I went there to have a look.
The main (and most recognizable) building is the former shopping mall / apartment building (with the minaret on top).
But there are also a restaurant building, support buildings, an abandoned truck and gardens with fountains and sculptures.
And also lots of interesting Graffiti.
(The place is also full of photographers, so the hardest thing about visiting Consonno is keeping out of their way and wait for moments where they are not in your way, for a proper "deserted place" feeling.)
Consonno isn't far from Lecco and I had some free time in the afternoon, so I drove to Lecco and took the aerial tramway up to Erna Piani.
It was the first chance this year to walk around in some snowy landscapes.
There's a bit of a viewing platform, but the view was a bit foggy at the time.
The viewing platform also is the end of a Via Ferrata.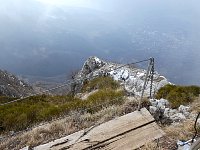 I didn't see where it was going beyond the first 30 meters or so, but given the view of the rocks from the side, it must be quite some task to get up there.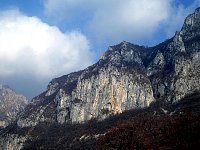 And even though it might look a bit like they hang little cable cars as ornaments on birch trees, it's just the regular cable car going down behind the tree.
Nice snowman, anyway.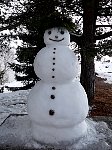 I didn't stay long up there, since I had to get back down to the car to drive back to Milano to see a painted wall.
I have been to Milano a couple of times, but I somehow missed the fact that this is the place where Da Vinci painted the "Last Supper". (I had somehow assumed that it would be somewhere in Rome or a museum somewhere - I hadn't even realized that it was a wall painting and thus not something that could easily be moved) and was a bit surprised when I mentioned wondering whether there are still new things to visit in Milano and someone mentioned assumed that I had already seen the "Last Supper".
Anyway, now that I knew it was there, I got a ticket to visit it.
Given that it is one of the four pre-1600 pictures that everyone recognizes (in my opinion, the other three are Mona Lisa, The Creation of Adam from the Sistine Chapel and The Birth of Venus), the setting is somewhat mundane. It is also surprising how it ever became famous.
The room it is in used to be the dining room for a convent (which seemed to be a common theme - put the "last Supper" in the room where the monks had their supper), so it was probably considered more "room decoration" than "serious art". A bit like having someone paint a rural scene on the wall of a local pizza place to pay for the rent and then later becomes a famous artist.
That becomes even more obvious in the room itself, as the first thing that is noticeable (and which dominates the room) is the painting opposite of the "Last Supper", showing the crucifixion, which was obviously intended to be the centerpiece. (Not sure, though, why that one was commissioned for the dining room. I'd rather expect something about the feeding of the multitudes.)
In any case - it was a wall decoration in a dining room in a not overly important convent, which deteriorated quickly and after half a century was hardly recognizable anymore. Its "importance" of the picture a few centuries ago is also evident due to the fact that they cut a doorway through the lower part of the image a hundred years later. So it wasn't considered a masterpiece back then. And from time (seems like every half century or so), it seems like some painter was called in to "repair" (i.e. overpaint) what was left of the picture (also, more a "that wall looks ugly, get someone to put some fresh paint on it" attitude than any "preserve the famous artwork" attitude).
What's visible today is pretty much a "colouring book" style wall decoration in a remodeled dining room (later also horse stables, armory, prison) vaguely based on what Da Vinci had put on the wall.
I have no idea why and when it became famous. It seems to have been "some decoration, made by someone well known" and then turned into one of the most recognizable Renaissance paintings. But there seems no specific event or even recognizable time frame when that happened.
Next day I went north again from Milano and headed back to some wintery scenery.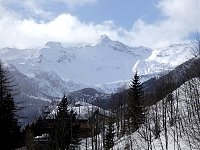 I stayed in Campodolcino and when I arrived, I tried to do some cross-county skiing, but somehow the place wasn't prepared for it.
There is a nice and easy cross-country track along the river in Campodolcino. A well maintained loipe, starting at a small lake, running for about 3.5 kilometers along the river, crossing a bridge and running back on the other side of the river.
Flat, no complicated bits, no real ascents or descents, a good length. Long enough to make it worthwhile to get some skis, but not so long that it would stop being fun.
So I went to the ski rental company at the base of the cable car (which leads up to the "proper" skiing resort of Motta, about 800 meters above).
Only to be told that they only have snowboards and downhill skis, but no "Nordic skis".
A somewhat weird situation.
Up in Motta, they have two cross-country trails (one short, easy one (about 2 km) and a mid-sized advanced trail (about 5 km)) and some downhill slopes. And there is a ski rental up there offering snowboards, downhill skis and cross country skis. While down in Campodolcino, they only have snowboards and downhill skis. But they don't have any slopes down in Campodolcino, so the only thing you can do with the skis you rent there is to take them up to Motta and use them there (where you could rent them as well). And for the only thing that could be done locally (cross-country skiing), they had no equipment. Strange.
They told me that there might be another rental at the "sporting center" in town, but that was only a bar, which was closed.
So the only option would have been to take the cable car up to Motto, rent skis, take the next cable car down again, do some cross-county skiing, take the cable car up again, return the skis and wait for the next cable car down.
As the cable car only runs every 30 minutes and costs 11 Euro for a return ticket. It didn't seem to be worth the effort, so I didn't do any cross-country skiing there. And doing it up in Motta also didn't seem much of an option - the longer track was clearly too advanced for me (requiring a helmet and skiing skills) and the easy track seemed to short - renting skis for a 2 km loop and returning those 20 minutes later seemed silly).
So I walked a bit through Campodolcino and had an early, good and massive dinner.
And the activity I had planned for the next day worked out much better.
My primary reason to driving up to the Valchiavenna winter sports area was to go on a snowmobile tour in Madesimo, a nearby village.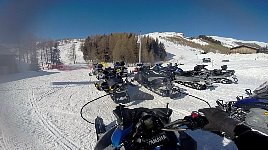 They do various snowmobile tours and as that was the primary reason to travel there from Milano, I had been looking for a longer tour and, conveniently, they had one on offer on the day I was there. (Not extremely long, their "long" tours are two hours, but better than to drive all the way up to the mountains to do a 40 minute tour.)
The rules were unexpectedly relaxed.
In most cases, when I had been on a snowmobile tour, they offered (and usually insisted on) a full set of gear - snowmobile suit, helmet, goggles, gloves, sometimes even heavy boots.
Here the question was: "Do you have some winter wear, like you would wear for skiing? Then you're fine." So I put on some insulated trousers (which I had packed for cross-country skiing) my leather jacket, warm socks (and normal walking shoes), a pair of gloves and I was set to go.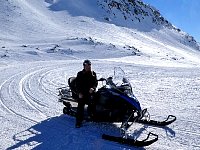 Even helmets weren't mandatory ("But we can give you one, if you like."), so I put on my fur cap and was ready to go. (I borrowed some goggles, though. But, in retrospect, my sunglasses would have been sufficient as well.)
And I got very lucky with the weather, as it was a beautiful, cloudless winter day.
But everything else about the tour was great as well. The route went through a lot of varied terrain, with good sightseeing stops along the way (no "sneaking along" in some viewless valleys), the driving was good (we were a small group, just the guide and two snowmobiles following) and everyone was willing to go fast, so we covered a lot of ground during the tour (more than expected, as, close to the end, we repeated on large loop, as we were back too early).
The trails were fantastic as well.
The grading machine had just gone through, so most of the snowmobile trails had been freshly laid and we were the first riding on them, so the whole thing felt like a VIP event, with the red carpet (well, white trails) put just down for us.
Our first stop offered a good view towards Madesimo, which by then we had left a good distance below, and the alpine scenery of northern Italy.
We then drove to the town of Stuette, which, at this time of year, is no longer reachable by car and then went around Montespluge to follow the Strada Statale 36 for a bit. The road leads to Passo dello Spluga or Splügen Pass, where it leads into Switzerland.
It used to be an important connection between Switzerland and Italy, but when various tunnels (most relevant the San Bernardino tunnel) were built in the 60's, it lost its importance and is now no longer kept open in winter.
Bad for cars, convenient for snowmobiles, as we drove along the street to the Swiss border.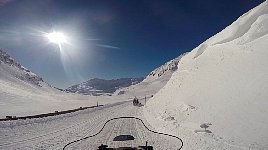 Driving up the serpentine road was easy - deceptively too easy as I found out when I was sitting a bit too upright when going round a corner.
(At first I thought that I had hit a soft spot in the snow and that was what made the snowmobile tilt to the right, but I according to the video I was on the same track as the snowmobiles before me, so it was clearly my position on the snowmobile and not leaning into sufficiently into the corner.)
No harm done, though.
And at least I wasn't the only one who didn't keep the snowmobile runners on the ground at all times.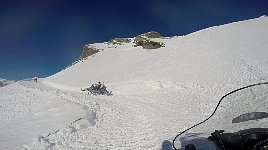 In any case, we drove right up to the Swiss border. There we had a short photo stop.
As we couldn't continue any farther north (at least not in Italy), we headed back and drove even higher.
There is a small mountain lake (about 200 meters above the pass) where we had our next stop. At the time, I wasn't even aware that I was on a lake, as it was completely frozen over and, except for a certain flatness of terrain, there wasn't any sign of this being one. (It is also more of a pond, so the flat area isn't that large.)
From there we drove back down to Madesimo, taking the "scenic route" and also driving a couple of interesting bits where there was a sheer drop right beside the trail, so paying attention and careful driving seemed like a good idea.
Then we still had time for one "bonus loop" around the hills before we headed back to the snowmobile tour base in Madesimo.
After the tour was over, I went to visit a local waterfall. Given the time of the year and the outside temperature, there wasn't much movement at the waterfall. But it looked interesting anyhow. (And a bit more massive than it would look in summertime, as the ice accumulated over the winter.)
When I drove up from Campodolcino to Madesimo, I noticed a large parking lot.
These are quite common in mountain villages. Streets are narrow and there is not much room for parking, so the city councils often decide to build a large parking lot outside the village, so that visitors can leave their cars and walk to the village from there.
This one, outside Madesimo, was spacious, empty and a bit icy. So it seemed like a fun idea to take the car and try some ice driving and braking on it. I didn't go fast, but even at about 15 km/h the car was moving in interesting patterns.
I also found out that, once you start a handbrake turn on ice, there's nothing you can control about it. As the car swivels around the front wheels, steering won't have any effect (since the wheels don't move, it doesn't matter where they are pointing) any releasing the brake also has no effect, as the back wheels are moving sideways and it doesn't matter much whether their rotation is blocked or not. So the only possible help would be to accelerate (as long as there is forward momentum, there is a bit of control), but the parking lot wasn't big enough to experiment much with that.
In any case - it looks slow and boring, but it was fun driving.
Later that afternoon, I took the cable car from Campodolcino to Motta. I didn't do anything winterly up there (like renting some skis and going cross-country skiing - a 2 km track is really too short), but I did walk around a bit, enjoyed the view (including the "Golden Europe" statue) and the sun.
Up there, it was still nice, sunny and warm, while down in the valley, Campodolcino was already in the shadows of the mountains.
So I enjoyed another hour of two of sunshine before the sun started to vanish behind the mountains up there as well and I headed back down to my hotel.
Next day, I drove back to Milano, but as I wasn't in a hurry, I stopped in Lecco and did some sightseeing there.
Lecco is a bit like the lesser known brother of Como.
Lake Como looks a bit like an upside-down Y. At the south ends of the lake, Como is located on the western arm. It's well known, a famous tourist destination and (obviously) gives the lake its name. Lecco is at the end of the eastern arm and, well, just a town. People live there and work there. There are some villas and museums and tourist visit. But for no discernable reasons, the tourist numbers are about a quarter of what Como gets.
Nice if you don't like overcrowded tourist places (though, in mid-February that is not much a concern in either place), but somewhat strange, as there doesn't seem much of a reason for it.
A bit like the fame of the "Last Supper" - people go there because it is famous and then it becomes more famous due to all the people going there.
I had read that Lecco had a "mountaineering museum" and decided to visit it.
No real reason for that. I had decided that looking for 15 minutes at a Da Vinci painting (with a second painting thrown in as a bonus) was enough art appreciation for one trip. So I had been looking for some museum that wasn't about history or art.
The "mountaineering museum" (the proper name is "Osservatorio Alpinistico Lecchese") was unexpectedly tricky to find.
It is in the "Palazzo delle Paure". (Which is a cool name, which could be right out of a fantasy novel - the "Palace of Fears". Although the origin is not quite as gruesome as one might imagine. It was just the place where the tax office was located.)
But if you pick up the flyer about local tourist attractions, it mentions that it houses the Contemporary Art Section and temporary art exhibitions. And that there's a "Graphics and Photography" section on the second floor.
No mention of a "mountaineering museum", though.
So I went to the "Palazzo delle Paure" to ask about it.
The first reaction I got was "I need to go and find someone to ask.", although this was more due to linguistic differences (she was looking for someone with better English speaking skills) than an indication that they might not know whether there might be another museum hidden away somewhere in the attic.
In the meantime, I spotted a flyer about the "Osservatorio Alpinistico Lecchese", which gave "Palazzo delle Paure" (where I was now) as its location. And after some pointing to the flyer and questioning looks from my side, it was established that they, indeed, had a mountaineering exhibition on the third floor, that it was, indeed, open to the public and that I could buy a ticket to visit it. (They also told me a bit more about the place, presumably that they also had a contemporary art and photo exhibition and I could visit these as well.)
The "mountaineering exhibition" turned out to be single, but large, room on the third floor.
More than half of it was devoted to the kind of presentation I dislike in museums - touchscreens with video presentations. Yes, they are good for providing information, but it is more convenient for me to watch videos at home instead of looking at them while standing around in a museum. There's no real reason to visit a museum for videos. Even if they are interesting and provide a good overview of the changes in mountaineering (and the "local heroes") over the decades.
But the rest of the room had some interesting items demonstrating the developments in mountaineering equipment, from hobnailed boots to modern "sticky-rubber" climbing shoes, and also different ropes and anchors. These things could be handled by visitors (at least these items were just standing on pedestals, without any glass cases around them), although I am not quite sure whether that was the intention.
There was also an interesting topographical relief presentation of Lake Como and the surrounding mountains, which had a projector above it, which provided short video sequences with thematic shading on the relief. So it did point out individual places, movements of the ice age ice sheets and other details.
Fun to watch.
And demonstrating how video in museums should be used. It is still just a 'video presentation', but (as most people won't have a 3D map of Lake Como at home) it is one that can only be experienced in the museum.
The presentation had some oddities - there was a short sequence about Lecco itself and the map of the city was presented all over the available, creating a city map with some very odd bumps in it. But for most of the short video sequences it was well thought through and 'modern' looking.
Next to that relief map was a small climbing wall, which looked inviting, but I decided not to fool around on it.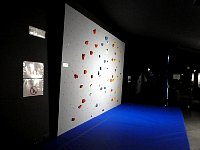 All in all, the "mountaineering exhibition" is not a hidden gem that's worth a trip to Lecco, but I spent more time there and was more interested in it than I would have been in the contemporary art exhibition or one of the historical palaces nearby.
Then it was time to drive back to Milano, only stopped by some minor carnival celebrations that were going on. I was a bit surprised, as it was Ash Wednesday, usually the day where carnival celebrations have already ended. But it turned out that in Milano (and some places nearby, which includes Lecco), there is a special rule, as part of the "Ambrosian Rite" that extend carnival until the following Saturday.
Most of it seems to be low key - I noticed a group of kindergarten children stopping at a public place and throwing coriandoli (colored paper confetti) before heading on. No costumes, no mask, just walk around, throw some confetti and move on. But that seems to be quite popular. When I was walking in Milano the next days, I did see areas of the sidewalks with confetti on it. But that was quite random and not next to any big streets or "parade places", so it seems like it's more like a kiddie "flash mob". Go anywhere, throw confetti for a minute and to and then move on as if nothing happened...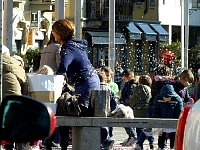 After spending a few days in Milano, I started the next weekend by driving to Crespi d'Adda.
It's a small village, which was built as a "company village".
I had read about such towns and villages in England, but hadn't been aware that they existed all over Europe.
Essentially, at the height of the industrial revolution, many factory owners felt responsible to better the lot of their employees, so they built housing for the employees close to the factory building and added, for that time, "luxuries", like schools, well equipped hospitals, sports places, worker's clubs, theatres and other cultural facilities.
While it often meant a larger control over the employees, as they now, on work and off work were almost completely depended on their employer and many company cities had strict rules on permitted behaviors, based on what the owner deemed appropriate, it seems that many of these places were built in a sincere attempt to provide something to the community (and not as a scheme to exploit the employees even more). So many of these places were quite lavish for the time. Not "mass housing slums", but often large houses, providing, for the time, an unusual amount of space per person, with good health, educational and cultural facilities nearby.
Probably the owners felt that the quality of the village they built would reflect back on their own image and standing in society. Or, as often seen, they felt like parents caring for their children, so they wanted to give them the best care they could afford. Quite patronizing - the proper term here seems to be "Paternalism", and it didn't end well in most places.
I had been talking to someone after visiting Consonno and mentioned that, back then, the place was styled according to the whim of the owner, with, as far as can be determined half a century later, with little input of planning committees, opinion polls or market analysts. And from there the discussion went to other places that were created because one person thought it would be a good idea to do it like that.
And this lead to the mention of Crespi d'Adda, where an industrialist back around 1870 built a textile factory and a village next to it.
As the place isn't far from Milano, I drove there to take a look.
The company has closed shortly after the turn of the Millennium, so by now the place is just a village where people live who drive elsewhere to work. And most of the other buildings, like the hospital, the shops and the school are now closed as well.
But in any case a good place for a morning walk along the "main street" (which, kind of ominous, ends at the graveyard - the factory and the owner's "castle" are to the side of it).
I visited Crespi d'Adda for a couple of hours in the morning, since I wanted to be somewhere else in the early afternoon.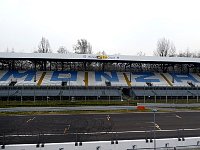 When I was in Milano the previous time, I drove to Monza and did to a couple of laps with a Ferrari 488 (2 laps) and a Lamborghini Huracán (1 lap) on the race track.
An activity that turned out to be a bit unsatisfying and much too expensive.
So, after deciding that it was a stupid and expensive thing to do, the obvious thing to do next was to go to Monza for a second attempt.
One of the regrets I had after driving in Monza was that I never did a 'proper' lap (i.e. one from start-line to start-line (or finish-line to finish-line) at speed. (Not even from start-line to finish-line, which would be a shorter lap, as the start line is at the end of the main straight, while the finish line is at the beginning of it.)
The main reason for that was that the company offering drives at Monza is counting a 'lap' as once around the circuit. So if you purchase one 'lap', that means you drive out of the pit lane, around the circuit and back into the pit lane.
But I had assumed that a 'lap' would mean one 'proper' lap driven at speed (what they mean when a racing driver does 'one lap' during qualifying), so when I purchased one lap in the Lamborghini and the Ferrari each, I was a bit disappointed that, after going round with the Lamborghini once and expected to start the 'proper' lap now, I had to drive back into the pit lane and the Lamborghini experience was over.
I then quickly purchased an extra second lap with the Ferrari afterwards, so I would drive down the main straight at least once, so I could see what top speed I could get (that still didn't mean a proper timed lap, but I could just pick a point somewhere along the track (like going under the bridge after the Lesmo curves and time the lap from here).
The laps were a bit too expensive to spontaneously buy more of them, so I didn't buy any more Lamborghini laps (as I would have needed to buy at least two of them to drive it on the main straight).
But as some time had passed and I wanted to reward myself, this time I purchased three laps with the Lamborghini, so I could find out how fast I could drive it and also to get a 'proper' fast lap and lap time.
I did manage to get a properly timed lap out of this at 2:29.03.
Which, to my surprise, turned out to be slower than with the Ferrari a couple of months back.
I didn't have a real timed lap back then, as I didn't go over the main straight twice, but I picked an arbitrary point elsewhere along the track and compared how long it took to pass that point again, which gave a rough lap time for the Ferrari of 2:28 (although this varies by about a second, depending on which point of the track I pick - the good thing with a real lap time is that it gives you a defined point of measurement).
So the total lap time was slower in the Lamborghini Huracán than in the Ferrari 488.
And I didn't manage to get a "higher fastest speed I've ever driven" either.
My top speed with the Ferrari was 269 km/h and with the Lamborghini it was 268 km/h both times I went down the main straight. So at least that consistent driving, even though it ended up one single km/h slower than the Ferrari.
Looking at the videos, I was initially not sure why the lap was slower than the one in the Ferrari. I hit 244 km/h towards Ascari chicane and 243 km/h towards Parabolica, compared to 239 km/h for both in the Ferrari. But then I had both videos run side by side and it became clear that the instructor made me brake a bit earlier for the chicanes, so I was going slower through them.
But in any case, even though I didn't go faster than the first time, as driving experience it was much better.
This time I could concentrate more on the driving (and enjoying it) than on worrying about not doing anything wrong. I, basically, knew what to do and I knew the track, so I wasn't surprised by any curves coming up.
So while it was still an expensive day to spend eight minutes, I had more fun for the money.
After driving, I hung around for a while and took some pictures of the Lamborghini and the other cars going by.
Last time, there were also the Formula 3000 and the Formula 1 car present, but this time, only the Lamborghinis and Ferraris were available.
The company that offers the laps in the Lamborghinis and Ferraris usually operates on a semi-closed track. If there's a 'track day' (where people are allowed to drive their own cars on the track), they provide their services on some other race track. (They run their cars on other tracks on those days.)
However, they tend to share Monza with other companies. (It seems that they require that it is a small company that runs one or two cars and doesn't get in the way.)
So there were two other cars going around the track from time to time, both looking a bit unusual. As far as I can tell one seems to be a RXC GT3 Class car and the other might be a SR8 Radical Class car.
The SR8 (the white one) went around the track a couple of times, but while I was watching, the RXC GT3 (the black car) only made a lap at the time and then went back into the pit lane with some expensive sounding noises (sounded like a washing machine when you forgot to take the coins out of your trouser pocket). It probably wasn't serious (and maybe the car was supposed to sound like that), as they tended to fiddle around with the car a bit and then let it run another lap.
Ultimately they seemed to have fixed it, as I did see it going down the main straight a couple of times. But I still wouldn't want to rely on it for an endurance race.
When I was driving in Monza five month earlier, there was a different company they shared the track with. They were running a Lotus Exige 240R. I looked them up (which was harder than expected, as the URL they had on the windscreen was for a racing series and not the company itself) and it turned out that you could also drive their Lotus Exige around the track.
It wouldn't be as fast as a Lamborghini or Ferrari. (As it turned out, it wasn't even as fast as an Audi A1 four-door family hatchback or a Renault Corso Clio RS.) But it would be much cheaper (the price for a generous 15 minute drive at Monza, which ended up being on in-lap, four proper laps and an out-lap was about the same as a single lap in the Lamborghini) and much more fun.
But they no longer co-run with exclusive events, but sell their laps on open track days, so you have to share the track with more and more varied cars, which aren't running in a coordinated manner.
Initially, the plan was to drive with them on the previous Sunday (where I then ended up going to Consonno). Then I would have a fair number of laps in Monza with a reasonably sporty car and get accustomed to the track, so I would, on the following Saturday, drive well prepared with the Lamborghini.
But then they cancelled the event on Sunday for "weather reasons" (given how much in advanced they cancelled it and how the weather turned out to be that day, I assume that it really meant "insufficient bookings") and asked whether I could do a week later.
I didn't want to do that, partly since I was flying home that day. But my flight was in the early afternoon, so they scheduled me to be the first one to drive the Exige that morning so I would (probably) make it in time to the airport afterwards and catch my flight.
(The time turned out to be sufficient - there's not much highway traffic at noon. On a Sunday. In February. I just had been worried a bit about directly going from a racing track on to a regular street, without a bit of a "cool off" period.)
It also meant that I would do the "supercar lap" in the Lamborghini first and then do the "get used to driving in Monza" laps the day after, which wasn't quite the original plan.
But driving the Lotus was a lot more fun.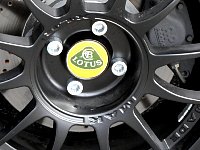 While not even remotely as powerful (or fast) as a Ferrari (or, possibly, most modern family cars) it lets you do the driving, as it has manual gears like a normal car. So you have a clutch pedal and a gear lever. So there's more to do on the track.
In comparison, the Lamborghini has a dual-clutch transmission with shift paddles at the steering wheel. But it's not only that you can shift gears by simply pulling a paddle without needing to step on the clutch pedal. It is also "mostly automatic" in the sense that it automatically shifts up the gear when you accelerate and the RPMs go beyond a specific point. The only time you operate the shift paddles is when going through a curve and shifting down, as the car doesn't know where you want to accelerate again and what gear it should be in at that point.
In the Exige you do more driving.
Less efficient, but more exciting.
And while the Exige might not be that powerful or fast, it's good at going through corners.
Monza seems to be the wrong track for it, as the track has lots of straight bits and is more about high speed than skillful driving. (Though I am more than fine with a track not needing skillful driving...)
The Exige would be much more at home on a mountain road, a twistier race track, like Imola, or even a wide go-kart track.
While I was overtaken by almost everything on every straight bit in Monza, I tended to gain a bit (when following a Porsche) when going through the chicanes.
In any case, I arrived at Monza in the morning, it was a bit foggy. As I was there early, I went for a coffee, took some pictures and waited for the scheduled meeting time.
My booking had included an "in-car video". But when I looked at the car, I noticed that it had an attachment point for an action camera on the roof and asked whether I could put second camera up there.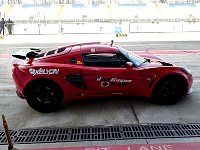 It was fine by them, so I have now an interior and an exterior view of my drive. But there was initially some problem with my SD card, so before I got to drive, there were some concerned looks at the camera.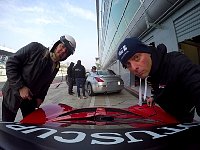 Once we got the car fueled up, however, everything was ready to go.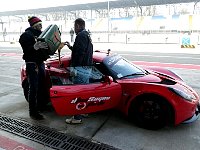 By the way, I am not sure why the car is red.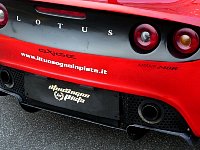 According to Wikipedia, the 240R was a limited edition and only available in yellow or black, so it is a bit of a mystery why this one is red.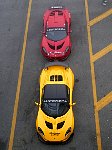 (They do have a yellow car, but that's a Lotus Elise 220 Sport.)
But regardless of the colour, I wanted to get on the track.
It took some time, though.
At first, the track was still closed due to the fog, so we had to wait for a quarter of an hour before the car could go on the track. (Usually a trivial issue of no concern, but I had a flight to catch...)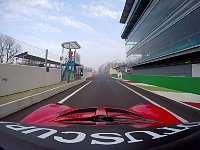 Then the instructor would do a lap with me in the passenger seat, so he could check that everything was ok with the car and the track and he could also provide some information on how to drive.
But the intercom between our helmets didn't work, so we did the lap without him being able to tell me anything (while, in the meantime back in the pit lane, they were trying to find some fully charged batteries, as, for some reason, the intercom system is not powered by the car).
After we were back from that lap, everything was quickly fixed.
My camera got another SD card, the intercom got fresh batteries, the track was open and I could get into the driver's seat.
Which took a moment.
But then everything was fine and there was one last chance of looking stupid before going on the track.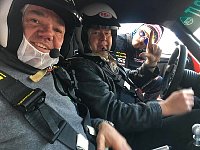 The Exige is a low car, even for a sports car. So, unless you are a contortionist and weigh less than 50kg, you can't simply sit down in the driver's seat. As in a Formula 1 car, they need to remove the steering wheel, you wiggle your way into the seat and then they re-attach the steering wheel.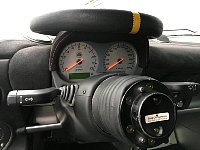 On an empty track, it's not that noticeable, but when a car passes you, it becomes obvious that your head is level with the rear lights of most cars. Often the camera on top of the car was level with the heads of the drivers in the other cars.
Which means that the Lotus has a low level of gravity, which keeps it nice and solid on the ground when going through curves.
But on the straights that everyone passes you.
Even cars accelerating right out of the pit lane drove by while I was at the end of the main straight and going at full speed.
There was only one car that I managed to overtake on the track...
But then, that wasn't the point. I wasn't doing a race, I knew that I wouldn't be as fast as in Ferrari or Lamborghini and I wanted to have fun driving on a race track for 'a reasonable price'. And that's what I did.
And even when going "slow" (and it feels a bit odd to consider 189 km/h slow) it is quite an experince driving a sports car (even if it is not a "super" sports car) on a race track. Especially one as famous as Monza.
I enjoyed it a lot and managed to do four full laps in my (generously measured) 15 minutes (plus in-lap and out-lap). And I got a fast warm-up lap, as the instructor hit the corners a lot harder than I dared to, so that was also a quick 'race taxi' lap as a bonus.
The GPS, while still having jitter and odd spikes in the data, provided useful information.
The graphic below show the data from the four laps.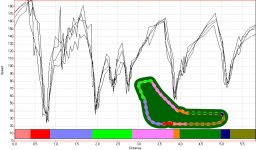 The driving was more consistent over the laps than I had expected.
There are some increases in speed while going through the two Lesmo Corners (the light green bit), so it seems I was trusting the car a bit more in later laps.
And in the Curva Grande (the slate blue part, following the red chicane), the lap where I let some cars pass shows up clearly.
My best lap time was around 3:03 minutes, which is about 35 seconds slower than it had been in the Ferrari or Lamborghini. (The top speed in the Exige was 189 km/h).
But then it was time to leave. I would have liked to stay at the track and take some pictures of the Lotus going by, but I had to drive to the airport now (and I did already have a few pictures of the Lotus Exige on the Monza race track from the previous October).
All there was time for was one last silly picture with the Exige before I walked to my rental car and drove (very carefully) to the airport.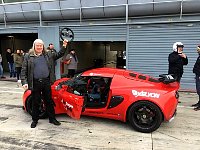 And caught my flight home.