Naples, June 2019
When I had been the first time in Naples, about a year earlier, I didn't find anything exciting to do. All the activities on offer seemed something from a 200 year old itinerary.
So I did visit what everyone else visits: Vesuvius and Pompeii.
Sort of nice. And dull.
And for the third day, I already couldn't think of anything interesting to do, so I decided to take a ferry and go somewhere, like Capri or Ischia. Neither a place I particularly wanted to see, but I couldn't find anything more interesting. In the end, I went to Sorrento. Not for any particular reason - it happened to be the destination of next ferry that was leaving port.
Now, that I was heading for Naples again, I remembered that there wasn't much to do there, so I just planned for one 'tourist' day.
And I looked a bit farther this time and found a company in Cusano Mutri, a small village, about 70 km from Naples, that offered various tours. Unfortunately my available vacation day was on a Monday (and it was still off-season), so options were a bit limited and the only thing available was a short ziplining-tour through a local gorge and a forest walk. (They also offer canyoning, kayaking and a longer tour along another gorge, but that didn't work out as I was the only customer that day, so I couldn't attach to some other group.)
In any case, renting a car and driving to Cusano Mutri for the Gole di Conca Torta was a good idea.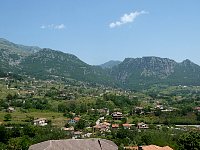 It is by no means a big tourist destination or a difficult activity.
It's a small gorge and the ten ziplines are short and not that high off the ground, but it's a fun environment to be in (and most of it is in the shade - which is a big bonus in summer in southern Italy).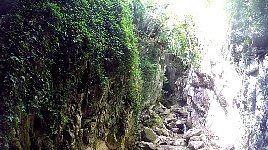 The gorge is not that deep, but it's narrow and a bit contorted (which is also why you can't have long ziplines in there - you'd need to wrap them around the walls). So the ziplines run close to the sides of the gorge, making ziplining more exciting than expected. And making it important to pay attention where you move your arms and legs during the ride.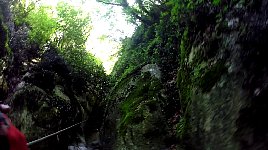 The first three ziplines are rope assisted, so they control your speed with a rope attached to you from behind.
After those, the rest of them are free running.
And in between there's a bit of a traverse and a short via ferrata. None of them high off the ground, so they don't look excitingly dangerous, but they are fun to do and add variety to the tour.
All in all not a big adventure, but a very pleasant way to spend a morning in the Naples area (and surely more fun than visiting Capri or Ischia).
They also suggested an activity for the afternoon (as they had no other customers, there wasn't much else to do for the either), which was a forest walk along a river nearby.
Basically a fun activity, but we did that the wrong way round.
As it is a bit boring to walk the same path one way and then again in the other direction (and few rivers meander in a convenient way to allow for a mostly circular walk), we went with two cars, parked one at the end of the trail and went with the other car to the beginning of the trail, so at the end of the trip a car would be waiting for us.
Which is a sensible concept. But for some reason we started at the lower end of the trail and walked uphill. So while good for exercise (and, admittedly, we're not talking alpine ascents here), I had the feeling that it would have been much more fun to go downhill instead.
Ignoring that, it was a good walk. Nicely shaded, which was quite welcome on a hot and sunny summer day. Also some interesting bridges on the way, which had surprised me, as some of them were substantial and there didn't seem to be much need to cross the river one five or six different places along a 3 km stretch, especially as there is nothing interesting on either side of the river.
But then again, the bridges have been accumulating over a long time (the oldest, the "Ponte di Annibale" was originally built two centuries B.C. (And then fell down a couple of times and was rebuilt. But it seems that the look hasn't changed much there has been a some stone bridge with a similar design on that site for more than 2200 years.) So if someone decided they needed a new bridge every 400 years, it would account for all the bridges in that area.
In any case, the most useful part for me was the path that went down to the river (even though it added another bit to walk uphill afterwards). Even though the river looks somewhat murky (it had been raining the previous couple of weeks, so there was a lot of loam being washed down from the mountains - during most of the year it's supposed to be clear water), it was refreshing to lie down for a bit and cool off.
Then it was time to continue walking, reach the car and drive back to Naples.
No big adventure, but still a day better spent than on Mount Vesuvius.