Paris, November 2016
I just had one day to spare in Paris, so I didn't manage to do a lot.
All I did were a few short museum visits.
The first one was almost a direct result of visiting the Duxford Air Museum. They have a Concorde prototype there, which was flown for testing, but never operated as a passenger yet.
And when I there, I was surprised that there was just one Concorde.
Because I had seen a picture somewhere with two Concorde jets standing next to each other - one being a prototype and one being a retired passenger version.
And since I knew Duxford had a prototype, I had assumed that would be the one next to the passenger version.
So when I just found one Concorde at Duxford (and it would have been very unlikely that I would not have noticed a second one there - they are comparatively small planes, but not that small), I looked it up and found that the two Concorde jets are at the Air and Space Museum Le Bourget in Paris.
So when I was in Paris, it seemed a natural thing to do to visit that museum.
Le Bourget is still an active airport (although only for business jets, not for regular flights) and its main claim to fame is that it is the place where Charles Lindbergh landed after his transatlantic flight.
The museum itself occupies a couple of hangars and some outdoor exhibition space.
At the moment (2016) it is a bit 'incomplete'. It seems that there used to be an interactive area with simulators and presumably educational things to play around with, but that area was just fenced off and empty.
(Also, the big, representative entrance to the museum is closed and the current entry is a small glass pavilion at the side.)
So currently it is pretty much a straightforward airplane exhibition with only very limited additional material.
But amongst the planes, they have some historic and unusual ones.
There is one hangar with prototypes, which include some "What were they thinking when they designed that?" airplanes. And they had a number of early airplanes that were quite quirky in their designs.
A nice feature of the hangars was that some of them had elevated walkways, so you could also get a good look at some planes from above.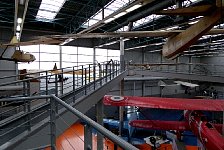 One airplane that was condemned to stand alone in a pit (looked a bit like it was being punished for something) seemed familiar - it was a Dragon Rapide.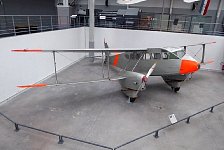 The same type of plane I had been flying in at Duxford two months earlier.
Even though I didn't realize at that time what a sad looking plane it is.
Poor little puppy-eyed aircraft.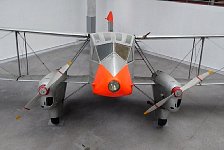 Although it was neat to be able to look at it from above.
One thing that I noticed when I was in the Dragon Rapide at Duxford was the emergency exit. As the plane is mostly wood and cloth, the emergency exit is just a part of the ceiling where they did weave a ripcord into the fabric. So if you pulled the cord, you ripped a whole in the hull of the plane and crawled out. (Though realistically, you would just use the door next to it or just walk out anywhere - almost every problem that would have required the use of the emergency exit would probably have broken the hull sufficiently to be able to just step out of the plane.) In any case, from above, the emergency exit is easy to recognize, even if it looks more like someone didn't notice the ripcord and tried the "smash in case of emergency" approach.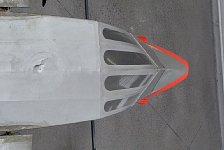 Other interesting planes included this Br.19 TF Super Bidon plane specifically built for transatlantic flight which is a massive airplane. If you see just a picture it looks like a 'normal' biplane, but in reality it is huge (the little glass thing visible behind the wing is a human sized cockpit).
Another oddity is a plane that looks a bit like a tram with wings. Well, the museum exhibit looks like a tram without wings, but you can see where the wings should be.
At first, I wasn't sure whether this was a real plane - it looked like something from an early movie, as much related to a real plane like the rocket in Méliès "A Trip to the Moon" is related to real rockets.
But it turns out that this Farman F.60 Goliath has been an active passenger plane running on scheduled services in the 1920s.
I was also a bit unsure about the front wheel of this plane.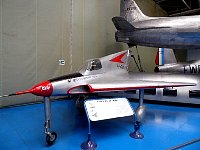 Why have a plane on stilts?
It looks like it would flip over on about half of its landings. (But then, it was one of the prototype planes - maybe that was the reason why only one of them was ever built.)
I don't want to go into detail about every plane, so just two short remarks and a couple of pictures before going to the Concorde exhibit.
Parts of the exhibition were unexpectedly 'hidden'.
While you can't really hide large airport hangars, the signage was a bit confusing.
For example, part of the exhibition is in hall 6 and 7, but if you stand in front of the entrance, the sign in front just points you to the toilets and to hall 1, where the museum entrance it. There's nothing on the sign that tells you that there are exhibits inside (and the hangars themselves are marked with B and C, which is not really helpful if you look for hall 6 and 7). And when you look through the glass door, you just see the toilet doors - you need to go inside and to the left or right of the toilet to see the exhibition.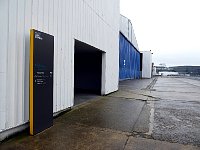 On the plus side - once you found it, you got that part of the exhibition to yourself.
One exhibit I got completely wrong was a set of planes standing in a circle around brightly coloured concentric circles on the floor.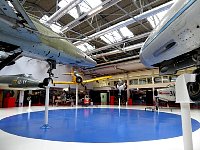 I thought it was supposed to be some circus ring, a sort of inverted air show. At the entrance of the museum, they got a sculpture of three 'Patrouille Acrobatique de France' jets.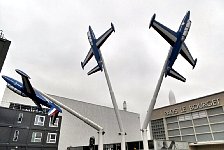 So if an 'air circus' is usually planes performing and humans watching, an inversion would be a human standing in the middle of the ring, with the planes as spectator surrounding him.
This is where the elevated walkway came handy.
From there it became quickly clear that the intended effect was not that of a circus atmosphere, but that the room was supposed to represent the French airforce insignia roundels.
Anyway, on to the Concorde planes.
Still beautiful looking - the best looking planes that ever flew and probably ever will.
(And, yes, every couple of months there is some newspaper article announcing plans for the next generation of supersonic planes accompanied by some cool looking rendered image - there has just been another one two weeks ago that promised affordable supersonic flights in seven years - but that's just catering to wishful thinking and nostalgia. I doubt that there will ever be supersonic passenger planes again.)
You can walk through both of the planes - the prototype is fairly empty. It has some additional instrumentation built in at one side, but beyond that, the main body is an empty shell.
The one that has flown passengers looks surprisingly roomy at first. At least until you realize that they removed the seats at one side.
Only at the end of the plane (which is fenced off) have they left in all the seating, so you realized how cramped the inside of a 'working' Concorde used to be. (But then, you weren't in it for long - which was the whole point.)
At the back they also have a cardboard cutout of a stewardess, which, given the sickly green illumination, looked more spooky than informative.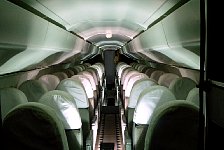 I enjoyed visiting the Concordes, but I have a bit of a soft for them anyway.
Another plane that you can go inside at Le Bourget is a 747.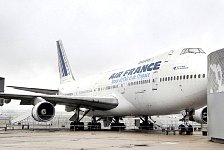 That was interesting, since I had spent a night in the cockpit of one in Stockholm earlier this year, so I had a bit of an idea who it looked once converted to a 'hotel suite' and it was fun to recognize the bits that were the same and which bits were removed and replaced by such mundane things as beds or a shower.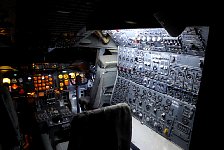 The 747 at Le Bourget also has a lounge in the area behind the cockpit. I am not sure whether they ever flew that configuration on regular scheduled flights or whether this was a special configuration.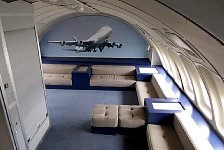 It looked more like something from a 1960's design brochure than something you would really use.
On the 'main level', the 747 is nicely presented - in the front it looks like it would look 'normally' and the more you walk to the back of the plane, things have been removed, so you at the back, you see the underlying 'skeleton' of the plane.
After leaving the 747 I did a quick look at the planes standing outside.
Including, probably, the smuggest looking plane I've ever seen.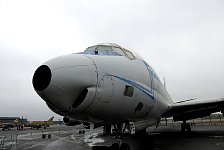 And then I headed back to the more central parts of Paris.
There I visited the Musée des Arts et Métiers.
This is a 'traditional' technology museum in the sense that they present original devices. So there are lots of interesting things in boxes and behind glass and notmuch to play around with.
But they have a lot if interesting stuff, from early cars and automata to early audio-visual devices, like a TV with an artificially 'big picture' and the earliest 360° panoramic film camera, the Cinéorama.
They also got a Cray, which I wanted to visit for a convoluted reason. (Partly having to do with the fact that I once took a picture of a Cray in Paris in the Musée de l'informatique located in the Grande Arche at La Défense.)
But that exhibit no longer exists, so I had to find another Cray to take a picture - so I went to the Musée des Arts et Métiers and did that.
In addition to the normal exhibition rooms, they also got something that feels a bit like a cathedral of technology, where they added some elevated walkways on one side, making good use of the vertical space. (And half a car to look at, making good use of its inner space...)
I found the biplane hanging from the ceiling interesting, as it had a steering wheel. It is sometimes suprising when you see early incarnations of technology and realize that things that you know take for granted (like planes having a joystick for control) could as well gone down some other road. (Coincidentally, the car partly visible at the lower left of the picture does not have a steering wheel, but something more resembling a ship's rudder...)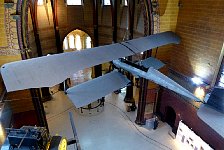 The third museum I visited that day was the "Cité des sciences et de l'industrie".
I had been there before (probably around 20 years ago), but didn't recall anything specific about it, so it didn't leave a lasting impression.
There are some nice things about it - there's lots of available space, a large open area in the middle and significant effort went into the design of the individual exhibition areas, making them look stylish, recognizable and unusual.
But it is the kind of technology museum I can't get excited about, as most of the exhibits rely on audio-visual presentations and those are getting increasingly pointless now.
If I want to watch a video, read text screens or listen to audio presentation, I can do that comfortably at home. I don't need to go to a museum to do that. The values of museums lie in either preserving original historic artefacts or providing experiences that you can't recreate at home.
But however stylishly you illuminate an info screen or set up a bunch of video screens and headphones, as a visitor you keep wondering why you don't just look at your computer screen at home.
Of course, there were a couple of things I liked, such as the presentation of a night sky constellation from the point of view of the Earth and from an interstellar 'outside viewpoint', dirving home the fact that the constellations don't really exist as structures, but just happen to look like that from earth.
And, for some reason, I liked the idea of having the 'look through here and take a picture' setting done with a physical costume instead of a wood or cardboard cut-out.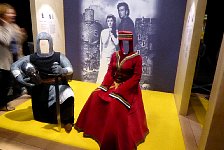 But of the three museums I visited that day, it was the one that made the least impression - but the other ones had a Cray, a Cinéorama camera and Concorde, so maybe the trick is just to have exhibition objects that start with 'C'. (And I did happen to like the presentation of the constellations at the last museum, which fits the pattern...)