Romania - November 2006
It took me some time to get to Romania. Not actual travel time or even planning time, but somehow things just didn't work out. I was supposed to go there in December 2004, but there were a couple of false start and meetings in other places before I finally got to go to Romania.
But I finally got there and managed to spend a three vacation days.
Bucharest itself was surprisingly pleasant, but (mostly) for the wrong reasons. Most travel guides go out of their way to let you know how much Ceausescu destroyed the old city to accommodate his megalomaniac plans, but that actually opened up the city and made look more like a modern city and not some historical site.
And while the much maligned Palace of Parliament and the Centrul Civic area around it is not an elegant place, it's far from the architectural monstrosity that I had expected. (As a matter of fact, the "Free Press Building" is dominating the city scape much more, looking more out of place, but it's less often mentioned in travel books.)
Here are some pictures taken while walking through Herastrau Park.
Heading south along Boulevard Aviatorilor.
Getting close to the Palace of Parliament, there's not much to see. On most sides it's surrounded by a wall.

The only good viewing position is from the front side.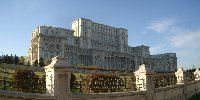 I only had time for one day of sightseeing in Bucharest before heading north. Somewhere next to the road was a small airport strip above which a bi-plane was flying small circles and eights.
The place I was heading to was Sinaia, next to the Bucegi mountains. I wanted to do a bit of hiking (or at least what I thought would be hiking...) The Bucegi mountains are basically a plateau, so once you actually get onto the mountains, there is a bit of an up and down to it, but it's essentially easy going. Especially, since there are cable cars going up the hills at Sinaia and Busteni, so you can go up from one village, walk on the mountains and ride the cable car down to the other village. Seemed like a good idea.
So when I arrived in Sinaia, it was sunny, warm (about 18°C - unusually warm for mid-November) and I went to the local tourist office to ask about the hiking trails. I was told: "No hiking trails. There are all closed in the winter. You can't do any hiking. We're preparing for snow now." Me, slightly frustrated: "Ok, so can I at least take a cable car up the mountain and walk down." "Well, you'd have to walk down the ski slopes, which are 35 to 45 degrees steep." "Not a good idea, I can see that. So I can't do that and I can't hike from one cable car station to the next?" "Of course you can do that! But that's not a hike, it's just a walk. Only takes you two hours. It's only eight kilometers."
So actually I managed to do what I wanted to do, namely to ride the cable car from Sinaia up to the mountains, walk to the other cable car station, ride down to Busteni and take the train back to Sinaia. It just isn't a hike according to local standards...
(And given the areas where some of the actual hikes went through, I'm quite glad that I didn't get to do a 'real' hike.)
Starting to walk at the cable car station above Sinaia (Cota 2000).

The plateau turns out to be really fairly flat in this area. The walking route is essentially right through the middle of this area, going to the cable support pillar. (Looking like a slightly reddish streak a bit left to the center of the picture,) From there it's a left turn and following the cables to the station, which is just left of where the picture ends.)

Towards the west side, it gets a bit more uneven, but still fairly easy to walk (but the trails toward that area are closed in winter).

Towards the east side, the descent is a lot steeper.
At least you are unlikely to miss the trail markers...

An rather odd thing, sort of in the middle of nowhere, was this running track. It looked reasonably new and in good condition. Maybe skiers from Romania have a training site here in the mountains, so they can train at a bit of altitude.

There is an old joke along the lines "What do you do when you get lost in a forest in Iceland?" "Stand up." While there are real forests in Romania (the term 'Transylvania' is a bit of a giveaway), at least for the forest up in the mountain the joke fits. With trees going up to about chin level, it's easy to spot the right way.
While it wasn't quite winter season yet (with cloudless skies, it was fairly warm - even up there on the mountains) there were bits of snow around and I managed to find me a nice piece of rock next to a snowdrift to relax, enjoy the sun and write some postcards.

Snow's nice.
After that rest, a bit more walking around and enjoying the scenery and some oddly shaped rocks.
Since the real hiking trails were closed anyway and I was on a vacation and had nothing much to do, I kept walking around in the area, went up and down some of the smaller hills and just made a nice and relaxing day out of it, before taking the cable car down to Busteni. That cable car ride is quite impressive, since there is quite a bit of a drop at the edge of the mountain and it's quite a long way between the cable support on the top and the next one halfway down the mountainside. (Though the ride up in Sinaia was scarier. After passing each of the cable support towers, the cabin started swinging back and forth a bit. Not really scary, but a bit irritating the first two or three times. The ride down at Busteni was much smoother.)

Nothing much to do on the next day. Originally I wanted to go to the "Ialomita/Pestera Cave Monastery" (I don't care much about monasteries, but caves are cool...), but that turned out to be a but tricky to reach. In summer, it's easy. You take the cable car up from Busteni and then just switch at the top station to a cable car going down the other side to Pestera. But that cable car doesn't run in winter. There is also a hiking trail from the cable car station down to Pestera, but that's also closed in winter. (Although, from looking down the hill in that direction, it didn't seem to be difficult, but I didn't want to press my luck. I also didn't know how serious they would take the 'this trail is closed' attitude.) You can also get there by car by using a forest road, but it wasn't quite clear whether it would be a good idea to go there with a normal rented car.
In the end, I decided to forget about the cave and just have a lazy day.
So I just went to the local attractions in Sinaia, such as Peles Castle, Pelisor Castle and Sinaia Monastery.
Pelisor Castle is a bit odd. Or the odd thing about it is that it is so normal. After all, it is a castle somewhere in Transylvania. It should be at least a tiny bit spooky. But it's build in Art Nouveau style and looks about as foreboding as a tea spoon. And it has posters on the castle walls. Ok, they are vintage posters from the early 1900s, bought in Paris, but in a castle that was the home to the future king and queen of Romania, I'd expect original art by local artisans and famous artists, maybe an odd Cezanne or two, but somehow bringing back a couple of posters from a Paris vacation and hanging them in the hallway seems to be a tad un-royal... Nicely done, though.
---