Abruzzo and Rome, February 2020
Another trip that was decidedly off-season, so the only thing to do was to relax and enjoy a doing not a lot. And not having WLAN at the place I stayed helped a lot with that.
I hadn't been to Rome for a long time (I have only been there once, 1991 or thereabouts), so I didn't have any specific ideas what to do there. So I looked for various options and, except for the obious cultural ones (visit some churches or museums), there didn't seem to be any.
Any activity, whether it's ziplining, canoeing, canyoning or rafting, seems to be available from April onwards, so there is nothing 'exciting' to do. And while there are winter sports in the Apennine Mountains, that was almost exclusively downhill skiing, with no snowmobile or cross-country skiing. (Well, some skiing resorts claim cross-country opportunities, but there was almost no information about available tracks or ski rental. At least not enough to plan a vacation, even a short one, around it.)
So I went to the next thing I do when I don't have a plan where to go - look for strange accommodation.
It seems that Italy in general doesn't go much for quirky accommodations, at least not in the way that Sweden does. While there are some interesting tree houses in the wider area around Rome, but, as almost expected, they can't be booked for February.
However, I found a place that offered odd looking 'geodomes' to stay in. And they had decided to start the season early this year. So I booked one of them.
It was fun to stay in. It had a large panoramic window with a view over a valley, with the Abruzzo mountains to one side.
It also had a little veranda outside, which is where I had my breakfast.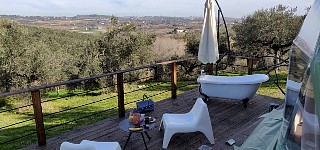 It also had a little bathtub outside, which wasn't only there for decoration, but worked (with nice, hot water).
It was fun (and an impressive view) to sit in the bathtub in the evening and look at the sunset over the mountains.
There wasn't much else to do, though.
The 'geodomes' (there are three of them) intentionally didn't have WLAN or TV, so after a bit of reading in the evening, it was time for early bedtimes.
Next day I drove around a bit, which was fun in itself. I got a Fiat 500 as a rental car, and driving curvy mountain roads and serpentines with that feels a bit like going in a go-kart. Unfortunately, most of the curves are blind, so it's a good idea to drive a bit slower than it would be fun to do, but there's still a lot of driving with sufficient views to enjoy driving.
I did go to the Gran Sasso plateau to do some hiking, as it combines the advantage of having some mountain scenery while still being fairly flat to walk on.
It was a bit windy up there...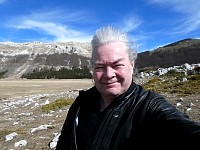 Next stop was at the ruins of an old castle or keep, named Rocca Calascio.
That didn't quite have the advantage of being on flat ground. From the parking place, it is a bit of an uphill walk. Not much for anyone living in hilly territory - it's just 150 meters of altitude difference - but some effort for someone living in an, essentially, flat place.
But as it was still February, the weather was pleasant and not too warm, so it wasn't hard to do.
And the views are worth it.
Rocca Calascio is a surprising mixture of a renovated core castle (at least I assume so - it would be surprising if the core would have survived intact) with some photogenic broken bits of wall standing nearby,
All located within an impressive scenery.
But there's not much to do, except for taking photographs. (There's also a small exhibition inside the central tower, but that's only open in the summer months.)
After spending one day in the mountain area, I went to the seaside the next day, specifically the town of Pescara.
It was, again, a nice day and I enjoyed walking around the town (and there is a pedestrian bridge across the harbor entry, providing some good views), but there was nothing specific to do. The beach cafes were still closed for the season. And while some local sailing school did some training with small sailboats, none of the kayak rentals was open. I also had a look at a go-kart track nearby, but I was unlucky there as well. They were operating all year round and the track looked well maintained. But they didn't open on Mondays.
So they day was spent mostly walking and driving around.
Most interesting thing was this bear at a shopping center a bit out of town.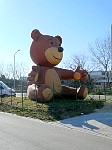 No idea why it is there. It seems to be made from concrete (so it's not an inflatable plastic sculpture) and it is not close to any children's playground. It's sitting there in the car park, close to the exit for no discernable reason. Maybe it's there for the old joke - "Where does a five meter tall bear sit?" "Any place it wants to."
Next day I drove to Rome.
I haven't been in Rome for roughly 30 years, so I approached the city essentially as a 'first time tourist' and had a look at some of the 'must see' sights.
So here's St. Peter's Square at night.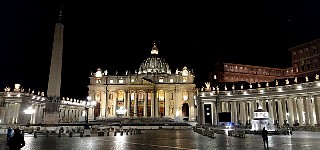 The Castel Sant'Angelo.
And the Colosseum.
The stones stacked on the wall for future renovation work make the section in the last image look a bit like a container ship.
And the Colosseum as a panorama.

The Arch of Constantine.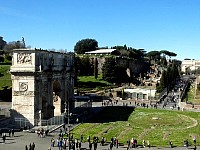 The Roman Forum.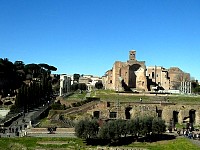 The Temple of Saturn at the Roman Forum.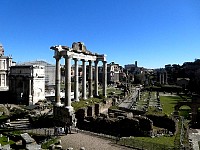 After that, I decided I had done enough of looking at touristic sites and sights individually, so I skipped going to the Spanish Steps and Trevi Fountain and went up to one of the (famously) seven hills and looked at the city panorama from there.

And that is, unfortunately, it.
After walking around and looking at old buildings for a day, I had two things planned to do on the next day. Not in Rome itself, but a further outside.
There is a, supposedly interesting, aeronautic museum at a lake, called Lake Bracciano, north or Rome.
It is even open during the winter months and I had checked in advance that it would be open on Saturdays. But when I got there, they had a note pinned to the entrance gate that they were doing some renovations and that the museum had been closed for most of February, including the weekend I was visiting. It would open again the following week. So my timing was a bit unfortunate.
(Looking at their web page later, I noticed that they didn't have anything about the closing on their "Opening times" page. You had to go to the 'News' page to find out that they weren't open. Sigh.)
No worries, though. There's a smaller lake called Lake Martignano nearby. I knew that you couldn't approach it directly by car. But there's a large parking lot about 2 km south of it. And there's a bus shuttle that takes you closer to the lake.
I had already suspected that the shuttle wouldn't run in February, but I didn't mind walking. Walking all around the lake is roughly a 14 km hike, so with 2 km to get to the shore and back again, that would have been a pleasant 18 km walk in great weather around a (on pictures) nice looking lake.
But it turned out that the parking lot was roped off and there was no place to park my car nearby. You drive along a narrow through road to the parking place and I didn't fancy parking the car in the next village and then walking a couple of kilometers along a road where two cars could barely pass each other and which had no room for pedestrians.
So I turned around, drove back to Rome and flew home the next day.