Dogsledding and odd hotel rooms in Sweden, March 2014
For some reason, there seems to be an unusual amount of strange places for spending the night in the Sweden and Finland countries. Whether it's the icehotel in Jukkasjärvi, which I had visited way back in 1997, the Snow Hotel in Kemi, the Kakslauttanen Igloo Village, a hotel room in a former silvermine near Sala, a hostel in a converted Jumbo Jet in Stockholm or a swimming cabin with an underwater bedroom.
And as I had a couple of vacation days left after the dogsledding tour, I rented a car to drive to one of those places and spend the night in two different 'hotel rooms'.
The first one was 'The Cabin', a stylish modern room, hung from the trees above a path in the forest.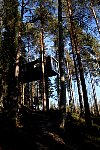 The approach to The Cabin is by a ramp from slightly higher ground on the side of the cabin.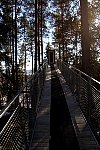 It was the first (and probably last) time that I had the path to my hotel room blocked by a reindeer and had to wait until it moved away, before going to the door.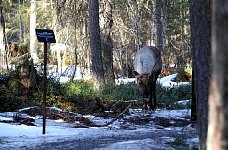 The Cabin has a kind of 'veranda' on top, so on a sunny day, you can just sit there, relax and enjoy the view.
The interior isn't large, but reasonably stylish.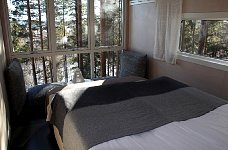 In the early evening, I walked to a view point near Harads (the village where the Treehotel is located) and watched the sunset.
Next morning, I woke up and noticed a reindeer (the same that had stood on the path the previous day - the single antler was distinctive) on the path below the Cabin, so I went to the veranda and took a couple of pictures.
While that was clearly the most 'daring' reindeer, there were also a few more (about twenty) standing among the trees a bit farther away.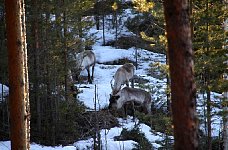 'The Cabin' wasn't the only unusual hotel room here.
There was also the (intentionally) rusty looking 'Dragonfly', which can also be used as a (small) conference room.
Then there was the 'Blue Cone' (sorry, no explanation for the name given).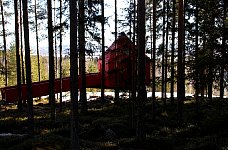 And also the Bird's Nest.
There was also this tree house: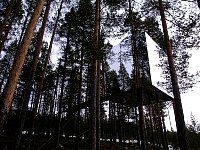 This is the aptly named 'Mirror Cube' (which I wanted to spend a night in, but it was unavailable).
For obvious reasons, it usually blends in well with its surroundings.
During the day I went on a snowmobile tour, but as it's much harder to take a picture while driving a snowmobile than it is driving a dog sled, I haven't (unusual for me) any pictures of that trip - but at least this is the snowmobile...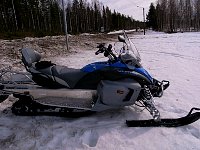 The last night I spent in the remaining tree house - slightly hidden away a couple of meters from the other rooms.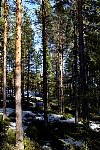 Unsurprisingly, this was called 'The UFO'.
It's a bit behind the Mirror Cube.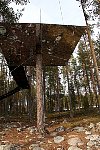 This is the UFO reflected in the Mirror Cube.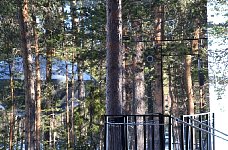 The interior is, obviously, round, with bench seating almost all around the room (except for the bed and toilet areas) and an electrically retractable ladder in the middle.
Having a retractable ladder just feels cool.
When inside the UFO it pretty much feels like supervillain lair - a dwelling of outrageous appearance, (mostly) shut off from the rest of the world. (It has got electricity and WiFi, though. But no water supply, so hand-washing would need some minions to refill the water container from time to time.)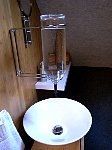 [In case somebody is wondering about other facilities: combustion toilets that don't use water for flushing.]
And while the controls are marked somewhat counter-intuitively, it is a cool feeling to walk after dinner from the restaurant (about 500 meters away) into the forest (I'm not sure whether that is intentional or just a burned out light-bulb, but the final path to the UFO wasn't lit at night and the 'landing lights' only came up when the stairs were activated), stop next to a tree, insert the key and above you a door opens and a stairway appears.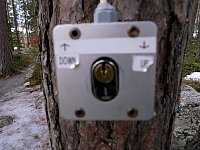 It is a good excuse to play around at night with long exposures...
It's fun to be out there and play around with and in that thing. A good way to end a great vacation before driving to the airport at Luleå and flying home.
So why are there another six pictures below? (Which quite clearly have nothing to do with driving or flying...)
Well...
...that basically just comes down to 'it fitted into the schedule'. (Which is a stupid reason, but then again - why not?)
When I arrived at the Treehotel, I asked whether there were any activities available, as most activities they offered required at least two participants. So my only option (except for the snowmobile tour) was to hope that other people had booked trips and then join there activity.
So the Treehotel suggested snowmobiling for Saturday and horse riding on Sunday. I mentioned that the snowmobile tour would be fine, but I couldn't do anything on Sunday, since I had to drive to Luleå and fly home in the late afternoon.
But it turned out that the horse riding wasn't near the Treehotel anyway, but in Boden, which was on the way to Luleå anyhow. And that it would be a two hour riding experience around noon. If I'd leave Harads after a late breakfast, I'd have enough time to drive to Boden, go horse riding and drive on to the airport and still arrive with lots of time to spare before the flight.
So it just fitted perfectly into my schedule, which did override the basic objection - that I'm not good with horses, have essentially no experience with riding and didn't like it when I tried doing that in Mozambique five years earlier.
Also, during the dog sledding trip, I talked to someone at the hostel who had horses and tried to convince me of booking a riding holiday in the summer. (Shetland horses? Icelandic horses? Not quite sure... It might have been Icelandic horses, since there was the mention of a different gait, which Icelandic horses seem to have. Also, give that it's generally "Shetland Ponies" and given the size of them, I don't think there would have been the suggestion of me riding them.) And I emphatically stated that me and horses are not a good combination.
But then again, I didn't have anything else to do, it was only a two hour tour, so why not?
And while I am sure that horse riding will not be something that will ever be as enjoyable as dog sledding (or sleeping in an UFO, for that matter) it wasn't as bad as I thought it would be.
And that was mostly because we got some useful information and some training first.
On the trip in Mozambique, it was a great looking horse and marvelous beach scenery, but I was essentially told to sit on the horse and hang on.
This time, there was basic information on what the horse reacts to and how to control it. Which was extremely useful, especially as some of it is the opposite of what someone with no experience with horses would assume.
One of the assumptions was that you use the reins to 'pull' on the 'bit' that is in the horse's mouth to steer the horse.
Turns out that this isn't the case in 'Western riding' at all. (Or at least not normally.) You don't 'pull' the horse (unless you want to stop or go backwards), but steer by touching the neck with the reins on the opposite side. The horse (at least in first approximation) isn't supposed to follow the pull, but move away from the push.
And for that (at least with a well-trained, friendly horse), it is enough to just let the rein lie on the side of the horse.
So most of the time, the main job of the rider is to keep the reins hanging away from the horses' neck. Which is useful to know and I hadn't known that five years earlier.
Another thing I didn't know is that you are supposed to look into the direction you want to go. As the horse has a large field of vision, it can see where you are looking and take a clue from that.
So first we did some walking around on a training area.
And then it was out along a track to a small bit of forest.
There we did something interesting. We were told to decide on some random path around the trees and then steer the horse along exactly this path.
Which was a good exercise, as it helped to get some experience of controlling the horse and making it go where you want it to go. And it gave some good feeling on how responsive these horses are and how easy it is to just have them walk between to narrow trees or walk arbitrary figure eights.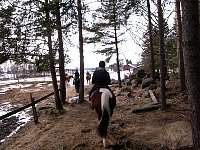 In effect, that was a much better experience than having a horse ride in front of us and the others just follow the same old path they are taking every day and could do blindfolded. Here, there was a real feeling of 'riding' the horse (as opposed to being some sort of load to carry around, as it was the case in my previous riding experience).
Due to time constraints, the actual riding on the trail took less than half an hour, but for me, the 'random turns around the trees' bit was much more interesting anyway.
Also, going over snow with horses is a bit of a mixed blessing. As their hooves have a small surface area, they tend to sink into deep snow easily. Which is especially irritating when the snow is mostly compact, but with some less dense areas and suddenly the front left or right of the horse goes down half a meter.
Also, as horses are herd animals, when one of the other horses (unexpectedly) started a gallop, mine did as well, which was...interesting. Fortunately, the horse stopped after some pulling on the reins (increase pressure on mouth, horse tries to move away from that pressure, hence stops...).
I didn't find out the actual name of the horse I was sitting on, but I have been told that the name translates to "Smart Devil", which is not really confidence inspiring, even though that is supposedly due to a birthmark or fur color pattern it used to have and not do to any particularly devilish behavior.
But we made it back to the stables without a problem.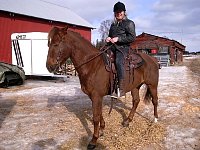 And while I'm still not convinced that riding is a sensible way to go from point A to point B, it was a better experience than I expected.
And then it was really time to go to Luleå airport and catch my flight home.