Sweden Dogsledding, April 2016
By now it's pretty much a regular event - I spent my main vacation on a dog sled.
After the tour in Finland last year, which didn't end well, I was back in Sweden, where I spent a much happier dog sledding trip in March 2014.
But before heading up to the snowy landscape of Vindelfjällen National Park, I spent a couple of days in Stockholm.
I had visited the city only once (for a weekend) back in 1998. Back then, I visited the Technical Museum, the Vasa Museum and an ice pavilion (built as an art event) and just walked around a lot.
My plan this time was similar.
Walk around. See some museums. Walk around some more.
And stay in a quirky hotel.
Unfortunately I missed one of the more exiting activities in Stockholm - the rooftop walk.
There is a guided tour along some rooftops in Stockholm, where they have built a kind of (walk-along) via ferrata that allows visitors to wear climbing gear and walk (securely clipped in) on top of the old parliament building and see the sights from there.
Sounded interesting, but in April the tours only operate on weekends, which didn't match the days when I was in Stockholm.
But I still managed to get on top of a building, even though it was in a more leisurely manner.
It is a bit like a combination of an outdoor elevator and a London Eye capsule.
Stockholm has the "Ericsson Globe", which is a hemispherical ice hockey and event arena (and supposedly the largest hemispherical building in the world). And along one side of the building are two set of rails that take a spherical elevator to the top.
It's a fun 'tour', but the sightseeing opportunities are limited.
The globe is a bit outside the main tourist areas of Stockholm, so while you can see far, the view is also a bit 'flat'. So you mostly just see rooftops.
As Stockholm is a city very much shaped by the water (most of Stockholm is essentially a bunch of islands), and you can't see the water from the top of the dome, it's a bit tricky to put things into place.
For example, this is a view from another viewing site in Stockholm (more about that later):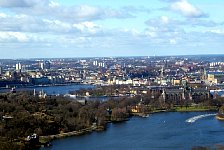 And if you have been walking around in Stockholm a bit, it is easy to identify Skansen, the Nordiska museet, Gammla Stan, Kastellholmen or the Royal Palace, just by their position relative to the waterways.
From the globe, the view is more like this: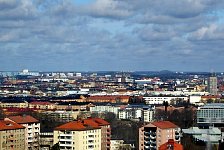 And while you still can identify dome landmarks, it harder to find them.
But the ride in the 'elevator' is fun, easy to do and runs more often than the rooftop walks...
Exit the elevator through the gift shop...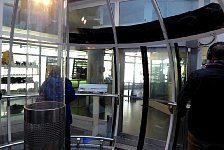 Not directly related to the Stockholm Dome, except for the similar shape is this road gully in a park in Stockholm.
Instead of having a flat grate, it is dome shaped, presumably to make it less likely to be clogged by leaves.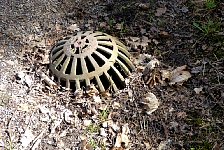 In the same park, there was another unexpected sight.
Årstaskogen is a city park in Stockholm, just a small stripe of woodland between a residential area and one of the waterways, pretty much surrounded by the city. So it's not somewhere in the suburbs or at the edge of Stockholm.
And I spotted a deer there, walking around and nibbling at the scenery, only slightly concerned about people walking their dogs on the trails in the park.
The main purpose of going through the park was not to spot local wildlife, but to walk from the Stockholm Globe to a memorial site I had read about.
I usually dislike memorial sites - they are pathetic and pointless and are only good for speeches at the dedication ceremony. But this one was unusual.
It marks a place where a possible big disaster didn't happen and does that in a low key way.
In 1993 there was a big public festival in Stockholm with large crowds of spectators. During an air show a fighter jet crashed to the ground at Långholmen, but the pilot ejected in time and even though the plane hit the ground (and didn't come down in the water), nobody was killed. So it could have become another Ramstein (the air show disaster, not the band), but Stockholm got lucky.
So they put up a memorial at the crash site, which is pleasingly whimsical.
It is also cool and stylish. And I also like that it is quite small and in no special position. It just marks the place where the plane came down, but there's no special paved area or other landscaping around to draw attention to it.
Heading back from Långholmen to the center of Stockholm, I was surprised by something I didn't expect to see in Sweden (as it is more commonly associated with Japan) - people enjoying the cherry blossoms. At Kungsträdgården (the place in front of the opera house) the cherry trees were in full bloom.
Later on, I also visited the Nobelmuseum and the Swedish National Museum of Science and Technology, but didn't take any pictures there.
The Nobelmuseum was disappointing - there's little you can put into a museum about the Nobel Prize. So the primary fixed exhibit is a cableway of info sheets about all recipients that runs along the ceiling. If you want to know about the award recipients, you are better off reading the Wikipedia.
And while they tried to make the ideas that were honored a bit more accessible by having a temporary exhibit where Nobel Prize awardees were asked to put down the key idea of their research as sketch on a single sheet of paper, what that demonstrated was that either researchers can't distinctively express their ideas or that discoveries in modern science are too complex to represent on a single page. (I suspect the last one that could be shown that way might have been that the DNA structure is a double helix. But that was back in 1962...)
The Museum of Science and Technology just confused me. Usually I like science museums and have a clear opinion about the museum and the exhibits, but the Tekniska Museet was a weird mix of 'stuff'. There were some areas with the usual (and sometimes slightly unusual) interactive exhibitions, but there were also lots of 'micro museums' around.
These were mostly glass boxes with a small number of things related to one theme. Not enough to make a proper collection or even to effectively show development over time - more like "Cameras - here are five of them", "GPS - half a dozen of GPS units", "Ball bearings - here are the ones we found in our toolbox when we filled the exhibit". As far as I can make out from the web page, the idea is to show the "100 most important innovations of all time". Nice concept, but on site it looks like 'random things put into fish tanks'.
And then there are the artistic exhibitions that are only vaguely related to science. Two rooms full of dioramas of miniature things (sometimes looking more like a fantasy table-top games, complete with dragons and sorcerers). Some artistic recreations of characters from (pretty much random) video games pinned to the wall in another room. A room with loose interpretations of biological things (like a drop of blood) rendered in cloth fabrics.
Some interesting things in the museum, sure, but in the end it just feels like a pointless mess.
After that museum, I went to Millesgården, a (mostly) outdoor sculpture museum, primarily featuring the works of Carl Milles. There was also an exhibition of Swedish Contemporary Glass Art, which was unexpectedly interesting (but I didn't take any photos there).
The main outdoor exhibition still had a bit of a 'not quite awake yet' feel to it - it was still early in the season, so some things hadn't been set up yet.
The potted plants were probably not supposed on the stairs. And the head pieces for the columns were still on their wooden pallets somewhere else.
As a result, the whole visit felt a bit like I had sneaked in before opening time, with everything still not quite cleaned up yet. A feeling increased by almost no other visitors being around.
I'm not that fond of the bronze statues - most of them just seem too much 'dramatically posed' without much benefit to it, but, presumably, they were intended as stand-alone artworks and putting them all in one place dilutes their effect (if everything is dramatically overplayed, then nothing stands out).
One of the reasons to visit Millesgården (as I am not really a fan of classical looking bronze sculptures - I like my sculpture gardens more whimsical) was to have a reason ro ride the subway (or Tunnelbanan) in Stockholm.
According to tourist guides the subway system is "said to be the world's longest art exhibit" Most of the stations feature art installations of some sort.
So it seems like a good idea to have a look.
As I didn't really prepare for this, I just went to see some random stations and missed the best known (and most often featured) ones, like the one at Rådhuset and Solna, but a still managed to see a couple of interesting ones.
The next day I went to a place I had missed earlier - the Kaknäs TV Tower.
It is close to the science museum, but I had assumed that it was just a functional building and not open to the public. I only found out the next day that it can be visited and has indoor and outdoor observation decks, a cafe and a restaurant. So I went for a visit the next day.
The location of the TV tower is better than that of the Stockholm Globe (and it's a bit higher), so the views over Stockholm are better here.
At least in theory.
In real life, however, you're stuck in a cage.
Though it's not quite as bad as it looks. You have a less obstructed view through the windows of the indoor observation deck below. And the cage has little 'letter box openings' that can be opened with a key available at the cafe, so you can open them and take pictures without having to worry about the metal grating getting in the way.
Usually, Sweden is well known for its design, but you also can find example of "design gone bad" (or at least of "60's design that has aged badly").
Time to leave.
I managed to see two deer in the forest right at the bottom of the tower, less than 100 meters away from it. (But this time, they were gone before I got out my camera.) A surprising amount of wildlife in the city, especially as the area around the tower is a peninsula and deer would need to pass through residential streets of Ladugårdsgärdet to be able to get to the woods outside the city.
One thing I wanted to do in Stockholm turned out a bit more difficult than expected.
The idea was to have a short boat tour on the Stockholm waterways.
I knew from my previous visit that there are ferries from Djurgården to Strömkajen and other places, so I walked across Djurgården to the ferry station at Gröna Lund - only to find that there was a strike and most of the ferries were not operating (and the only ferry that was had just left and wouldn't be back for another hour).
But, back in Strömkajen I found on sightseeing line that was still running. (Though there were strike posts next to the ticket counter with posters urging visitors to support their strike. They were a bit confusing, since they claimed that they were taking action against some company in another city and the its subsidiaries. But as they didn't state whether the company that was selling the sightseeing tours was among them, it wasn't even clear whether they were trying to discourage me from buying tickets here or whether this was an independent operator and thus not a target of the strike and buying tickets here was a good thing. In any case, I just bought a ticket and went on the tour.)
The tour went by Gamla Stan (where they were just setting up an 'event center' in front of the palace for the Eurovision Song Contest, which was happening in Stockholm a month later), the 'Giraffe' cranes at Beckholmen, the rollercoasters of Gröna Lund, the Vasa Museum, the citadel at Kastellholmen and the mirrored elevator named Kvarnholmen Vertikalen.
But that was all I had time for in Stockholm itself, as I needed to fly to Hemavan the next day.
To have a shorter way to Stockholm Arlanda airport in the morning, I switched hotels and moved to one much closer to the airport.
A rather unusual one.
(It seems like Sweden has a few odd hotels. I also stayed in an odd place when I visited in 2014.)
This time I went to "Jumbo Stay" at the airport.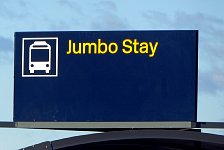 A hostel in a decommissioned Boeing 747-200.
The main body of the aircraft houses typical hostel-style rooms, with single, double and four bed dormitories with bunk beds, but there are also some less typical rooms, such as small rooms in the wheelhouse...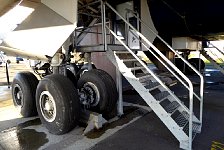 ...or, even smaller, rooms in the former engines.
Though my accommodation for the night was a little more luxurious.
In here: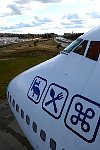 So I went up the spiral staircase inside and had the upper level of the plane to myself.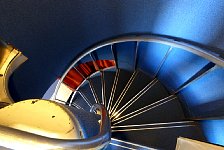 Time to enter the flight deck.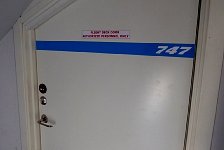 The bed fills most of the flight deck, so there's not much room for any furniture.
It is a tad disappointing that none of the instruments up front are real - they have been replaced by laminated pictures of the instruments and there is no place left for the seats, so you need to sit on the edge of the bed to play 'pilot'.
I am not sure whether the owners of the plane removed and sold them, whether they were removed before the plane was acquired as a hostel or whether hostel guests stole them.
But it doesn't matter much, as the joystick, the thrust levers and a lot of buttons and circuit breakers still move (though, obviously, without any effect), so there's enough stuff around to keep you entertained while you enact your big airplane pilot fantasies (and you wouldn't rent the flight deck suite if you wouldn't want to do that...)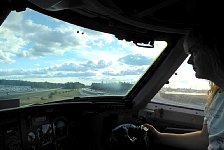 And while the plane points at the parking space of the Arlanda car rental companies, there is an airport taxiway right behind the plane, so if you are sitting on the first officer's side (right), you see airplanes moving right outside.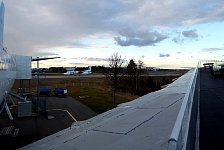 Here's some stuff that can be played with:
Of course, none of these things is still connected to anything - and the disconnection of the wiring has been done in a fairly drastic way.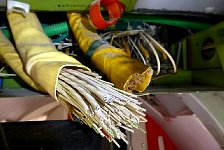 And here's some stuff that probably shouldn't be played with:
It's the escape hatch that allows the flight deck crew to evacuate when on the ground, if they can't leave through the main body of the aircraft. The copper coloured things are not the rungs of an emergency 'rope ladder' (as I first thought), but individual 'descent devices'. The idea is that you grab one, jump out of the plane and then a cable will (reasonably) slowly unwind and lower you to the ground. A 747 flight deck has five of them. So if there are six people trying to evacuate - bad luck. (But if you ever need to use them, you are in a 'bad luck situation' anyway. They don't look like the kind of descenders that allow a smooth and controlled rappel - more like things that, at best, keep you from getting killed by the fall.)
As an unexpected bonus to renting the flight deck suite, I also got exclusive access to the 'First Class Lounge'.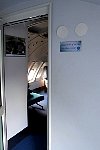 I am not quite sure whether this is always exclusive to users of the suite or just because there weren't that many other guests at the hotel and nobody needed the 'lounge room'.
In any case, the lounge has a small 'bar' and 'lounging area', but also eight first class seats arranged 'conference style' along the walls of the cabin and a TV screen.
So if you ever want to enact your own little 'Air Force One' style dramas, this is the place to go...
(But it's also comfortable if you just want to check your e-mail.)
There's also a small terrace outside the upper deck for the guests in the suite (and also a larger, common terrace on the wing).
Outside the plane are some more airport and plane related things, like a swing utilizing an airplane tire and an old baggage tractor.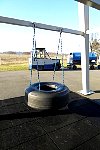 There's also a small cafe in the nose of the plane, which also serves as the breakfast room in the morning.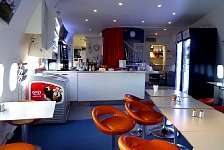 But the main point of getting to Sweden was neither the Stockholm sightseeing, nor staying at the Jumbo Stay. It was getting further north to do some dog sledding.
So it was time to get some sleep and enter a smaller (but still capable of flight) airplane the next morning and head towards Hemavan.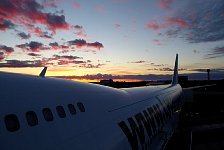 Continue to the next part of the Sweden 2016 trip, the one that is about the actual dog sledding.