Canada Snowmobiling and Dogsledding, March/April 2010
Dogsledding - again?
Yeah.
Usually I try to avoid repeating myself on vacations, unless they turn out really bad, but might have been good.
But if it's a great vacation, why try to do it again? Even if it works out as well as on the initial trip, it will be missing that magic 'first time' excitement and just ruin the memory.
But, on the other hand, self imposed 'rules' aren't carved in stone. And I was really happy going dogsledding last year and 'almost perfection' is still worth going for, so even without being on sea ice, I wanted to go again (and sort of excusing it to myself that I went last time for the scenery and this time for the dogsledding).
I wondered for a short while about doing a trip in Europe (somewhat easier to do), but I was quite happy with the company I went with last year and also got fond of some of the dogs, so I decided to go with them again. (Which has also to do with the 'working life' of the dogs - if I went somewhere else first and then returned after a couple of years, most dogs I knew would probably have been retired by then.)
But since the available trips were only about a week long (Herschel Island was a bit unusual in that respect, but the trip doesn't happen every year) and it's not really worth the effort to go to Canada for just a week, I wondered what else to do to make it a 'full' vacation.
I considered going snowmobiling and was looking for some tour similar to the dogsledding tour - a week out on the snow somewhere, spending the nights in tents or cabins. Didn't find anything appropriately, but found some snowmobiling in Revelstoke. That was based on one location (so there were day tours instead of a 'trek'), but it looked interesting. And they also had five day packages, so it wasn't just a day trip or two. And they had tours at "beginner's level", which suited my needs (and skills).
So the plan was to spend a week in Revelstoke for snowmobiling, then go to Dawson City for a week of dogsledding. Add some days for travelling to and within Canada, a day or two in Vancouver and it started to sound like a real vacation plan.
Since Revelstoke is (about) in the middle between Calgary and Vancouver (and I had never been to Calgary), I decided to fly to Calgary, rent a car, drive over to Revelstoke with a bit of sightseeing along the way and then head over to Vancouver to get a plane to (the) Yukon. (And if you wonder why the last 'the' in the previous sentence is in brackets, please talk to any Yukoner about it - I'm staying out of that particular discussion.)
Calgary is, well, empty.
At least that is my main impression of the city. I got there on a Friday afternoon and the downtown looked almost deserted.
Next morning, it was about the same. I went to the observation tower (just to get some overview of the city) and I got there about half an hour after opening and still was the only person up there. So I had the place to myself for about half an hour, before some other tourist showed up, (So for that half hour, I couldn't even get someone to take a picture of me in front of the skyline - but then again, there wasn't anyone there who objected to me moving around the furniture to have something to rest the camera on and use the self-timer...)
Out on the streets, the only people I did see on a Saturday morning where (quite obviously) two groups of tourists and a couple of people living in the street. Even going to a department store, there were only the salespeople present - no customers at all. It pretty much felt like a movie set, waiting for someone to yell 'action'.
So my main impression of Calgary is one of emptiness.
Actually, that is not surprising. It was a fine spring day and weather was great, so I assume most people just got into their cars and went to the great outdoors (which, after all, are much more attractive than inner cities), leaving just a bunch of tourists wondering 'where is everybody?'.
At least some geese enjoyed visiting the city.
The other impression of Calgary is discontinuity,
Most places have a bit of a intermediate area between high rise buildings and one-story buildings, but in Calgary it seems pretty abrupt. There is downtown, with skyscrapers and all, and then it just turns into low buildings, which go on for miles and miles. To a certain degree, it reminded me more of something from the original 'SimCity' than a real place.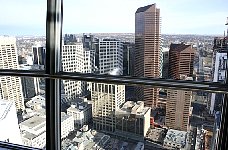 So I drove on towards Banff, which I (surprisingly) liked a lot. I don't know why, since this is a bit of a 'trendy ski resort' kind of place with mainly restaurants and galleries stuff like that, which I usually find irritating, but Banff for some reason did it right.

Didn't get around to actually do much (just was there for the night anyway), but I did take the sky gondola up to the viewpoint and the view were really great. And while the trails were mostly closed (I couldn't even get to the weather station close to the sky gondola station), there was a bit of a path through the snow and once I got a bit away from the station, I could just sit on a rock on my own, all peace and quiet, and enjoy the view. (Though after a while the path just stopped and since I wasn't properly dressed for the environment anyway, I headed back...)

Checked in at the hotel (where I had probably the best view from any hotel room I've ever been in, though Grawand puts up some serious competition), then walked down to Banff for a nice dinner. Quite a good start for the vacation!

Short note: While that's probably standard in Canada and nobody notices, I was fascinated by the warning signs some power transformers and similar devices. Usually they say something like "Danger of Death" or some similar dire warning. (There's also the rather famous "Touching wires cause instant death - $200 fine" sign.) Compared to that, "You can be badly hurt." is unusually sane.

On a someone related note, I also liked the ads for a safety campaign in Whitehorse, which has some activity usually considered risky (like ice climbing on frozen waterfalls) on the left as 'smart risk' and some mundane activity (like driving on snow with summer tires or pulling a kid on a sled behind a snow mobile) as 'stupid risk'. Most ads I've seen on safety issues come across as 'spoiling the fun' by promising injury and death if you do something not according to whatever guidelines you are supposed to follow and just go and forbid stuff. So having advertising that encourages you to take risks and do interesting activities is nice. And I think the message behind that campaign (essentially "Take risks only if the results are worth it.") is more likely to be taken aboard. Also, it appeals to making informed decisions (stupid vs. smart) and not just to fear. I like that.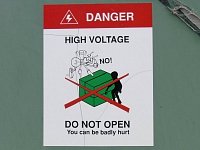 But anyway, back to the vacation.
Since the scenery was amazing, I wanted to go on a helicopter flight the next morning, but that was cancelled due to high winds (125 km/h winds are not really good for sightseeing flights, it seems), so I headed on to Revelstoke.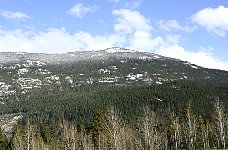 Arriving there, the first thing I noticed was the absence of snow. Spring clearly had arrived in Revelstoke and while there seemed to be white spots somewhere up the mountain, they didn't seem to be more than small, disconnected patches.
I was a bit worried when I got to the lodge and asked them whether the tour would actually happen or whether it was cancelled due to lack of snow. I was assured that there was lots of snow up in the mountains.
Turned out that they were right and there were Lots of snow. Fresh powdersnow. A real winter wonderland.
So we got our equipment handed out and we were driven to the beginning of the trail (a bit of a worry for the lodge, since usually the trail starts right at their front door, which is a significant sales argument for them - if you need to go to the start of the trail by truck, you might as well stay on one of the hotels in downtown Revelstoke...)
That first day was...interesting.
A couple of years ago, I went to an ATV (quad) tour in New Zealand, which advertised as 'riding as you would with your mates'. Before that, I had only done 'tourist trail' kind of tours, which always seemed to be too safe, too boring. I often tended to hang back a bit, just to be able to have speed up a bit to catch up, just to make the ride a bit more interesting (even though I am not an adrenaline fan at all - quite the opposite).
And that tour in New Zealand turned out to be beyond my skill level (and willingness to take risks), which was a bit scary at the time, but a good thing, since I stopped complaining about quad tours being too tame.
And the snowmobiling tour in Revelstoke was the same.
Only twice so.
And going on for a week.
We were five guys on the tour, on other solitary rider and three buddies (Jake, Steve and Randy) from different parts of Canada (two from Ontario and one from Nova Scotia - or vice versa, I'm not quite sure). All of them claimed to be 'beginners', but it turned out to be quite a difference between my 'beginner' skills (having only done a couple of simple day and half-day tourist trips) and their 'beginner' skills (being beginners in a sense that they had not extensively driven in powder snow and in the mountains, but had lots of snowmobile experience on trails (like riding 4000 km a year on them).
So I kept screwing up and got stuck all the time. While they were pretty gracious and polite about it and helped me out time after time after time, I was slowing them down significantly.
But the scenery was breathtaking and there was an amazing contrast between the windswept snowscape in the mountains and the snowless spring landscape below.
So it was worth going there for just the scenery, even though I didn't really enjoy riding the snowmobile for a while.
The basic set-up for the day trips was that we went up a trail to some kind of mountain hut and then went off-trail from there and our guide, Steve, would guide us from 'bowl' to 'bowl' and then declare 'playtime' (basically meaning we were free to fool around on the snowmobiles as long as we could see him).
Between the playgrounds, everyone rode single file, and while I kept screwing up, it was just during 'transit time'. And while we were in a 'play area', I just hung around and took pictures, so I didn't get stuck, didn't spoil their fun and got to enjoy the scenery.
So it sort of worked out in the end.
While not unusual in mountain areas, the rate at which the weather was changing was quite amazing. Between 'bright and sunny', 'fully overcast' and 'snowing' there were often only ten minutes.
On the first day, we had been in the Frisby mountain range. On the second day we headed to Boulder Mountain.
Since powder snow is really, really soft, people can take impressive falls (and their snowmobiles as well) without getting hurt.
At least in most cases.
I managed to fall off the snowmobile somewhat badly and hit my shin somewhere on some part of the machine. Not a serious injury, but somewhat annoying, but at least it gave me the chance to claim "it's just a flesh wound", which I always wanted to say...
But with getting hurt and getting stuck in the snow fourteen times, I didn't have an enjoyable day.
Though riding back from the hut to the truck was interesting.
Randy didn't feel that well, so he only drove the tracks up to the hut and didn't go off-track that day, but stayed in the hut as well, where he befriended Sprocket, a dog belonging to a local snowmobiler, who let the dog stay at the hut while he was driving around with the snowmobile.
When it was time to head back, Randy offered to take Sprocket back down to the truck. And I was surprised that this actually worked.
I didn't doubt that the owner of the dog could transport Sprocket on a snowmobile, but that the dog would just go along with a stranger (and this on a noisy machine in an uncomfortable position) without the owner coming along seemed somewhat doubtful. But the dog just kept calm and the ride down the trail went without a hitch.
Nevertheless, after the second day, I was ready to give up.
I liked the bits on the trail (which were the dull parts for everyone else), but had to work hard in the off-trail areas, just to avoid getting stuck all the time. So it wasn't much fun, which is not a good sign during a vacation.
So, basically, I was sulking. (And possibly annoyed the rest more by doing that than by getting stuck.)
And I would have been happy just to ride the trail up to the hut, sit around in the hut for a couple of hours, read and watch the scenery.
But I was coaxed to go on and somehow on the afternoon of the third day it 'clicked'.
I didn't suddenly become better at riding a snowmobile and still screwed up, but the fun was back and it stopped being an exercise in futility.
It was also just pure fun to just watch other riders.
Revelstoke is the 'snowmobile capital of Canada' and there are some serious riders around. And it was fun watching them, when they were in the same area as we were. Since it's their 'playground', they were just riding around for fun, so it felt a bit like watching some musicians jamming backstage before a concert. Lots of talent and skills, but no pressure and a relaxed atmosphere.
And some impressive falls as well...
And everyone else mostly sat around, watched, talked and joked.
But there was also a lot of concern and help in case of problems. While, with a clean fall, most onlookers just grinned, when it looked like someone had a real problem (like getting stuck against a tree), a group of snowmobiles headed over immediately to help them out.
Heading on after a while, Steve, the tour guide, also showed a bit of jumping, after some careful checks of the area.
The rest of the day was just spent playing in the snow, which isn't really suited for long commentary, so here are some images without text for a while...
Some aspects of snowmobiling were a bit unexpected.
At some point one of the snowmobiles ran out of gas and needed some from another machine. I assumed that the petrol would somehow be siphoned out of the tank, but it turned out that there was an easier way. Take some container (an empty cup of instant noodles is just fine), open the tank of the second snowmobile and just tip it over until the petrol comes out.
An option you wouldn't normally consider with a car (or even a motorbike), but perfectly sensible with snowmobiles.
Continue to the next part of the Canada 2010 trip.