Snapshots
---
Somewhere in France way back in the early 80's, possibly 1983. A tiny page about that is here.
---


A visit to Greece, most likely in 1986. See also here.
On my first visit to the USA in 1988. I did the do the 'standard' tour that most Europeans seem to do on their first trip to the western US.

Starting in San Francisco, I went on to Los Angeles, Anaheim, Las Vegas, Grand Canyon and back to SF.

Here I am at the Golden Gate Bridge in San Francisco.

Other stations of the trip can be seen here.

---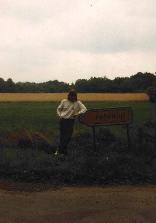 There's a small village with the name 'Fuhrhop' in the north of Germany.
And this is a photo of me and the traffic sign that shows the way to 'Fuhrhop'.
Not one of the most exciting images.

---

Sitting near the pond in the park of Versailles, France in 1991.
At that time I was working for an EC founded project called ARGOSI.
Two of the largest project partners were located near Paris, so I spent a lot of time in that area during the project
(and I also had a couple of trips to other countries, and some pictures are here...)

---

This is me about to fly in a balloon over Nappa Valley, California, 1991.

One of the best holiday experiences I ever had. It was a perfect day for flying (though I suspect that most days in Nappa Valley are), the early morning sun shining over the land adding textures to the ground, a few small clouds adding textures to the sky, about a dozen other balloons adding colour to the scene, a friendly tour operator, an opulent champagne breakfast afterwards...

---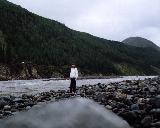 This is me in the Denali National Park, Alaska, back in 1991. Feeling wet, miserable and frustrated.
I had to be in Anchorage the evening, so and there wasn't enough time to take one of the park busses, go deep into the park, walk around a couple of hours and get back. Time would have been barely sufficient to take a bus into the park and take the next bus back. So I tried to get on one of the sightseeing helicopter flights that take you to a look at Mt.McKinley and back. They did two flights early that day, and they were booked solid, but they didn't have enough reservations for an additional flight. But additional requests might come in, so I was asked to call again two hours later. Having nothing else to do, I walked around the outskirts of the park. When I called back, they told me that the weather had become that bad in the meantime that they wouldn't fly anyway, even if they got additional reservations.


---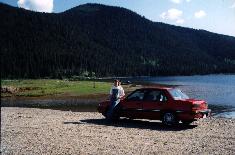 After the slightly frustrating trip to Alaska, I went on to British Columbia in Canada. This is me and the rented car near a small lake in close to Bakerville. Bakerville is a small village from the time of the gold rush. They have people walking around the village in period costumes and try to recreate the atmosphere with reasonable authenticity. It's quite charming, since they don't try to make it artificially 'exciting', so there are shoot outs, no bar fights, no pre-scripted enacted scenes, just the normal day-to-day work. It's also fairly clever how they integrate the visitors. Instead of just ignoring modern clothing and cameras, visitors are regarded as immigrants from some odd country where clothing styles just happen to be different. After all, around the time of the gold rush all kinds of people came to Bakerville. Anyway, when I went there, I expected a sort of Disney-esque history theme park and I was very happy with the way it turned out to be.

---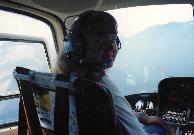 Later on the same trip, this time over Vancouver.
[Yes, the 1991 vacation was a fairly long and exciting one that took me to a lot of places.]
After the helicopter trip in Alaska failed to happen, I had my first flight in a helicopter over Grouse Mountain in Vancouver. This was a short but fun trip, since the pilot was in a good mood and did all these nice things you can do with helicopters that you can't do with planes, like standing still in the air and than 'slipping' off to one side, or sneaking 'sidewards' over a mountain ledge.
Another one of the nice things when travelling alone is that you tend to get the front seat in sightseeing helicopters. Sightseeing helicopters usually have a seat beside the pilot and a bench behind him. So if you're travelling alone and someone else is in a group of two or three, it usually means that you will get the front seat, while the other ones have to sit in the back seats.
Additional pictures from the 1991 North American vacation are here.
Another ARGOSI memory. One of the partners in England was Rutherford Labs near Oxford. They have a guest house in Abbingdon (?), which used to be part of an old abbey. It was a great place for the 1991 workshop on 'Graphics and Communication', and they have a marvellous garden for taking small walks during the breaks.
They also had one of those tough country cats that gave the impression that it had the habit of chasing small dogs up on trees. Definitely a real cat. [If you wonder what I mean with 'real cat' in this context, read the Terry Pratchett book...]

---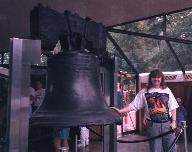 In 1993 it was time for my third trip to North America. Starting in Toronto, flying down to Philadelphia, continuing to Anaheim near Los Angeles for the SIGGRAPH conference, back for another week to Toronto, moving on to Halifax, Nova Scotia and spending a week driving through Newfoundland before flying back.
The picture obviously shows me next to the Liberty Bell in Philadelphia.
Thanks for the hospitality there!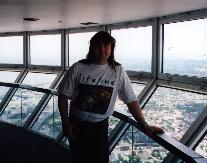 Later on the same trip, looking down from the CN Tower in Toronto. It's a slightly odd feeling stand there and watch the tiny planes from the airport on the small island in the lake making their take-off and landing exercise circles deep down below you.

Additional pictures from the 1993 US/Canada vacation are here.
---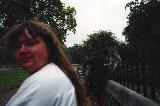 Attacked in Hyde Park by a squirrel with a laser gun.
I was in London with my sister and her husband to watch the last night of the BBC Proms'93. We still had some time to kill, so we bought a bag of peanuts and fed the squirrels in Hyde Park. (While trying to memorize the words for 'Land of Hope and Glory'.)

---

In 1994 I visited another SIGGRAPH convention, so I went to Orlando, Florida. I didn't have much time, so it was just a two week trip to Florida with the weekend in between in Washington. A couple of pictures from Florida are here.

---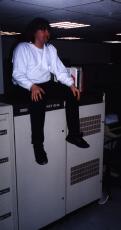 Early in 1995 the VAX at GMD-FOKUS was shut down. At that time I was working at another company, but since I had spent literally years working with this machine, I took a day off and went to the farewell party. Hopeless nostalgic, I know.

---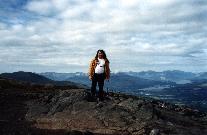 After another 'Last Night of the Proms' in London (this time the Centenary Proms in 1995), I went to Scotland for two weeks. This is on a mountain close to Fort William. More here.

---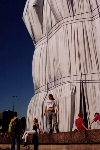 In the summer of 1995 the artists Christo and Jeanne-Claude wrapped the Reichstags-Building in Berlin. It stayed wrapped for about two weeks and became the place to be for those weeks. The wrapped building drew artists, jugglers, street musicians, painters, weirdos, and huge crowds of spectators. Some people brought sleeping bags and stayed overnights to wake up and see the first rays of the sun strike the building and the silvery cloth make it look like the building was glowing from within.
While I didn't stay there overnight, I spent most of my spare time there. Getting up two hours earlier than usual, I went to the Reichstag to see it in the morning glow, sitting on the grass, enjoying the (relative) solitude, then went to work and returned after work to enjoy the atmosphere, the crowds and the fun, listening to music and having a great time.

---
During that time it was also possible to do flightseeing trips over Berlin in an Antonow-2 bi-plane, so I got the chance to see Berlin from above and fly in a rather odd plane at the same time.
---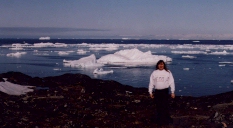 Greenland, June 1996. My most fantastic holiday so far. Or, as a story I read put it, "If I could freeze-frame my life, it would have been then." This was just a short trip, basically just three days and I probably spent more money on it than I did on four weeks in North America in 1991, but it was worth every pound. I've only put a few pictures and a short summary on this overview page, but more can be found here.
After a short stop in Keflavik on Iceland, where we landed at 11:45 pm, just in time to see the sun drop below the horizon and left at 0:15 am, just in time for the sun to rise again, we went on to Kangerlussuaq, Greenland. Next day we flew north of the polar circle to Ilulissat and spent two days watching icebergs from hilltops, helicopters, planes and ships.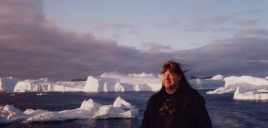 The picture on the left was taken on a midnight sun cruise among the icebergs near Ilulissat. The time was shortly after midnight. I was a bit surprised by the brightness of the midnight sun. Most travel guides described it as 'bright enough to read a newspaper', but it seems like I have been reading newspapers with very little light, since I assumed that the midnight sun would be like twilight. Actually it is more like a normal autumn afternoon.
Watching the icebergs float by is an experience that's very difficult to put in words. The problem is that there's hardly anything that compares to it. While you might describe Newfoundland as 'similar to Scotland, only more spread out', (apologies to those living in Newfoundland and Scotland) I hadn't experienced anything similar to the coast of Greenland before. It's probably one of the most unique places on Earth (unless you happen to live near the Antarctica, then you'll probably be bored by 'more of the same').
The next day we flew back to Kangerlussuaq, where our plane for the trip back to London was already waiting. It was the first time a Concorde had been in Greenland, so my first supersonic flight also happened to be the inaugural flight of a Concorde from Greenland. The Concorde itself happened to be the most 'classic' Concorde, since it had the registration code AA, so it was the first Concorde that British Airways put into service.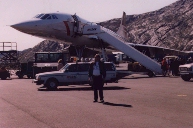 ---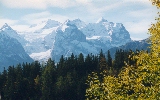 There is a group of game designers that does 'Murder Mystery Weekends' in Meiringen. They develop a new case every year and then they go to Meiringen for eight weekends and stage the current case before they go and develop the next one. Why do they go to Meiringen. Well, Meiringen is next to the Reichenbach Falls, where Sherlock Holmes 'died' in Doyles's story "The Final Problem". And a hotel in Meiringen was the place where Holmes spend his last night. So the place has a certain history of intellectual crime fighting. (They also got a tiny 'Sherlock Holmes Museum'.)
The 'Murder Mystery Weekend' was cleverly done, challenging and exhausting. They have managed to create a fine balance between pre-planned acted scenes, improvisation and audience participation. And, what's especially impressive, they were very good in offering opportunities to participate without forcing anyone to. So it was fun for those who wanted to play along and interrogate (well, ask politely) the suspects as well as for those who just wanted to watch, observe and draw conclusions. And the plot was reasonably complex but still 'worked', without relying on too many coincidences or improbable events. [And don't even ask how it came about that I co-hosted an "Introduction to Klingon language and culture" during the event. Those things just happen...]

---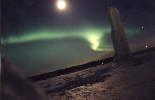 North of Sweden, April 1997.
This was a great trip with snowmobile riding, a stay in an ice hotel (and that is not a typo for a nice hotel, even though it was) and northern lights. This one had so many great moments that it has a page of its own.
---
My second trip on Concorde with Goodwood Travel, this time with the Christmas tour to Rovaniemi in Finnish Lapland. A nice trip, including reindeer sleigh driving, snowmobile driving, theatre in the snow, a visit to the arctic circle, a large Christmas banquet and a flight back at twice the speed of sound. Not quite as perfect as the trip to Greenland (there are few places that even come close to Greenland's natural beauty), but a great vacation nonetheless. [Even though they had to jumpstart the Concorde with the help of a Finair DC-7 (-9?) because they had problems with their generator.]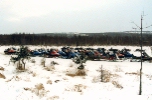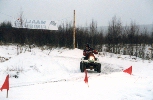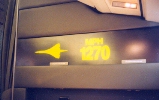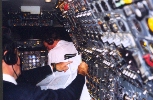 ---
From mid-January to mid-February 1998 I worked as a guest scientist at a company in Linköping (Sweden) called UID (which has become a part of Nokia now)[and by now that research lab has been closed down again]. It was an extremely enjoyable time, even though the weather was slightly different than I expected. Originally I assumed that it would be cold and snowy in winter (which, as you can probably tell from the other trips, is a weather condition I like). It turned out to be an unusually warm winter and on Friday nights people had their drinks outside the pubs, so it looked more like a summer evening in Italy than a winter night in Sweden.

Though, as you can see from the pictures here, there were also cold, snowy and wintery days. I spent a lot of time driving around during the weekends. One of the places I passed was a town (well, more a small village) called Å, which is (obviously) the town with the shortest name in Sweden. I also spent a weekend in Stockholm, which is 'Cultural Capital of Europe' in 1998. As one of the art events they build an ice pavilion as an exhibition hall for ice art. This pavilion was build by the same guy who is also responsible for the ice hotel in Jukkasjärvi, although the ice hotel was much more impressive. Although the warm weather might have something to do with it. As you can see in the second picture below, the pavilion was already half-molten, dirty and partly washed away by the rain. The artwork inside changed weekly. It was an even mixture of abstract art and 'fun art' that had some sort of visual pun (like the 'heating radiator' made from ice [see picture below] or a bath tub).

---






I had a day off while being in Helsinki in June 1998, so I went to 'Heureka', the local 'hands on' science center. It is one of the most interesting science center I've seen in Europe so far (though my knowledge is far from complete) and has a lot of clever presentations and original ideas on how to get visitors to interact with the exhibits.
Since the weather was fine and I still had time left, I went to the zoo in the afternoon (passing the cathedral on the way). The zoo is also pretty neat, since it is located on a small island a bit outside of Helsinki, so it's rather quiet and relaxing (even for seals).





---
| | | |
| --- | --- | --- |
| | I've been to Svalbard / Spitsbergen in July / August 1998, which basically is the most northern place you can reach as a 'normal' tourist. It was a nice trip and I made lots of pictures, so there are a couple of pages about that vacation that can be found here. | |
---
| | | |
| --- | --- | --- |
| | In September 1998 I went hovercraft riding in England. It was definitely a fun thing to do. More about this trip, including a couple of video clips (since still frames don't really fit a dynamic thing like hovercraft riding very well) can be found here. | |
---
No interesting travels for a long time.

In June 1999 I was at a conference in Florence, Italy. Didn't even manage to do any significant amount of sightseeing, just took a few pictures while rushing through the city during lunch break.
---
August, 11th, 1999. I went down to the south of Germany to see the total eclipse of the sun. Originally the idea was to see it from Stuttgart, but thick cloud layers made that impossible. Trying to find a place that had a clear view of the sun, I ended up in Karlsruhe. Luckily the clouds opened up ten minutes before the total eclipse and there was even a bell tower to watch the eclipse from. [Not that being a couple of meters closer to the sun made any difference, but it was a nice place to be at.] Unfortunately an eclipse doesn't look very exciting on photographs, looking mostly like a lit cigarette at night, seen from the front. It's just one of these 'you had to be there to appreciate it' things.
Next day, there was a bit of time to visit some caves in the area south of Stuttgart.
---
I have been in Milan for a conference at the beginning of September. The most interesting tourist sight is clearly the cathedral or 'Duomo'. Very large, very impressive, and you can walk around on its roof and have a good look at the city.
Leonardo Da Vinci also lived in Milan, and he has a statue directly opposite the Scala opera house. Milan has a long scientific tradition and a fairly well stocked historic science museum, even though it seems a bit chaotic. For example, they have a (non-working) Cray XMP supercomputer standing right in the middle of a room with models of historical ships. Actually quite nice, because it gives you have a nice round bench to sit on, but it does look a bit out of place.
---



I've spent my New Year 2000 vacation in Edinburgh to celebrate Hogmanay there. So why do the pictures from that vacation show a teddy bear, huskies and strange looking people? Read about it here.
---
| | | |
| --- | --- | --- |
| | February in California is clearly off-season, so is there anything exciting to see and do? Actually there is, and quite a lot of it too. In the short time I've been there, I've seen an elephant seal on a beach giving birth, I've been flying in a glider plane over Monterey Bay, seen Kevin Costner play golf and stayed in an amazing hotel room among the treetops with almost a 360 degree view. And I've visited the typical tourist sights, like the "Hearst Castle", the Monterey Bay Aquarium, "The Tech" and the Exploratorium as well. To read more about it and see some more pictures, click here. | |
---

When I was in Edinburgh for the Hogmanay celebration, I did see the opening of the Millennium Dome (or just the 'Dome' as it seems to be called now) on TV. Little did I suspect that I would visit it six weeks later. But I happened to be in London, so I thought "why not?". There have been a lot of negative reviews and the attendance rates seem to be rather low, and it's easy to see why. Visiting the Dome is fairly expensive, and there's not a single big exciting attraction (much less a lot of them).
But it is an interesting expo-like presentation and while there's not much you can actually do or experience, there's a lot to see, and it looks impressive. Most of the 'themes' are presented with style in an original and interesting way and while I originally just wanted to go there for a couple of hours, I found myself spending the whole day at the Dome. So there is intriguing stuff there, it's just not a single element to get really excited about, just a bunch of neat bits that somehow never manage to become more than the sum of it parts. To a certain extent it was like a puzzle right out of the box. I've always had the feeling that some parts belonged somewhere else, that there might be a complete picture that made sense hidden somewhere, but that right now it was just a jumble of colourful pieces, filled with the depressing sense that someone might be able to do something really impressive and wonderful with that place, if he only had an idea what the result would look like and be willing to put lots of hard work in it.
The really nice thing about the place right now (and the only thing that almost justifies the entrance fee) is the 'Millennium Show', which is shown a couple of times a day. [According to the booklet it's "up to five times a day", but when I was there, it was just two shows at noon and 4 pm.] At first I wondered how they could do a show in such an enormous place, since the inner arena is fairly big and the stage in the middle seemed quite small. When the first performers dropped from the ceiling I stopped wondering... By the wonders of stage technology and acrobatic artists, they managed to fill the room with the show in a fairly spectacular way. This was very much a 3D-Show, that used the available space quite well. With music by Peter Gabriel and a smart choreography, it was impressive to experience.

---
| | | |
| --- | --- | --- |
| | Not exactly travel related, but some time ago I found a web site that showed how to make sparkler bombs, which aren't actually bombs, but more like fountains of light. So here are the results of two experiments with sparkler bombs, one containing 300 sparklers, the other one 450 of them. | |
---
Another visit to London. And another new tourist attraction. The "Millennium Wheel", officially called the "British Airways London Eye" had its share of problems at the beginning. But now it seems that it will be (unlike the Dome) hugely popular and is widely accepted. The Eye was opened to the general public on the 1st of March 2000 (before that only competition winners, people from the press and invited guests could have a turn) and I happened to be in London on the 3rd, so I didn't really expect to be able to get a ticket. Signs saying "advance tickets for the weekend all sold out" weren't a cause for optimism either. Fortunately they don't sell all available spaces as advance tickets, so there's a fair chance to get a same day ticket if you come early and are willing to stand in line for a bit.
An unexpected bonus was the good weather during noon. When I arrived in Heathrow the same morning, it was overcast and raining, and later that day dark clouds came up again (see last picture), but when I was there, the weather and the view was good. London isn't exactly filled with high-rising buildings, so the London Eye is the fourth highest structure around (and the highest place that is accessible for tourists) and it's in a fairly central location. Which means that you can basically see the whole city from there.
---
| | | |
| --- | --- | --- |
| | For my 40th birthday I wanted to do something more interesting than sitting around and having a couple of drinks with my co-workers. So I chartered a plane for a sightseeing flight with friends and colleagues - before standing around and having a drink with them. More about that and a lot of pictures of Berlin from above are here. | |
---
My 'main vacation' in the year 2000 (after Hogmanay in Edinburgh, the trip to California and a couple of short trips to England) was in Iceland (with some side trips to Greenland and the Faroe Islands). Compared to the vacations in the last couple of years, it was a very long vacation (three weeks).

And I've done quite a few things, like driving with an offroad vehicle through the interior of Iceland, riding a dog sleigh on a glacier, riding a snow mobile on an even bigger glacier, seeing a whale amidst the icebergs at the coast of Greenland, swimming in the warm water of a crater and visiting a mountain younger than me.

So this time the travelogue is split into five parts: 1 2 3 4 5
If you want to read all of it, you should probably start here.
---
September 2000 found me in London once again. I had taken a few days of vacation after a project meeting. I did take another turn on the London Eye, unfortunately this time with a bit of rain and no narrator. It seems like they had a live narrator only in the beginning, so except for a short security announcement at the start, the tour was silent.
I had taken my first trip on the London Eye on the third day after it became open to the general public, and on this visit to England, I went to another technical attraction only three days before it closed down. As you can see from the images, I am talking about the big hovercrafts. I already wrote two years ago, when I had my ride on the small hovercraft, that I always wanted to be on one of the big ones, and even though I knew then that they wouldn't be around forever, I always assumed that I would just go there one day and take the Dover - Calais tour. Well, in August I had read in a newspaper in Berlin that they would cancel the Hovercraft service soon. They did say something about the end of September, but didn't give any specific days. So my chance to travel with them seemed to have gone. But now I was in London, having a day off on Friday, September 29th and there was the chance that the service might still be operating. So I took a train to Dover, went to the Hoverport and was glad to see that there was a hovercraft just arriving. So I bought a ticket for a round trip and went to France for fifteen minutes. Just a quick ride over the channel, through passport control and back on the same hovercraft and back to Dover. Only when I came back to Dover I noticed the sign that the hovercrafts would stop two days later, so it was fairly much a 'last chance to see' and I am glad that I made it.
---
| | | |
| --- | --- | --- |
| | Since I was in Israel due to a business trip anyway, I decided to tag a couple of days of vacation to the end of it. I went through the Negev desert to see the spring in the rocks at Ein Avdat, on to Petra in Jordan to see the city carved into the rock, dived underwater with a submarine in the Red Sea in the morning, dived with dolphins in the afternoon and went north again on the next day to float in the Dead Sea and see the Masada fortress. A rather full schedule for four days of travelling. More about that trip can be found here. | |
---
Why am I looking that smugly into the sunset? Where is that glorious looking sunrise? What's the point of the dark sun over the monolith? What's the connection between Lusaka, Zambia and the Hundertwasserhaus in Vienna, Austria? What has my birthday got to do with that all?
If you want to find out about all this, look here.
---
| | | |
| --- | --- | --- |
| | I was in Torino, Italy in July 2001. The most exciting thing was the movie museum. And while the exhibition itself is very good and rivals the MOMI in London, the more interesting feature is the building itself. It doesn't look much like a museum at all, but more like a big tower. (Supposedly it's the world's tallest brick building.) Most of the exhibition is on one floor, leaving the interior of the museum almost empty. The inside of the building is mostly one large (180 feet high) hall, with a walkway winding up along the side wall to about a third of it's height. Inside the large hall are some movie props, decorations and projection screens, but mostly it's just big empty space. And in the middle of it an elevator. Which is very odd, since it is hanging from a hole in the ceiling. There's no fixed supporting structure around the elevator. It is hanging from its cable and is only kept on the right path by a set of guiding cables on the corners. It's rather odd riding this elevator, since (except for the bottom) it is fully transparent and it is going up right in the middle of the room. So when you stand in it and look outside, you pretty much get the impression of floating freely towards the ceiling. Since the tower is also converging towards the point where the elevator goes through the roof, it adds to the feeling of vertigo and makes the elevator ride a surprisingly strange trip. It can be especially strange if you do the elevator ride before seeing the exhibition, since you board the elevator in the basement, and you go through one floor first, so it looks like a normal elevator. And then you emerge from the hole in the floor and suddenly you're hanging down freely in the huge hall without any warning. | |
---
| | | | |
| --- | --- | --- | --- |
| | The trip in March/April 2002 to the USA came about in a slightly unusual way. My sister wanted to see the Wave (see picture to the left) and asked me if I could work on getting the permits and whether I might be willing to 'tag along'. After some planning, it turned into a full-fledged tour of National Parks in that area, including Arches, Bryce Canyon and Grand Canyon, some other nature sights like Goblin Valley, Natural Bridges and Antelope Canyon with some ATV driving and jet ski riding thrown in for fun. A detailed description with lots of pictures can be found here. | | |
---





In July 2002 a meeting took me to Ljubljana in Slovenia. Since I had never been in Slovenia, I added a weekend vacation to the trip. One of the things Slovenia is well known for are its caves. So I went to visit a couple of them. The best experience was the Krizna Jama tour, since that one is in a cave system that consists of a number of connected underwater lakes. (A very good web page with great panorama pictures about that cave can be found at this site.)
You can visit the cave with a tour guide and paddle about a mile along the underground lakes (feeling a bit like a Gollum-wannabe most of the time). The cave has no electric lighting or other touristy trappings, so you get to see the cave 'in the raw'. It is also not particularly crowded (about 300 people visit the cave per year). When I was there (at noon on a Saturday in summer), I was the only one doing the tour, so I had a private tour with my personal guide and the whole cave system for more than three hours just for myself.
After that I was at Skocjanske Jame, which is a bit more touristical. Basically it's just two big caverns. The first one is reasonably nice, but the real attraction is the second one. It's an enormously large cave which you enter at about middle height, with a river running through a gorge deep below you and the ceiling high above. If Krizna Jama feels like Gollum's place from 'The Hobbit', this one automatically triggers the response "It's Moria!", especially since there's a small bridge at the smallest part of the cave that takes you to the other side. Fortunately I didn't remember the exact words, otherwise it would have been very hard to resist the temptation to stand in the middle of the bridge, stop the other tourists from passing and shout "You cannot pass, I am a servant of the Secret Fire, wielder of the flame of Anor. You cannot pass. The dark fire will not avail you, flame of Udun. Go back to the Shadow! You cannot pass." (Although there's probably a tourist every other day who actually does that...)
Afterwards I went to the Rakov Skocjan area, which is a nice area to wander around, with natural bridges, small caves formed by the Rak river through which you can walk along the river shore, lush green vegetation, just a nice place to finish a 'cave themed day'.





---




Legoland Germany opened in May 2002 and I had nothing much to do in August, so I went there for a day. The main attraction for me where various buildings from Berlin, which were built from Lego bricks and a lot of other Lego sculptures.

The pictures from this trip and some remarks about how Lego differs from Disney can be found here.




---
| | | |
| --- | --- | --- |
| | I finally got around to making the seaplane sightseeing flight over Berlin. Here are some pictures. | |
---
| | | |
| --- | --- | --- |
| | These two pictures are only marginally connected by the fact that they show buildings that are about 20 miles from Paris in different directions. The picture to the left shows Phantom Manor in Disneyland Paris, while the one to the right shows a church in Auvers-sur-Oise, of which Van Gogh once made a painting. More about this trip to places close to Paris can be found here. | |
---
Later that year, in June, I had a project meeting in Bilbao, which I managed to combine with a bit of sightseeing (thanks to the odd pricing schemes of the airlines). Bilbao itself is rather nice. While it has a great tourist attraction (the Guggenheim Museum), the attraction is quite new and Bilbao is also away from the sea, so Bilbao is not a typical 'tourist city', but a normal 'working city', which is something I prefer.

The Guggenheim Museum is impressive, but as it is often the case with modern museums, there's always a competition for the viewers attention between the museum and the art displayed in and around it. In this case, the museum is probably winning, although the flower covered 'puppy' outside comes a close second.

Another thing that I like about Bilbao is the large number of good restaurants. Which is especially good since I happened to have my birthday during the trip, which is more fun to celebrate with a good dinner...

There was also a short side trip to Puente Colgante a 'transporter bridge', which is a couple of metro stops from Bilbao. A transporter bridge is a rather strange cross between a bridge and a ferry (and in my opinion just manages to incorporate the negative aspects of both). It's a high bridge crossing the Nervion, but you don't cross the river over the bridge, but hanging down from the bridge is a gondola, which 'ferries' passengers and cars over the river at a height of about 10 feet.






---
The idea? To see the world's largest animal. The destination? Iceland. The planning? Nearly absent.

For no very good reason, except for the usual "it seemed like a good idea", I decided that I would like to go on a big whale watching tour to see a blue whale. There is a company in Iceland that has fast ship that does whale watching tours looking for the large whales, so I took their tour. And I did see a blue whale! (As well as other whales and dolphins.) More about this short vacation is here.
---
| | |
| --- | --- |
| | This is not exactly travel related, since the 'travel' involved only five stations on the subway, but there was a nice exhibition of sand sculptures here in Berlin, and here are a couple of pictures from that event. |