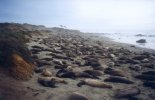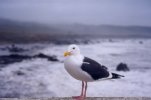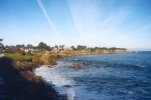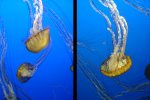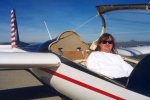 I was in California for two weeks, one week on a conference in San Jose, the second one driving around in California. During the time in San Jose, I visited 'The Tech', a surprisingly small, but neat Hi-Tech museum. One of the things you can do at 'The Tech' was getting your head scanned with a 3D-Scanner. After being scanned in, you can turn and texture your head and print it out. In theory, you can also download your head as VRML data later on, but unfortunatly I never managed to do this, so I've just got my head printed out as wireframe and in marble. So if the Sphinx's head ever falls off, I would have a modest suggestion what to use as a replacement...
My first stop while driving around was the "Hearst Castle" at San Simeon. I expected a tacky and tasteless nouveau riche mix of styles and found it a surpringly elegant and well blended mix of styles. Slightly eccentric, of course, but no "mad king's fairytale castle".
Originally I planned to drive along the "Pacific Coast Highway" to Monterey during the afternoon and see a bit of the coast. It didn't quite work out that way. I went to some vista points south of San Simeon to take a couple of pictures and then decided to drive northwards, go to one more vista point, take a look and then drive on for twenty miles or so, to see another bit of the coast and don't spend too much time on this bit. When I went into the next vista point, I was a bit surprised by the large number of cars there and almost drove on to find a quiter spot. Fortunatly I didn't, because when I took a look at the beach, I knew why people stopped to look. The beach was full of elephant seals. They come to this beach to give birth at this time of year, and there were more than a thousand of them filling the beach. On about every other yard was a female elephant seal with a baby seal, and about every ten yards was a elephant seal bull. Quite an impressive sight.
The beach is rather convenient for elephant seal watching, since there as a flat sandy area, that borders on a grass rise. The elephant seals stay only on the beach and pretty much ignore what is happening on the grass, so it's possible to get fairly close to them without disturbing them or getting attacked by the fairly territorial bulls. So if you move quietly and don't make any hectic movements, you can get within three yards of them and observe them closely. While I was there, I even managed to see and photograph one of the elephant seals giving birth. Of course, I spent a lot of time on the beach, so I didn't see much of the pacific coast while driving to Monterey in the dark. But I don't think that anything on the route could have been a more impressive sight.
Originally I wanted to drive down the "17 Mile Drive" at Monterey the next day, but unfortunatly there was a sign "closed to tourists". The reason for this was the "AT&T Pebble Beach National Pro-Am Golf Tournament". Since there were tickets available, I had nothing else to do, I have never been on a golf course, the weather was fine, and driving to the golf course allowed me to drive at least a bit along the "17 Mile Drive", I decided to have a look. A surprisingly interesting experience, especially since I was there during the practice rounds. While this means that no 'serious' golf is being played, it also means that there are few spectators, so I had a nice walk around the golf course, occasionally meeting some other spectators and a group of players walking along the fairways, but basically it felt like spending the time in a well kept park on a spectacular location with lots of green, open spaces, neatly arranged trees on a sunny day with hardly anyone else arround. A couple of deer where grazing on the roughs and fairways, from time to time moving without hurry a couple of steps aside when players went through. All in all, a very idyllic experience. And since it was a reasonably important tournament, there was a chance to see some major players walking around, and since it is in California, the tournament also draws it's share of filmstars, so while walking around, I managed to see Jack Nicklaus and Kevin Costner during their rounds. (Yes, gratuitous name dropping here...)
Later in the afternoon I went to the Monterey Bay Aquarium. That should have been boring, but it wasn't, and it took me some time to figure out why. It should have been boring, because (except for the three sea otters, who play rather anashamedly for cute) they didn't have the usual crowd pulling sea animals there. No seals (except for the ones swimming outside in the bay), no dolphins, no large sharks, no big manta rays or anyhing like that. Instead they had a kelp forrest, anchovies, jellyfish, some starfish and stuff like that. So who cares about anchovies if they are not on a pizza? Who wants to look at some tiny wormlike things from the ocean floor? Who would cast a second glance at plankton? I was surprised that I did. And the reason was that every sea creature got star treatment. While most aquariums have water tanks with the usual couple of rocks and plants in it, and an assortment of fish thrown in, which makes everything look the same, here most of the fish were kept seperatly and displayed in a water tank that showed them to their advantage. So the sea rock plants weren't just some decorative addition in some fish tank, but they got their own water tank, were prominently displayed with a contrasting background, and lit with one or two spotlights to let them look good. Take the jellyfish for example. (Mostly because I've got pictures of them and not of the others.) Usually they are boring, gelatinous things, that are hard to see in the water and don't look like much. Here they were lit in a way that made them well visible (I assume that there is also some fluorescent effect at work here), and since their basic colour is yellowish, their background colour is blue, which makes them show up better. Add a non-square window to make it seem even more 'special' and you have a great presentation. Ther basic appearance of lots of the Monterey Bay Aquarium is more like a high-price jeweller's presentation room that gives a lot of thought to letting the goods look valuable and precious, and that's a clever way to create a feeling of "worthy to preserve" for otherwise unremarkable sea creatures.
Next day the weather was fine, which was good, since I had booked a 'scenic glider flight' over Monterey Bay. While it would probably also have been ok in bad weather, it was more fun to do it under clear blue skies. Flying with a two seater 'Schweitzer' (the name of the company, which is US based) glider plane, I could ride in front (with the pilot behind me), which provided a great view. We were towed from Hollister to about 9000 feet over Monterey Bay, where the tow line was released, and we flew back to Hollister. I even got to fly the plane myself a bit. (Though I declined the opportunity to land it. Even with the pilot as an 'emergency measure' behind me, it seemed like something I shouldn't try on my first flight with a glider. It always went wrong in various flight simulators...) But the flight itself was a fun thing to do and was much smoother than I assumed it would be.
After the flight it was northwards on 101 to San Francisco and over the Golden Gate Bridge. And further on to the "Point Reyes National Seashore", where I spent the night in a very impressive hotel room. The room, called "Eagle's Nest", is perched on the top of a small inn and looks a bit like a deluxe pirate outlook. It has an great panoramic view, a 'sundeck' on top and a wooden bridge leading to the whirlpool at the hillside. Luckily, the weather was still good, no cloud in sight, and located about an hour north of San Francisco in a nature preserve area, there was little air pollution. So after dinner, I went up on the 'sundeck', looked at the starts for an hour or so and enjoyed the view. After that I went over the bridge to the whirlpool and relaxed in the whirlpool, looking at the stars some more and throughoutly enjoying this de-luxe Californian lifestyle, before going to bed and waking up at dawn with a panoramic view over the treetops. Not bad, not bad at all...
Originally I wanted to visit the Point Reyes lighthouse and then drive on to see the redwoods and maybe continue to the "Old Faithful" geyser, but when I arrived at the lighthouse, the weather had turned rather bad and the lighthouse was closed due to high winds, so I decided to skip the outdoor stuff and drive back to San Francisco to visit the Exploratorium.
And that's about it. I flew home the next day, after spending a rather short, but also quite intense and interesting time in California.