Brazil, December 2008
I didn't really expect to be back to Brazil this soon, but as the saying goes, "goes to show, you don't ever know" and so, only three months after visiting São Luís and Barreirinhas, I found myself back in those places.
But the trip started out in Fortaleza (which I had visited the previous year). I had some time to walk around and visited the Dragão do Mar art and culture center, which houses a museums, a planetarium, a theatre and a movie venue, but also (and more important during daytime) the Torre do Café, a good place to get out of the sun (it's not really a good idea to have extended walks in Fortaleza at noontime) and have a coffee.
Time to walk along the beach back to the hotel, enjoying the skyline and Manga-style mural.
This time, visiting Brazil was unusually strange for me, since it was close to Christmas time. Usually, a day in Brazil feels like a very warm summer day at home, but with all the Christmas decoration it feels just odd. Luckily, most of the outdoor decoration is quite stylish, so there are no plastic trees with tinsel and electric candles out in the streets. (Which would just look wrong. There are elaborate 'Christmas grotto' displays in the shopping malls, complete with a Santa Claus for photo opportunities, but then, shopping malls are always a bit separated from reality (and it is also much cooler there than outside).)
The main 'Christmas tree' is at "Praça Portugal" and made from embroidered sheets. (At least this year - I have been told that the display changes and it was made from hammocks the previous year.)
From the inside it looks a bit like the design for some sort of alien spaceship...
I got the Saturday off in Fortaleza, so I attempted to take a trip which I already tried to do a year ago.
In July 2007, I tried to visit the Ubajara National Park and the cave located there. Unfortunately, it turned out that the park is closed on Mondays and arrived at a closed gate (more about that here).
I was wondering whether I should make a second attempt to go there and then decided it would be worth a try. Information about the Ubajara National Park is surprisingly sparse. It's too far from other tourist attractions to attract a significant number of visitors, so there are few web sites with information about it. And I couldn't find any reliable information about opening times. (Wikipedia had the ominous "Visits are supervised by Ibama, the national body for environmental conservation, and must be arranged in advance.", which had me slightly worried.)
But then I figured that it was a Saturday in the middle of summer and if the National Park would not be accessible then, it probably never would be and it might be worth a try.
And except for a potential day at the beach and money for the taxi, there was little to lose.
So the hotel arranged for a taxi for the next day and around 6 am I was off again to Ubajara.
Driving distance is about 370 km, so after more than five hours, I was back at the entrance of the Ubajara National Park, which, this time, was open.
The entrance to the National Park is at the upper ridge of a mountainside, with the rocky hill containing the cave being located down in the valley, with an aerial tramway providing the connection between the two.
Supposedly there is also a walking path between the entrance and the cave, but when I later tried to walk from the cave back up to the entrance, the guides at the cave made it clear that the path was closed. I am not sure whether that was a temporary closure, but since the path was also scratched off from some of the park info signs, I assume that the path is probably gone for good.
But anyway, I first took the aerial tramway down to the cave.
The cave itself is located in the rocky hill to the left of the lower station.
After enjoying the view of the surrounding landscape on the way down, it was time to, finally, visit the cave.
The tour itself took about fifteen minutes.
The cave was nice, impressive and (quite unlike the rest of Brazil) shady and cool.
It was surprisingly noisy and smelled like a zoo.
The reason for that was a colony of bats living in one area of the cave. While bats navigate with ultrasound, they use a chirpy sound when communicating with each other and that could be heard throughout the cave.
After the cave tour, I took a moment to look around (and tried to find the footpath back to the entrance, before I was stopped and told to take the gondola up) and then returned to the park entrance the lazy way.
I waited a while at the upper station to take in the scenery, while a line from the "Creature Comforts" animations sort of replayed in my head, namely the mountain lion saying "In Brazil, you have space!" Standing up there, looking over the plains, it seemed quite appropriate.
While the footpath between the two cable stations was not available, there was a short footpath from the entrance of the National Park to a viewing point. I had a bit of time left (all in all, I had about 90 minutes for the whole visit to the National Park before needing to head back and be able to go most of the way by daylight), so I walked there and took a look at the waterfall across the valley.
But then it was time to go. One last picture at the park entrance and off we went.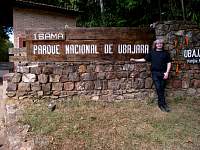 Only one more stop at a roadside stall (where the taxi driver bought some Cachaca - luckily not for consumption during the trip) and back to Fortaleza.
The road (mostly BR-222) was quite well maintained. I remembered that from the previous year and I'm still a bit confused about all the warnings about the supposedly bad street conditions and dangerous driving in the north of Brazil. (Advice not only from web sites but also given by Brazilians.)
While the road is a two-lane country road, I didn't notice any pot holes and since the road is straight for long stretches at a time, overtaking trucks does not seem to be much of a problem.
I was quite happy to have a taxi driver doing the driving (eleven hours behind the steering wheel is somewhat tiring), but I don't think I would have had any problems driving a rented car myself.
But anyway, I made it to Ubajara without a problem this time, which provided a nice closure for a year that allowed for a surprising amount of cave visits (in Hungary, Romania, France and Brazil).
Next day I took a flight from Fortaleza to São Luís (to continue from there to Barreirinhas). I had a window seat and the weather was reasonably nice, so I managed to get some good views of the Lençóis Maranhenses National Park from the plane. (I did see the park from a plane about three months earlier, but from a somewhat lower altitude. Pictures from that sightseeing flight are here.)
I also got a nice view of Jericoacoara (where I had been the previous year) and, on descent towards São Luís, of the Baia do Arraial area.
Time for some pictures of the murals at São Luís airport.
Then it was onwards to Barreirinhas, where the river shore was dressed up in Christmas lights.
That was about the only sign of Christmas time in Barreirinhas. In most of the town, you probably wouldn't have been able to tell (from the decoration or the temperature) whether it was December of June.
After three days (without any time for sightseeing), I needed to go back to São Luís.
I wasn't overly impressed by São Luís when I visited it for the first time, three months earlier. It's a nice town with a decent beach. It also has (very few) restored historic buildings among a lot of fairly derelict buildings in the 'old part' of town and that's about it.
AT least that was the impression I took home after visiting only a small part of the old town in the early evening. Now I was there in the early afternoon and suddenly the town wasn't the boring collection of (mostly) derelicts building, but a busy, living town. It's still not a big tourist attraction in itself, but the old town extends a lot farther than I originally suspected and (while still pretty isolated without a 'historic center') there are more well maintained buildings than I had expected. Also, a fairly non-descript street during the evening turned out to be a busy shopping street (more than a kilometer long) during the day. In short, a dull, sleepy town turned out to be a bustling metropolis after all.
In the evening there was a bit of an unexpected treat. I ended up in a restaurant where a local musician named Nosly Marinho was playing with a friend of his. It turned out that Nosly was living part time in Brazil and part time in Germany, so I suddenly found myself during the intermission talking with a Brazilian musician in German about the differences of living in Cologne and Düsseldorf. Sometimes it really seems like a small world.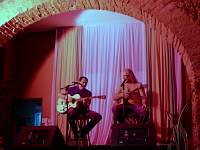 Next day it was time to head home. In theory, I could have taken a flight to Fortaleza and a connecting flight to Europe, but luckily I had planned on spending another day in Fortaleza anyway (before flying home the next evening), so I wasn't too annoyed by the flight being delayed and watching the plane to Europe leaving the terminal in Fortaleza, just when I arrived.
There was one thing I still had to do in Fortaleza anyway.
I was told about the 'Chocolate Pizza' available in some pizza places in Fortaleza. At first, I thought that it was a joke, but then I was assured that it really is a regular dish and was provided with a restaurant address.
Since I did have a fairly massive lunch in São Luís (see the two images above), I wasn't that hungry, but since the Chocolate Pizza is mainly a dessert, it seemed kind of appropriate to order that as a sort of 'end of the trip' dinner.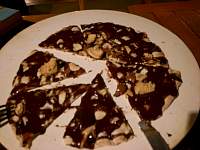 The pizza turned out to be pretty much what it claimed to be. Pizza dough covered with chocolate instead of tomato sauce, with a few pieces of brittle. (I had half expected something like a pancake or waffle as the base, but it really was a pizza.)
And yes, it is quite good (even though it doesn't photograph well).
And while I was at gastronomic 'experiments' (or at least experiences), I also tried Brazilian wine. I had been talking to Brazilians about the fact that, for example, Chilean and Argentinean wines are well known and well regarded in Europe, but I couldn't recall having seen a Brazilian wine. I was assured that, while Brazilian wines do exists, they are pretty bad and not worth drinking.
So I ordered a Brazilian 'Riesling', just to check.
Turned out the Brazilians were right: The chocolate pizza is worth a try, the wine isn't.
Next day was the last day in Brazil. My flight was in the evening, so some time for walking during the day. So I walked to the Parque Ecológico do Cocó, the city park of Fortaleza.
It covers a surprisingly large area and is mostly a swampland. There are some areas for (presumably) playing football and having a picnic, but most of it is not readily accessible, making it more like a nature reserve. There are two well maintained paths through the park (one of them with markers every hundred meters for joggers), but right next to the path, semi-wilderness starts.
But the end of the trip was nearing, so all that was left was to go back to the hotel, have a good-bye-caipirinha at the rooftop swimming pool of the hotel (yes, unashamed luxury, but so what...), watch the sun go down and take a taxi to the airport to head home.