UK, May 2010
Sometimes it's odd. After not having been to the UK for a couple of years, I find myself there for the second time in three months.
Though it was (initially) only partly my doing. My sister had some business in Norwich, so I sort of tagged along. It later turned out that I had a meeting in England the following week as well, so one thing conveniently segued into the other (except for the fact that we went to Wales for the weekend, which made route from Norwich to Windsor a bit indirect.
Since work in Norwich went quicker than anticipated, there was a day off (and I was on vacation anyway), so, after a look through a stack of leaflets, we went to a rope climbing course in Thetford Forest.
The trip turned out to be fun. The timing was quite good, it was a fairly sunny spring day (even though the pictures show lots of clouds, there was a reasonable amount of sunshine) and it was during the week, so there weren't many people on the course (except for us, exactly two), avoiding the main problems of rope climbing courses, namely having to wait for the people in front of you to cross and having people behind you, waiting for you to hurry up.
Being able to go at a pace of my own choosing was great and the sections aren't hard to do (and the tricky bits usually have an alternative route) and, best of all, there was a zipline at the end of each section, which is the part I like best. Even though I didn't manage to land properly on any on them since I kept turning around just before the end and then, instead of landing on my feet, made ground contact with my back side first. But there were big piles of wood shavings there, so it was a soft landing and the leather jacket helped as well.
And then it was time to drive to Wales, which, quite unexpectedly, turned out to be nice and sunny.
The main reason for going to Wales was to visit Portmeirion.
And the obvious reason for going to Portmeirion was that 'The Prisoner', a TV series from the late 60's was filmed there.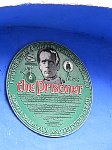 And since I don't usually go for 'genus loci', i.e. visit places just because of the things that once happened there, the reason for going to Portmeirion is only indirectly that 'The Prisoner' was filmed there. The TV series was quite unusual and strange (a bit like 'Lost', only decades earlier, with style and smarter) and needed an unusual setting, which Portmeirion provided.
So the real reason for going there is that it's strange.
Not spooky-strange or funhouse-strange, but more 'British Eccentricity Strange'.
The place is basically a hotel and apartment vacation resort, looking like an Italian village from Greece. With stuff that's partly real, partly real-looking fake and partly fake-looking fake.
Some statues are what they seem to be, some are just plaster, painted to look like metal and some are just 2D cut-outs painted to look three-dimensional from a specific point of view.
A ship, 'anchored' in front of the hotel is just a ship-shaped concrete block. Some windows are just trompe-l'œil murals.
And while the place looks like a village, it was designed and developed by one architect for over 50 years, and was always a resort, so the 'town hall' never had a mayor, the bell tower was never attached to a church, the lighthouse never guided ships.
So, even if you don't know the series, it's a place worth visiting.
And while it was the first time that I was in Portmeirion (or, indeed, in Wales), for my sister and her husband it was a their second time around.
They were in Wales on their honeymoon and I had asked them to make a detour to Portmeirion and take a couple of pictures there, since I had seen 'The Prisoner' and wanted to see what the place looked like. And while they hadn't seen the TV series at that point (and weren't quite sure why they were supposed to go there), they liked the place.
(And, even though I didn't specifically ask to buy the shop empty, they bought most of the prisoner related stuff that was available. Thanks!)
So while I had been introducing them to the place (indirectly) back then, they were taking me to the village now.
In addition to the village itself, there are also paths around the area, which lead to ponds and gazebos.
And there were also some oddities along the way, like a tree stump with embedded coins. (I have no idea whether that used to be some variant of a wishing well, a self-pay toll booth, a boot scraper or just a random strange item.)
Since the weather was fine, we drove from Portmeirion to the Snowdonia area (supposedly one of the wettest parts of the British Isles) and did go around Lake Idwal, which is a nice and easy walk. (There are some serious hikes branching off the path around the lake. And there are quite a few rock climbers around as well. But we took the simple path...)
Next morning there was some nice looking morning fog over the hills near Criccieth, but it was time to drive back to England.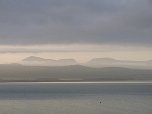 I had a meeting in Staines the next week, but my hotel was in Windsor, so I had a chance to walk around Windsor a bit and look at Windsor Castle (which I had previously only seen from plane windows before landing in Heathrow).
Due to the meeting schedule, I didn't manage to see the castle during opening hours, which also had the effect that I only experienced Windsor as a semi-ghost town, since it is a typical day-tour destination and all tourists leave when the castle closes.
And while the weather was a bit cloudy on the first day, it turned out nice on the next day, so it was worth going to the Ferris wheel to get a better view.
I wasn't quite sure what to make of the winding path through a lawn nearby (it might have been a game of some sort, given the chess imagery), but it seems to be the Royal Windsor Maze with 'checkpoints' (yes, there's a cheap pun in there...), so you should not only reach all chess pieces once (and only once), without going back or repeating a section.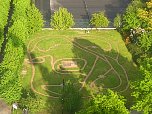 While on the Ferris wheel, I noticed something else that I hadn't been previously aware of, namely that Eton is just on the other side the Thames from Windsor. (I had on the previous day been in Eton to take the picture of Windsor Castle from across the river, but hadn't been aware of it.)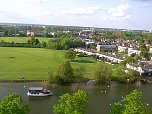 So it seemed like a good idea to walk over the bridge and have a look at Eton College and the chapel.
And that's about all the sightseeing I had time for.
But the weather was nice when I was in Staines, so instead of getting something to eat during the lunch break, I went out for a quick walk in Staines Moor, before heading back to work.
And while this has nothing to do with the UK trip as such, I went back home via Amsterdam, where I spotted a grey heron standing on a sidewalk, looking kind of out-of-place.
It wasn't quite that out-of-place, since there was a canal/gracht on the other side of the street, but it was still odd to see it standing there, almost as comfortable with city-life as a pigeon.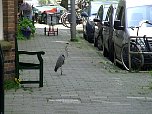 ---
Back to other travels