Hungary, October 2007
I like caves. And Hungary has a lot of them.
So when I planned to go to Hungary, I looked for some cave-related activities and found an interesting looking tour in the Aggtelek national park.
In addition to the usual 'show cave' tours, the Baradla cave system offers a couple of extended tours, including an seven hour tour, which covers part of the Radish branch of the cave, which is only accessible with this tour.
While the tour is once per week in the summer season, it's a bit less regular in the off-season. But I was lucky. There was a tour scheduled in the first Saturday of October, which just happened to match my travel plans.
So I went underground in Hungary.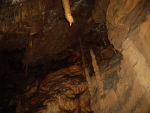 The tour was a bit like 'caves through the ages' and it was very good.
At the start, everyone in the group got a large battery pack on a belt and a bright light, since only the 'show parts' of the cave is lit. Most of the people in the group also donned some cave overalls. Seems like they can be rented in the tourist information building next to the cave entrance, but I didn't know that, so I just went in with the usual gear: jeans, sweat shirt and a leather jacket. It was quite sufficient, but it got a tiny bit soiled...
The trip started out with some large underground halls near the entrance of the cave. Impressive rock and stalactite formations. A short walk through a reasonably modern show cave (wide walkways, well lit) to the 'concert hall', a large underground hall, used for, obviously, concerts. A short automated audio/light show an then on to the more 'historic' part of the cave.
The cave has been a tourist attraction for almost 200 years. The main attraction used to be an underground river. So they built a little access platform, so that visitors could board a small boat and drift along the river for a bit and a couple of walkways and bridges, so they could walk around. Due to some geological changes, the water went elsewhere, so the former river bed is now dry.
Since the interesting rock formations are in other parts of the cave system and the main interesting feature of this part was the underwater river, the area was then touristically neglected. So going from the 'modernized' part of the cave along the (former) river bed, feels a bit like going back in time.
The path is rougher, the steps are uneven and hewn into the rock and it has a bit of an 'abandoned construction site' feel to it.
After following the non-river for a while, we arrive at the Radish branch.
Almost everyone exchanges their boots for rubber boots. (Also available for rent at the tourist information. The tour description mentioned that water-tight shoes are recommended, but I assumed that meant 'no sandals', so I did just wear some ankle-high hiking shoes.) While there is no river anymore, the entrance to the Radish branch still has some water in it, so we have to wade through about 50 meters of water about a foot high before getting back onto dry ground.
And here the fun begins.
And I mean that.
It's somewhat difficult to explain, so I have to do a bit of a detour. I had been on quad (ATV) tours and they always seem a little too tame. And you always want a bit more.
I'm not talking about reckless stunts or death-defying stunts here, but on a wide open area of empty dunes, I just want to fool around a bit.
Then I got to New Zealand and they had an ATV tour promising 'we drive like you would do with your mates'. And while they still had a reasonably safe and professionally guide tour, they went just a bit beyond of what I would have done if I would have been free to drive as I wanted to. And that was just great!
And this part of the cave tour was like that. Squeezing between rock formations, crawling under stalactites, climbing on rocks and walking up rusty little ladders in the dark.
Basically it was the cave tour (probably) everyone has dreamed of as a kid. Just getting wet, cold and dirty in some small passages, with little patches illuminated by the head-(well, actually belt-)lamps.
Perfection.
This probably sounds silly to anyone seriously into caving, but this is not the point. The quad tour in New Zealand was probably child's play for anyone who has some serious quad experience, but it was still just right for me.
So this was probably the most 'hands on' caving tour you can get without becoming member of some club and actually doing it as a serious hobby.
And it was just a bit beyond I would have done if they had just let me loose in the cave on my own. Walking along some slippery rock face with about four meters of a drop below isn't that dangerous, (and real climbers sneer at stuff like that) but if that had been somewhere on a sea cliff, I probably would have looked for some safer place...
So while it wasn't really scary, it was slightly uncomfortable.
Which is great!
Because it didn't leave me wanting more, it was just the cave tour I always wanted.
After about two hours it was back to the main cave and after some more walking, we arrived in some pretty impressive looking halls.
Some more walking through well lit caves and after seven hours, it was back to the surface again.
Which looked somewhat different than I remembered it.
What I didn't realize is that the trip actually takes you from Aggtelek to Jósvafő, which is about four kilometers away. But luckily, there's a mini-bus to take you back to Aggtelek.
The next day started with a visit to another cave.
Someone told me about another cave in that area and I drove there next morning. And I got very lucky. I didn't know that the tours through the cave are only on previous arrangement, only on weekends on 10:30 am and only if at least four people make a reservation.
So it was coincidence that I arrived there at 10:25 am on a Sunday. And while there wasn't any tour booked, there was someone at the ticket office and willing to show me the cave.
So, unexpectedly, I got my own private cave tour.
It was half an hour long, since the Rákóczi cave is not very big, but it makes up for that in style.
Access is through an old mine tunnel.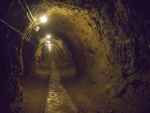 The place was used for mining iron ore and back in 1920 or so, one of the mining tunnels opened up into the cave.
While the cave has only two chambers, it boasts a wide variety of stalactite formations, from the usual icicle version to smaller 'needle forests' and cauliflower variants. The main attraction are however two small underground lakes. Due to the same shift in water levels that has turned the Baradla cave into a (mostly) dry cave, the two lakes are now fairly deep below, but at least they are still there.
All in all a very nice companion piece to the long cave tour on the previous day.
After seeing so much of the Aggtelek national park underground, the rest of the day was spent above ground. Not too far away from the Rákóczi cave are the remains of an old castle (Szádvár).
It's a bit of an uphill walk (the parking place and the ruin have about 250 meters height difference), but it was a surprisingly warm autumn day, the view was great and the forest had a nice selection of greenish/reddish/brownish colours.
And the advantage of being there in October was that the area was fairly empty. When I came up to the ruin, two people were just leaving and I had the whole place to me alone for about an hour, before the next walkers came up the path and I left. Very nice, sitting in solitude on the wall of an old ruin and looking over the scenery below.
Next day I drove towards Lillafüred, but I took the scenic route, driving a bit along small and winding routes through the Bükk mountains (which is fun when the roads are almost deserted) and walking through the forest, passing by (but not visiting) the Miskolctapolca cave bath before reaching Lillafüred.
The main attraction in Lillafüred is the castle. Close to the mountains, overlooking a lake, it is looking quite picturesque.
But it's about as real as Disneyland. And not that much older. (The castle in Disneyland was build in 1955, Lillafüred around 1930).
Unlike the castle at Disneyland, you can spend the night in the castle at Lillafüred, since it was built as a hotel.
After spending the night at the 'castle', greeting the local cat (which had a very smug "I'm living here and you aren't" expression on its face) and watching the small train go by, it was time to head for Budapest.
While the hotel there wasn't exactly a castle, it was also slightly unusual: a hotel ship on the Danube.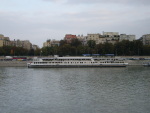 I had some free time the next day, since my plane was leaving in the evening, so it was time for a walking tour of Budapest.
Lots of interesting sculptures.
The round thing in the last picture is actually an hourglass. Or, more accurately, a yearglass. It takes one year for the sand to run from the top to the bottom area and it's turned around at New Year's Eve. (I have no idea how they handle leap years...)
If you get bored of walking, you can always use the funicular.
Near the Gellert hotel were some strange park benches. You could flip them over to look either at the hotel or at the nearby hill. Neat idea.

Some more views from and around Gellert Hill before heading to the other side of the river again.
The group of people abseiling down the museum are neither action art, nor a special tourist attraction or special forces on a training mission. They were just removing a large exhibition poster that was hanging over the entrance.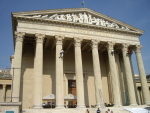 When you walk through a city and start taking random photos of some old shopping gallery, it is probably time to go home...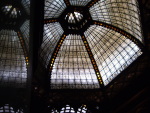 But after starting with an underground experience, it seemed somewhat fitting to end with yet another underground image, even though it's just some pedestrian tunnel under the railroad tracks.