Paris, October 2013
Roughly 20 years ago I was in Paris and visited Euro Disneyland (as it was called then), which had recently opened.
About a decade later I was back in Paris. So I visited Disneyland Paris (as it is called now) to see what had changed, what had remained and whether it still was fun.
Now it's another ten years later, I was in Paris and I had a day to spare.
So it's quite obvious what I did next...
... I went to Parc Asterix.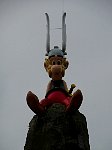 Not that there's anything wrong with Disneyland, but I have been to Disney parks in California, Florida, Tokyo and Paris, so it just felt right to try for a change.
Parc Asterix turned out to be a bit odd for a 'theme park'.
It's fun, but there's not that much of a common theme.
In many ways it's closer to something like Six Flags, Alton Towers or Phantasialand than to Disneyland, Universal Studios or Legoland.
While there is the core 'village' from the Asterix comics, there's very little 'branding' outside that area, except for a giant figure watching over the park.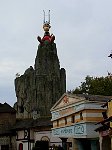 Most of the rest is vaguely themed after areas that have been visited in the comic, but with no direct references. So there is a Greek area with a large Zeus statue and some big amphoras, but while there's a bit of a 'comic' quality to them, they are quite unrelated to the comics.
Also, the main attraction of the 'Greek area' is a large wooden rollercoaster, named "Tonnerre de Zeus", which is neither comic nor Greek themed.
It just has the 'frontier' look of most big wooden rollercoasters. (And, supposedly, it's among the top three wooden rollercoasters in the world. While I'm not much of a rollercoaster fan, I would have loved to have a go, but the queue was substantial and I wasn't really looking forward to a 90 minute wait, which also would have made me miss the dolphin show, so I skipped it.)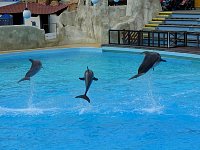 Yes. Dolphin show.
I am not sure how this ties in with the Asterix theme at all, but it was a good show.
Nicely done and it had some elements I haven't seen before, mostly the trainers interacting with the dolphins. Many shows have trainers pulled by dolphins, being balanced on the nose of the dolphins or thrown up in the air.
But this show also had elements that looked more like synchronized swimming events, involving humans and dolphins, with the trainers swimming in a ring formation and the dolphins jumping out of it.
Or the dolphins swimming in circles, rotating the trainer in the middle by pushing on hands and feet.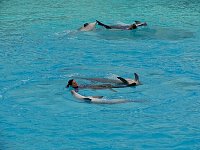 There was also the usual 'dolphins jump high out of the water to hit some hanging objects' bit, which led to a picture where, on first look, I wondered whether I missed the dolphin, as it was flying upside down and looked more like an oddly shaped hole in the wall.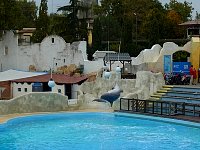 I expected some 'big finale' at the end of the dolphin show, but they did something clever instead - the trainers just dropped a number of balls in the water and then left while the dolphins were kicked the balls into the audience. Obviously, balls kicked towards the audience were throw back. And balls that landed somewhere else were quietly put away by stage hands.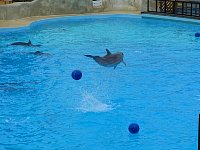 That worked nicely, since it was clear that the show was over, so the audience started to leave, but there was still something going on, so not everyone rushed to the exit at the same time. And by slowly taking out the balls that went somewhere else, it was an activity that naturally faded out at same time, without anyone needing to step in and call a stop to it. (I also suspect that the dolphins are aware of this and just kick the balls the other way when they're getting bored.)
After the dolphin show, it was time to see a bit more of the park.
It has a lot of rollercoasters (which I essentially ignored - I don't like coasters with inversions anyway and even the tamer ones had longer lines than I was willing to stand in).
On the other hand, it was surprisingly warm for mid-September, so it was a good time to go for the water rides/slides. (Which, for some reason, weren't that crowded.)
As Halloween was approaching, some parts of the park were decorated accordingly.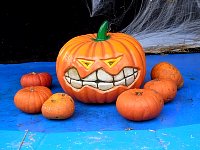 The place where this was most noticeable was the 'Castle' are, which got the full re-decoration treatment, which not only applied to static objects, but they had some people dressed up in giant spider costumes lurking in the darker parts of the castle and some chasing around people with a chainsaw.
Moving on to the 'Egypt' part of the park took me to a more 'cartoonish' place. It seems though that they feed their Sphinx way too much coffee.
And, ultimately, there was also the 'theme' part of the theme park - a little gaulish village surrounded by, well, not fortified roman camps, but mostly roller-coasters, but still...
Featuring the main characters as colourful statues and also as costumed actors.
Two more things in the park I want to mention.
While the weather was quite good for mid-October, it obviously wasn't that hot and there were a number of water based attractions with a good chance of getting wet. There was one oversized blow-dryer for taking care of that, but for people who still felt a bit cold, there were metal braziers filled with charcoal standing at various places in the park. When I first passed them, I just thought they were decorative, but they turned out to be real and functional and seemed much more appropriate than, for example, gas powered space heaters.
And in the entrance area, they had the usual shops, one of them featuring a wooden 'replica' (more like a parody) of the Eiffel Tower.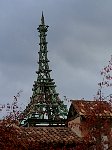 Which reminded me to go back to Paris (the park is a fair bit outside the town) and take a look at the real thing.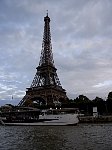 Something I never have been aware of - there is a row of names all around the tower, listing various scientists and engineers, including Laplace, Lavoisier and Ampere. (Though there is at least some excuse for not noticing them - for a long time the letters had the same colour as the Eiffel Tower itself. Only in 2011 have they been repainted in gold and have become more visible.)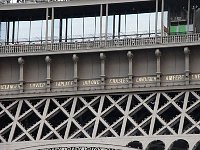 Sunset was approaching and after a last look at the Eiffel Tower, I headed off to get some dinner.
There were also two minor things I noticed while I was in Paris, which I found interesting.
A while ago I had seen a TV program about the High Line Park in New York, a former elevated railroad line that is being transformed into a narrow, but long park. I wasn't aware that something similar to that existed in Paris, even though the Wikipedia entry about the High Line Park mentions the "Promenade plantée" in the first paragraph.
But there isn't only the "Promenade plantée", located in the eastern part of the city, but there's also a similar, lesser known promenade in the south-west of Paris. It follows part of the "Petite Ceinture" track a former, now disused, ring line around inner Paris. The walkable part is not that long (about a mile), but at least it's a start. And it happened to be right behind the hotel I was staying in, so it was a nice opportunity for an afternoon walk.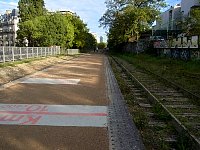 The kilometer value given on the ground is just the old railroad measurement from some arbitrary point along the line - it's not as if you could really walk 10 km along the track.
Another nice bit was along the Seine, where they turned a bland piece of wall into an attraction for kids by just adding some ropes, wooden boards and grips and turning it into a climbing course. Everything fairly low above the ground, of course, to avoid serious injuries (and I suspect that the ground beneath it was some kind of rubbery or shock absorbing surface), but it looked like a fun thing and takes up less 'real estate' than some 'regular' playground.