Geneva, Switzerland - July 2005
I had never been to Geneva. At least not in any meaningful sense - I had been at Geneva airport 15 years ago, but only to take the train to Montreux. So since this was my first visit there, I added a day of vacation to the trip, to be able to do a bit of sightseeing.
The plane landed in the early afternoon, so I got some additional time to walk around and have a look at the city.
It's dull.
Walking around for two hours, I was starting to wonder what I should do with a whole day in Geneva, since there is nothing to do. Probably a nice town if you are shopping for watches. And if you want to do nothing at all in a fairly high class manner. But beyond that, it's a one attraction town.
The one attraction is a big water fountain in Lake Geneva, which shoots a single jet of water about 140 meters up into the air. This, admittedly, looks nice on photographs. Especially when the sun is shining and you get a cute rainbow effect.
So here are a couple of pictures of it:
Ok, that's it. Move along. Nothing else to see here.
Although I have to admit that the Botanical Garden has an interesting looking carousel. (I usually don't care much about plants and gardens. The fact that I actually walked through the Botanical Garden is a sure sign that there is little else to do in Geneva.)
So what could I do with the spare day in Geneva?
I went away from it. Took one of the ships going along the lake and did a day trip to the Castle of Chillon. Not one of the most exciting things to do, but beats staying another day in Geneva by quite a large margin.
But first a rather silly visual riddle: The following image hints (in a slightly roundabout way) at which town along the lakeshore?


On the day when I did that tour, the weather was very changeable. Starting with clear blue skies in Geneva, I got slight sunburn during the five hours on the lake. Then, while walking to the castle, a thunderstorm started (with impressive lightning over the mountains). Half an hour later, it was warm and sunny again. While on the train back to Geneva, clouds gathered again and just when I arrived there, there was lots of lightning over the airport area. Half an hour later, it was dry again and there was an impressive rainbow over Geneva and a little later a nice red sunset to close the day.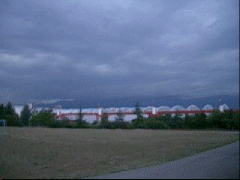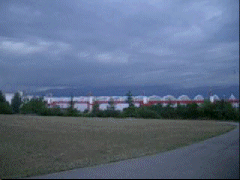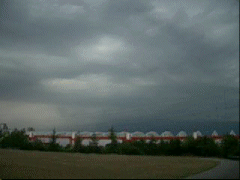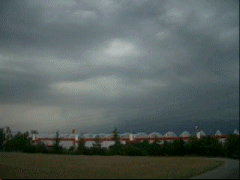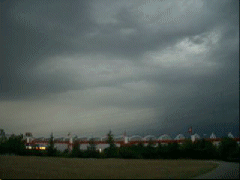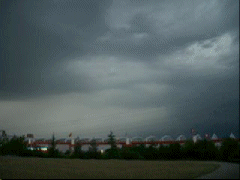 ---
Travels sometime have their awkward or embarrassing moments. In most cases, the best way to deal with those moments is not to mention them. (Note the conspicuous absence of any reference to a Karaoke evening in Tokyo, for example...)
In other cases it's better to be mention these things upfront, just to make sure that they don't come out of the dark to haunt you later.
Having your cariacture drawn by an artist during a social event is clearly in the latter group. Too many people were there, too many pictures have been taken, so hiding the image can blow things up to mystic proportions, so it seems better to just put it up on the web site and ignore it.
---