Madrid, March 2013
I was in Madrid when springtime started, so what's the plausible thing to do when you're in central Spain in early spring and got some time to spare?
Well, going snow shoeing, of course.
That took me a bit by surprise as well.
Originally I wanted to do canyoning or rafting again, since I liked both activities when I tried them the previous year. And rafting had been a bit 'tame', since the river was at a low level in late autumn. So doing rafting in springtime seemed like a fun thing to do.
There was one company offering both kinds of activities, but unfortunately our schedules didn't match. They offered canyoning on the Saturday I arrived in Madrid, but I only got to the airport in the late afternoon, so this didn't work. And they were offering rafting on the next weekend, when I would already be home.
But they did offer snow shoeing on Sunday and I decided to give it a try. (After making sure that we were still talking about the Madrid area - according to their web site, they mainly did snow shoeing in the Pyrenees, which would have been a bit far for a day trip from Madrid. But it turned out that this trip would be in Puerto de Navacerrada, which is only about 60 km away from Madrid.)
The whole thing turned out to be a (minor) blessing in disguise.
Snow shoeing is (compared with, let's say, rafting or canyoning) kind of dull. Basically you just walk around with an added weight on your feet, taking small steps and not getting around much.
And we were a group of about a dozen people, so we would be slow moving anyway. (Regardless of age composition - groups tend to walk slower than individuals.)
So it didn't turn out any kind of adrenaline trip, just a nice walk through the woods.
Probably.
And the 'probably' had a lot to do with the weather conditions. When I drove up to the starting point, weather was kind of overcast, but ok.
By the time I had parked my car at the third parking lot (the other two were already filled), it was getting quite foggy (visibility was about a hundred meters). And it started to hail.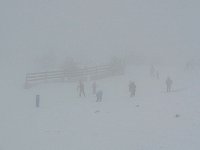 But after going all this way just to do some snow shoeing, it seemed wrong not to do it, so everyone put on their snow shoes.
Walking on snow shoes was easier than I expected (and remembered). I did some snow shoeing last year on Mount Etna and found it hard and tedious going. But this time the snow was quite firm (I probably could just have walked the mountain paths we were going while wearing hiking boots) and the snow shoes were fairly lightweight), so even with an altitude above 1850 meters, I didn't get tired or short of breath.
All in all, it was just a bit of walking around (we covered 4.5 km in three hours with less than 150 meters altitude difference, so it was really a very slow trip).
Usually the attraction would have been the views.
In good weather conditions, you can see all the way to Madrid (about 50 km direct distance), but on a day like this, the farthest thing to see was the next groups of trees. Or, if you got lucky and the fog thinned a bit, the next two groups of trees - visibility got up to 300 meters or so...
After the trip, the guide showed some pictures from previous trips - it's really beautiful up there. Sometimes.
But at least it was nice and not too cold (about 2°C). And the hail had turned into snow - and walking around in freshly falling snow is just a nice and pleasant experience.
As opposed to being drenched in rain.
And that was the good thing about the trip - I got to walk around in a nice winter scenery, with snow falling all around me. While at the same time in Madrid (and most of Spain), it was just slightly warmer and rain kept pouring all through the day.
So given the choice of going sightseeing in Madrid and getting soaking wet or going snow shoeing in a winter wonderland (even though most of it was hidden from view), it seemed like I made the right choice.
Especially, since this was just a short bad weather phase and next day the weather in Madrid looked like this.
Which is much better for doing some sightseeing.
I took the teleferico (cable car) that connects central Madrid with the Casa de Campo park. This provided a nice view of the Madrid skyline.
The park itself is fairly large and quite spacious.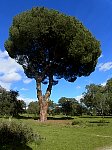 There are some attractions within the park area, but the one I was heading for was the zoo. (Oddly enough, the terminus station of the cable car is not located close to any of them. If you want to go to the amusement park with the rollercoaster rides, it's about a kilometer to go, if you're heading for the zoo, it's a bit more. The cable car station just seems to be on a random spot in the park.)
The zoo itself has a fair amount of variety and a reasonable amount of open space. Even though some animals don't really seem to appreciate that...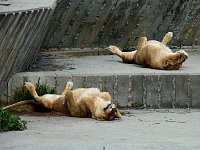 There are also some oddities, like magpies getting interested in chickens. (That was lying around in the wolf enclosure.)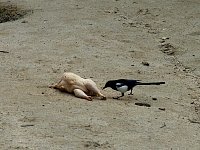 As any visit to a zoo, it is a good opportunity to have some generic pictures of animals.
While there are some shows and presentations, dolphin shows tend to be the most interesting and draw the biggest crowds.
There's an interesting way the zoo is generating additional revenue - you can get your picture taken with some of the animals. Photo opportunities are limited (usually just a couple of minutes after feeding time, so the animals are well fed and complacent) and the pictures are a bit pricey. But it helps bringing in some more money for maintaining the zoo. And the higher prices reduce the numbers of picture sessions an animal has to go through.
And there aren't that many opportunities where you can pose with a dolphin.
And it turned out that the dolphin is much better suited for smiling at the camera than I am.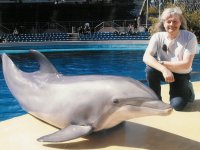 For such photo shoots, you're not allowed to touch the animals yourself, but the animals are allowed to touch you. Having a sea lion rest its head on your shoulder is a bit of an unexpected experience. For one thing, they have really massive heads. And having them exhale into your ear is like having someone turn a ventilator on you. Quite obviously they need to have a large lung capacity for diving and all that, but being at the receiving end of that is still a bit surprising (I just wish they'd taken the picture about 10 seconds earlier...)