Dorset, September 2013
I was a week in the London area, but didn't do anything interesting or touristic, but I headed to Dorset for the weekend for some kayaking and coasteering.
Though it's not quite true that I didn't do anything touristic - I was at a 'Medieval Banquet' in London and that was unexpectedly fun. And I have no idea why.
I had been to a similar thing in Berlin about ten months earlier and pretty much loathed the whole experience, although it did happen in a historical (almost) medieval place. (Built in the 16th century, so historically about a century to late, but close enough for all practical purposes.)
And although they made the effort to have appropriate entertainment with instruments reasonably fitting the times and all that, the whole thing was highly annoying - too much "aren't we all happy now" and vacation club "join in" animation. And a really bad 'bard' who obviously thought he was witty and a crowd pleaser.
The whole thing was pretty much a disaster. And I regretted not smoking, since the smokers had at least an excuse to go outside. (And stayed there way longer than needed for a cigarette, only coming back in when the next food course was served.)
So I didn't really expect much from the London Medieval Banquet.1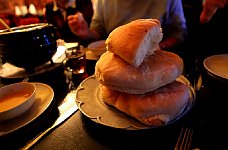 The location was all wrong (close to the Tower, but in a fairly recent building), there were silly hats to be bought, performers were wearing microphones, the place has a modern bar - everything was kind of wrong.
But somehow the whole thing worked and it was fun and I was entertained.
And even in hindsight, I have no idea why it worked. It's one of these cases where every single element seems wrong, but somehow the whole thing felt right.
Somehow they managed to find the 'sweet spot' between historical reconstruction, holiday club animation and clap-along tournament shows. Nice.
But the weekend destination wasn't London, but the Dorset coast, even though there was a slight detour to see some fields.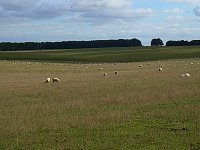 Though not necessary to see some sheep in a field, but to see some rocks.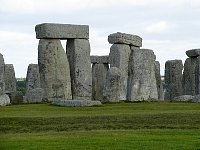 title="Rocks on England's green and pleasant land">
Yes, those rocks.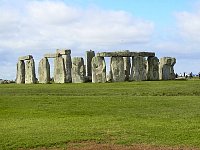 Compared to them, even medieval times seem quite recent.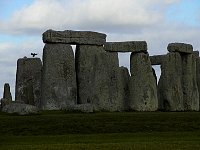 Otherwise there's not too much to say about the place - it's fairly iconic and pretty much looks as you expect to look (and did so for thousands of years), and there's not much to add to that.
Unfortunately my timing was a bit off. You can't go inside the stone circle anymore, at least on most days. But there are some special occasions where you can get close to the stones. Probably everyone knows about the summer solstice at Stonehenge, which draws big (20000 people) crowds.
But the stones are also accessible for autumnal equinox, which is usually around September 21st. Although in 2013, the equinox happened to be on the 22nd after sunset. (Well, at least the astronomical event - as the equinox usually means the date when day and night are the same length, which obviously is a day, not a specific time. But astronomically, the equinox is defined as the moment when the day/night terminator is at 90 degrees to the equator - which is a precisely defined moment.) And as the equinox was after sunset, the equinox celebration (and the access to the stones) was at sunrise of the next day, Monday, September 23rd, when I was already back home.
But at least the weather was unusually nice for the time of year, so at least there was the opportunity to see the stones with the sun shining on them.
Note: It helps if you're traveling there on your own and arrive before 11 am. As most visitors are on bus tours and there are separate queues for tours and individual visitors, there are fairly long queues when the busses arrive (which arrived in droves around 11 am), while there was no queue at all at the counter for individual tickets.
Kayaking
But the main destination for the day wasn't Stonehenge, but Poole (near Bournemouth) for some kayaking.
I had pretty much expected that this would require wetsuits at this time of year, but the weather was holding and it was possible to kayak in England in late September wearing a t-shirt.
The kayaking was in Poole Harbour, which is essentially a large bay connected to the English Channel. I hadn't done 'lake' kayaking before, so this was a new experience. (The only kayaking I had done was going down rivers, where there's always the option to just relax and drift to the destination. On a lake or bay, you need to go back to the starting point.) It was also a 'sit-on' kayak (as opposed to a 'sit-in' kayak), so it felt a bit less stable, though still quite safe. (Nobody capsized. And the advice in case that it happened was along the lines of "First thing you do: Try to stand up. While there are ship lanes and such, a lot of the area is fairly shallow and you'll just look like a fool if you're trying to tread water and it's just 50 cm deep.")
As the weather was fine and there wasn't any wind, there weren't any waves (except for the occasional boat going by) and going was easy and everything was fun.
So we went along the shore, went along two minor islands and crossed the bay towards the Arne Nature Reserve Peninsula.
And then went back towards the starting point.
I was having fun, but as we had already covered about eight kilometers, I had never done that before and the blisters on my hands kept growing, I was also glad that we were almost done.
But then the guides decided to give us our full four hours' worth of tour (we were half an hour early) and started going along the show away from the starting point.
Still fine by me, but by the time we turned and headed back, the wind had picked up, blowing against us, and the tide was going out, so there was a current, also against us.
So I didn't get very far and then spent 20 minutes pretty much kayaking in place and in the end the guides had to pull me the last 300 meters or so.
The whole thing was fun, though. (Even though I would have preferred to skip the final detour and just kayak back to the start under my own power.)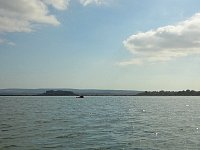 Coasteering
The next day it was time to go coasteering.
And I have to admit that's one of the activities where it probably would have been useful to read about it before booking a tour. (Though I probably would have gone coasteering anyway.)
My basic assumption was that coasteering was pretty much the same as canyoning - you rappel down the coastal cliff, walk, scramble and swim along the coastline, find a path up the cliff, abseil down again, maybe traverse the cliff at a low level, falling onto the water when slipping off, swimming to the shore and starting again. Maybe some optional jumps as well. But mostly abseiling and scrambling.
But in reality, coasteering is pretty much centered on jumping. There is some swimming (from jumping point to jumping point) and some scrambling (up to a ledge to jump from), but that's really the core activity.
As I don't like to jump from things and my swimming isn't that great either, it quickly became noticeable that this is a less than ideal activity for me.
And it didn't help much that I had booked for the "introduction to coasteering" tour, which requires "being able to swim 10 meters" and "jumps from up to 5 meters", but then was added to a more advanced tour, which requires "being comfortable swimming in the sea", "swimming 50 meters" and possible "jumps from up to 11 meters".
So it's no surprise that I'm looking a bit sceptical.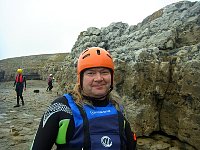 Time to get down the cliff (walking down some rocks - no rappelling, we were only wearing wetsuits and lifejackets, no climbing harnesses) and out into the water.
And out of the water again to the first jump point (which was still harmless enough even for me).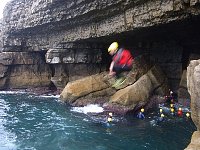 Then some swimming into a small cave. As it turned out, it wasn't all about swimming and jumping, there were some minor detours for walking/swimming/scrambling in interesting places and corners, so there was something for me to enjoy as well.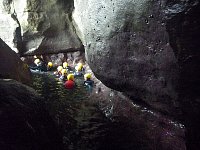 Even though the next stop was the "multi-level jump" cliff face. There were four ledges at different heights, so there was a choice of places to jump from (if you want to). I quite happily optioned out of this and stood on a nearby rock instead, taking pictures.
In the meantime a tourist boat was passing by, with the people on board probably being slightly irritated by the activities going on at the coast.
The next stop was a small tunnel entering a cave (actually just another rock overhang). That was quite interesting, since the best way to go through there was to line up and then wait for the next wave to carry you through the opening
And, of course, some more scrambling up a rock, just to jump down from it.
In the end, it was a mixed activity for me. I did enjoy the moving along the cliff side and I did do three of the (very minor) jumps, but most of the time I just stood or floated there, taking pictures of other people jumping off things.
But still, it's better than not going coasteering.
The way back to the parking spot was almost surreal.
The car park is about a kilometer away from the coast and the fog had closed in again. And somehow it is a strange sight when people in wetsuits and buoyancy jackets come out of the fog and walk over some green meadow, with a couple of cows grazing nearby, ignoring them.
And while there's lot of coasteering going on, so it's nothing unusual for locals, it still feels odd when you're passing someone who's walking a dog along the path and greets you, as if there is nothing remarkable about the strange stuff you're wearing.