Windsor, October March 2011
About a month after visiting London, I got to spend a weekend in the Windsor area.
Instead of going to Windsor Castle, I decided to visit Legoland.
I was a bit unsure about the visit, since Lego has sold all the parks (except the one in Billund) and they are now managed by another company.
So I didn't know whether I would enjoy the visit or whether I would just go around and grumble.
A little bit of both.
There were quite a lot of things to like, but the rift is fairly noticeable.
The park itself is much nicer than I thought, since it is not in a flat area, but at a hillside and more integrated into the landscape than the ones in Billund or Güntzburg are (I haven't been to the one in California, so I don't know how that looks like) and it has a good view of Windsor Castle.
And the usual 'Miniland' as the centerpiece of the park is also quite likeable, especially since it is mostly 'old style'. Which may need some explanation. In newer Lego presentations (like the one in Güntzburg or the 'Discovery Center' in Berlin), there is a larger usage of 'non-standard' bricks, i.e. bricks that appear in some sets, but are not really that easy to get.
Having such bricks makes it easier to make 'realistic' looking sculptures, but I just like the 'bricky' look and there still were a lot of them.
On the other hand, a lot of the newer attractions have, at best, a couple of Lego sculptures standing around somewhere, but, would those be removed overnight, it would just be any kiddie fun park - there's little in the 'look and feel' of the attractions themselves that say 'Lego'.
Since Legoland Windsor is on the side of a hill and the entrance on the upper end, you need to follow an uphill road for a bit. Something I liked about it was a couple of smaller figures 'moving' a number of letters.
I liked them because they were in an odd order. I was walking up the hill (instead of driving), so I had a bit time to consider them, but the first letter was an 'L' and the second was an 'E', so I expected the letter to spell 'Lego' or 'Legoland', when the next letter turned out to be a 'C'.
I then assumed that the 'C' was supposed to be an incomplete 'G' (the overall theme seemed to be 'building' after all) and felt justified in that assumption when the next letter was an 'O'.
Which was followed by 'M', 'E' and 'W'. Lecomew? Lego-Mew?
Walking on, I realized that the letters would actually spell 'Welcome', but I liked the fact that the letters were jumbled, so it wasn't that obvious and that it played (whether intentional or not) with the assumption that something starting with 'LE' would turn into 'Lego'.
The confirmation then came once I came to the crest of the hill and was greeted by this: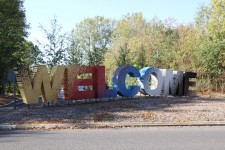 Going up by car would probably be too fast to notice the sequence, but for someone walking there, it was a bit of an added bonus.
There's not much to say about the 'Miniland', which is the center of every Lego park and consists of various buildings from all over the world, rendered in Lego bricks.
So here's a bunch of pictures:
One of the fun things to do in a park like this is to look for oddities.
For example, there were a number of Canary Wharf buildings and on closer inspection there was a Dalek lurking in the corner of one of them. (If that doesn't ring a bell, look up Battle of Canary Wharf...)
Or a shady street salesman in a side street somewhere.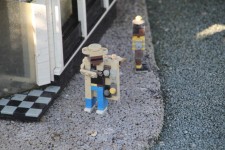 There were also cute additions to other 'old fashioned' areas, for example a wolf hiding in an unusual fashion or Prince Charming being nagged on his mobile phone.
While the Miniland is the primary area with Lego sculptures, there are quite a few others scattered around the park, mostly related to some smaller rides (like the fairytale land tour above, but also on 'animal safaris' or 'dinosaur experiences'), which mostly cover a wide range of real and imaginary animals.
So far the good things...
But there are a couple of annoying things about that place and I assume that most of them are due to the 'new owner'.
A couple of attractions have no 'Lego' feel at all and are just generic rides - which is probably nice for kids, but have (without the Lego-ness to it) very little appeal to adults.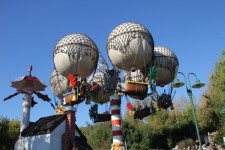 And a fair bit of the original stuff seems fairly neglected.
But even more irritating is that 'making more money' has got to a point where it starts taking the fun away.
Whether it's obvious sponsorship deals like having a big, ugly power station as part of the presentation. (Which is as ugly and boring in Lego - just lots of grey bricks - and screwing up the landscape - just as in real life. And has the company logo just as a sticker on it - they didn't even bother to do some decent Lego lettering on that one.) Or putting in some posters for a new theatrical production on the Leicester Square part of the Miniworld (just a miniaturized poster - nothing actually done in Lego). The whole thing looks a lot like the zoo from the 'Fierce Creatures' movie - only without someone realizing that this was supposed a parody.
And the number of 'buy a picture' booths is excessive. I don't mind having a picture taken at some dramatic drop on a roller-coaster and then having someone trying to sell them to me, but here almost every attraction has some photo point, even simple 'slow vehicles moving in a circle' attractions, so it reaches a point where it gets annoying and the whole place feels more like a web site that has pop-ups, pop-unders, blinking side bars and forced overlays. Just tacky.
Though there was one area that still had the classic 'Lego Style' and that was the 'Creation Center', which had a builders area (deserted on the weekend, though) with various models and a couple of busts and other stuff, which was interesting to look at (at least from a Lego fan point of view).
The next day was a pretty lazy one.
It was going to be another fairly nice day (which is not really expected in mid-October in the UK), so I decided to just walk around in Windsor Great Park.
Though, admittedly, the weather doesn't look that impressive on the first couple of pictures, but that was just morning fog.
The obvious start for a walk through Windsor Great Park is the Long Walk, a path leading straight from the castle to a statue (of George III on a horse) on a hill.
While the park is a big tourist attraction in summer, at that time of the day and the year, only a few joggers were around.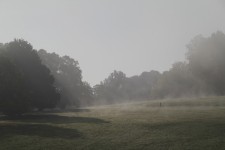 I moved away from the main pathways and went a bit into the 'woods'. A part of the Great Park is the (fenced in) Deer Park and there are quite a lot of deer around.
While they are 'wild' animals (in the sense that they are not domesticated) they are pretty accustomed to tourists walking around. So, with a bit of care and relaxed walking, it's fairly easy to walk reasonably close to them.
And, oddly, nobody else is around (almost everyone seems just to follow the main paths), so it feels like sharing the scenery with nothing but deer and some other animals.
Not much else to tell. I've made a long round through the park, enjoyed the scenery and (after 20 km or so) made it back to the statue and the Long Walk and just had to walk the final 4 km to Windsor and call it a day.
And that was about it for the trip, but I happened to find some spare time a couple of days later and managed a short visit to Windsor Castle (which I had ignored so far).
I usually don't get overly excited about old buildings. And while Windsor Castle is quite impressive and rich with history, I just took very few pictures.
But I got to walk along the Long Way again and do a small detour to the deer area. And while they were in smaller groups on my first visit, this time the deer seemed more like a herd (and having them streaming by to the left and right while slowly moving across the grass was quite impressive).