Milano, Monza and Lago d'Iseo, October 2017
Museums, a lake and fast cars - clearly an upwards trend on the days of this short vacation.
My third trip to Milano this year, but I hadn't visited anything touristic in Milano itself. Except for passing by the Duomo at night after a restaurant visit and snapping a picture, I had used Milano as a starting point to go to other places, like the 'Igloo Village' near Zermatt in February and Lago Maggiore in June.
While I did use Milano as a base for going to other places this time as well, I made some time to see something in Milano itself - the science museum "Museo della Scienza e della Tecnologia Leonardo da Vinci".
The main part of the science museum is a bit odd - it feels like a bunch of corridors with stuff along the walls. You keep expecting some passages to the actual exhibition halls, but there aren't any.
The building itself used to be a monastery and the layout doesn't work well as a museum.
There's a big empty garden in the middle, which doesn't do anything for the museum at all, and then colonnade around the garden at the upper levels.
Nice architecture, good looking building. But it doesn't provide much space inside.
Especially not in the form of large exhibition rooms. More like small 'monk cell' kind of spaces. For which the best use is to knock out the connecting walls and create one long, but slim, room. So what you get are two corridors side by side.
There are some rooms at ground level and below, but many of these are 'activity rooms' for visiting school classes and interest groups. A good thing to have, but of no help for a casual museum visitor.
Due to the layout, many exhibits are based on posters and monitors (as they are flat against the wall and don't use much space) and quite limited on 'museums pieces'. There are a few, of course, but for the 'largest science museum in Italy', the offerings are unexpectedly limited.
And, in some cases, it feels like 'stuff that fits the theme'.
The telecommunication area has some historic phones, but also something that is a large pile of outdated mobile phones, without any informative value that one or two selected phones from the area wouldn't provide as well.
And in the exhibit about 'plastic', there are a lot of 'things made from plastic' that most people might have at home as well.
Visitors will already know what plastic (or iron and copper in other departments) looks like.
There would be some value in showing the different kind of plastics, their individual strength and weaknesses and why a garbage bag is a different kind of plastic than a drainage tube.
Without such a structure, it is nothing more than a bunch of plastic things. Not a good reason for visiting a museum.
As a result, the main building (except for the building itself) is a disappointment.
But they also got two other large buildings on the same grounds. And these provide a lot of interior space, so they filled one with trains and the other one with ships and planes.
That part one looks more like a 'proper' history of technology museum. Not big on explanation and interactivity, but with interesting objects.
They also have a submarine parked outside.
So all in all, the place feels disjointed.
For comparison, I went to the other 'technology' museum (Volandia) in the Milano area after that.
Here they seem to have the opposite problem - lots of exhibition space.
The museum is in a couple of large halls near Malpensa airport. I am not sure what the place used to be, but it looks like a collection of hangars. So lots of internal space.
Too much, probably.
The first hall was very disappointing.
A large hall, almost empty in the middle, with a large model railroad on one side, a smaller model railroad diorama on the other and glass boxes with various models (mostly planes, but also some tanks and cars) standing on the floor.
It felt more like stepping into some empty storage space where a group of model builders were allowed to put their stuff after they ran out of space in their cellars than a proper museum.
There also didn't seem to be some order or reason behind the various models. It gave more the impression of someone buying all Revell and Airfix kits on the market and then starting to build then an organized exhibit.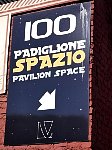 The 'space' section also felt like some model builder's dream project.
Only on a 1:1 scale.
I didn't see many original artefacts, but they had a very detailed model of an Apollo capsule, some section of a space station (which seems to be a hybrid of a reasonable replica of the observation window of the International Space Station with some fictional space ship corridor).
But it did clearly show enthusiasm and made sense in a museum since it provided an experience you don't get at home. Unless you have a very unusual interior designer.
Where it started to fail was the 'moon buggy'.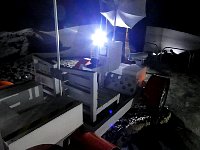 That looked more like something nailed together in the garage over a weekend for a parade than a serious model of the moon buggy.
Instead of the filigree metal structures of the original, this seemed more like a couple of wooden benches and crates nailed onto some old car frame.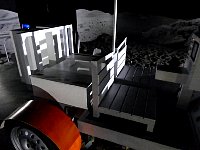 And while the antenna of the original might have been umbrella shaped, I doubt that taking an actual umbrella makes a believable representation.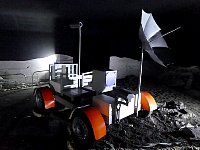 Also, the wheels of the original moon buggy were an interesting construction of a metal spiral covered by a metal mesh. These seemed to be some old tires from some farm vehicle.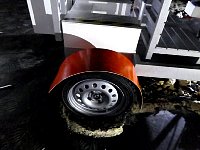 Very odd piece.
But they had a lot of space to fill, so they might have run out of stuff to show.
Going over to the airplane exhibit, things got much better.
They have a fair selection of planes (as a museum next to an airport should have). And as they had space available, they were able to put some of them into appropriate settings and dioramas instead of sticking them into an arbitrary place.
One of those displays was extra strange, as they had a room with 'broken helicopters', which looked like a somewhat spooky crash site.
They had also some unexpectedly informative sections, like a series of cockpit instrument panels from various fighter planes over the years, which gave a good indication how cockpit displays changed from rudimentary instruments into their modern forms.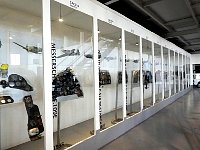 Another thing I should have known, but never realized, was that most airplane builders named their companies after themselves.
I was aware that Sikorski or Antonov were people's names.
But Boeing might have been an artificial label, chosen for the sound of it. And Dornier might have been the name of a town. And Beech and Piper might have been taken from the common words. Maybe the first Beechcraft planes were made from beech or the first Piper made some whistling noise.
In any case, I never thought about it.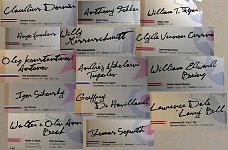 But here on the wall were info posters about many early pioneers of flight. With persons like William T. Piper, Clyde Vernon Cessna, William Edward Boeing, Walter and Olive Ann Beech, Thomas Sopwith, Geoffrey De Havilland, Igor Sikorsky, Andrej Nikolaevic Tupolev, Oleg Konstantinovic Antonov, Anthony Fokker, Willy Messerschmitt, Hugo Junkers and Claudius Dornier.
Even the Bell Helicopter is not named for its bell shaped glass canopy, but for Lawrence Dale Bell.
After that, it took me a while to come up with any aircraft company that is not named after its founder.
The only thing I could think of was 'Airbus' since that was artificially created by a consortium (and even then I had to look it up to make sure that it is not secretly an acronym of the consortium members - it isn't).
After a while I thought of Embraer, which looked like a possible surname at first, but later turned out to be an abbreviation.
In any case, even though it was simply a "posters on the wall" presentation, it made me wonder about something I had never noticed before, which is what a museum visit is supposed to achieve. So well done!
There were some more buildings with planes and helicopters (although not in custom scenery).
Outdoors were some larger planes and also an unfinished aircraft hull.
An oddity was a DC-9, the "Presidential Plane" of the 80's.
It is not so much famous for having been the "Airforce One" of Italy, but more because it was the plane in which Italian footballers brought the World Cup home in 1982. (In one of the museum buildings there's even a reconstruction of the seats and the table, so visitors can take a picture of themselves next to a World Cup replica.)
It is also the plane that Pope John Paul II used for most of his travels. (There's even a sign at the entrance to the plane, stating that "This plane has been used by a saint.")
But instead of looking stylish (it is Italian, after all) and stately, it just looks as if someone got some second hand furniture from a store and put it into a plane.
Clearly not "executive travel" as you would expect. Not even for the 80's.
The outside area next to the planes was a racing track for model cars.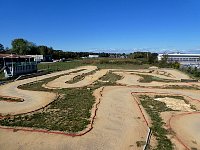 It didn't seem to have much to do with the museum at all, but since there seems to be a fair amount of excess space, why not put a race track there?
Or some airplane spare parts.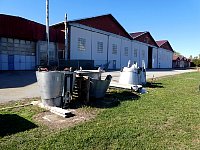 Or a faded concrete globe.
The next hall had a micro-drone flying course, were visitors could steer a tiny quadcopter through and around some obstacles.
For a fee, visitors could also fly larger drones in an outside area with protective nets around it.
There was also a workshop for drones (not-accessible to visitors) in the same building. The place gave more the impression that it was a place where drone enthusiasts gathered and worked on their quadcopters and flying skills (and were willing to talk about their hobby to museum visitors) than being a part of the museum itself.
Next door were some "flight simulators", ranging from simple PC screens with a joystick in front, via "cockpit style" simulators to a full helicopter cabin mock-up with three screens to provide a more immersive scenery.
This area also gave the impression that it was run more by enthusiasts and volunteers than by museum personnel.
Maybe that is an intentional concept of Volandia.
Have some exhibition space for the planes and helicopters and then offer the remaining space to fan clubs and hobbyists (like model railroad builders, airplane model builders, space buffs, remote-control car racers, miniature quadcopter pilots and flight simulator pilots) in exchange for having them show and explain their interests to other visitors.
No idea whether this is really the case, but the general feel of the museum is like that.
In another outside area, they also have some (mostly) public transport vehicles, like busses, trams, trolleys and also a funicular car.
As they are in various states of disrepair, it feels more like an upscale junkyard than part of an exhibition.
But as one of the draisines has a "restored by students coming from Milan" sign, maybe the situation is similar to other departments and the vehicles have been put outside to be restored by "historical vehicles" enthusiasts in their spare time and they haven't got far yet.
Volandia is a quirky museum. It feels inconsistent, but it is interesting, unusual and sometimes outright strange.
Very nice.
Next day I drove to Lago d'Iseo.
I didn't have any specific reason for going there, except that it wasn't too far and I had been to the better known lakes (Lago di Garda, Lago di Como, Lago Maggiore, Lago d'Orta) on previous trips. And Lago d'Iseo was new to me, so why not have a look.
The most noticeable feature of the lake is Monte Isola, a large island.
So I took the ferry over to Monte Isola, walked down the road along the shore until I reached the Castello Oldofredi, took a few pictures and walked back again.
Not much to say about that, except that it was a nice and pleasant day and it was relaxing to walk around with nothing much to do and enjoying the view.
Except paying attention to the watch and walking back a lot quicker.
There is very limited parking space available near the road around the lake and the official parking space is a bit pricey. Which is mostly ok (you pay for the location), but the parking ticket machine only took coins. I had only enough spare change for about 90 minutes, so I had only about an hour on the island before I had to catch the ferry back.
Would have liked to spend some more time there.
Something I hadn't been aware of when I arrived was that this was the lake where Christo had installed his "Floating Piers" for two weeks the previous year.
I had seen documentaries and new stories about it, but hadn't noticed that it was this lake where the installation had been.
As usual with Christo and Jeanne-Claude projects, there was nothing physical left on site. But there were a couple of info posters about the event.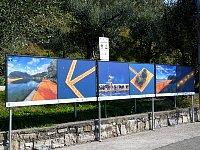 Having a slow day at the lake was nice - the next day would be anything but slow.
I had visited Monza in February, but at that time the only tour of the track available was one in a minibus. It included a 'behind the scenes' tour of the press center, the briefing rooms and the winner's podium, so it was a tour worth taking, but it wasn't much of a "track experience".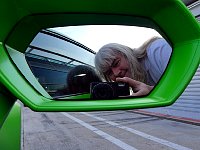 This time it was different.
There is a company offering self-drive laps in high-end sports cars (and above - they also have Formula 3 racing cars and even one previous Formula 1 racing car, even though that is about twenty years old).
It's a bit pricey, though.
If you want to drive the Formula 1 car, that sets you back about 3500 Euro for, essentially, one full lap. To be fair, that also includes 10 laps in in a Formula 3 car for getting a feel of the track. But it's still outside my financial range.
But driving a Lamborghini or Ferrari was slightly more affordable. Sort of.
I couldn't make my mind up in which I would do a lap, so I decided to do one in a Ferrari 488 GTB and one in a Lamborghini Huracàn.
(You can also have a go on a Ferrari 458 or a Lamborghini Aventador, but as both are essentially earlier, less powerful models, why would you?)
I had been in a sportscar on a racing track two months earlier, but in the Corvette Z06 at the National Corvette Museum Motorsports Park, I had only been a passenger.
Here I would be driving the car. And Monza was a much faster track than the one at Bowling Green.
Also an easier one.
The Corvette track had about 23 corners (depending whether you count the first chicane one as one or two corners - the official labels are corner '1A' and '1B'), while Monza has onlu 11 corners. And that is counting every bend in a chicane as a separate corner.
Using the same counting system as on the Corvette track, Monza would have only 7 corners.
So the track layout is much easier to remember.
I had been worrying a bit in the preceding weeks whether the weather would be ok - even if you 'only' ride one of the 'normal' supercars, it's no fun if you have to go slow due to wet tracks. But the skies were clear and the track was dry.
Time to go fast.
Or at least prepare for it.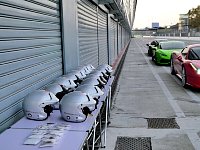 But at first we were given a ride around the track in a van.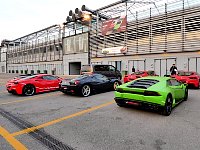 Similar to the one I did in February, but faster.
It was still only a van, so we going around at only about 120 km/h, but compared to the 60km/h we did back then, it felt differently. Also the driving through the corners was more aggressive and cutting the corners closer.
During the lap, we got information on where to accelerate, where to brake, which lines to take and so on.
After that, we got some advice on driving the cars.
A very useful lecture, since some of the things weren't immediately obvious. (And others should have been, but I never had thought about them, so it was good to be reminded.)
The obvious thing I should have known was to brake hard.
There's never any reason to just brake a bit. (Well, maybe if you need to brake in a corner because the next corner is slower than the one you are in, but that's not the case in Monza.)
The reason is obvious. You want to drive at as much speed for as long as possible. And if you decelerate slowly, you are driving a longer distance at slower speed.
So every time you brake, you slam the brake as if you are about to crash into something. It makes sense, but I had never considered that.
More counter-intuitive is the advice to still be on the brake when you turn into a corner.
With video games (at least the one that I had been using to prepare for Monza), braking and steering are fairly much alternatives. If you hit the brakes hard, the car in the game will go straight. Only once you let go of the brakes, the car will respond to steering again.
In a real sports car, it is almost the other way round (not as extreme, but in tendency). As the cars are comparatively light, turning the wheels will not have that much effect, as they only 'lightly' touch the ground. (Not that lightly, but enough to have less grip than expected.) Braking puts more weight towards the front of the car, so the front wheels are pressed more towards the ground, increasing the effect of the steering.
It's not as if I indeed noticed it (it's possibly one of these things that make a 1/10 of a second difference for a racing driver, but is not relevant for anyone else). But it was interesting to learn nonetheless.
Then it was time to go on the lap.
The first one was on the Lamborghini Huracàn.
I had expected a more spartan interior, but is was quite luxurious.
The Huracàn even had electrically adjustable seats, what surprised me, since I thought sports cars would be all about saving weight, and they'd rather sacrifice some comfort to reduce the weight. But in the end it's a luxury sports car, so it can't be too comfortable, because people who can afford to buy cars like this will spend more time on regular streets than on tracks. (And all these cars were essentially unmodified production cars. The only change was that they were fitted with different brakes. They didn't really affect the performance, but according to the company that owns the cars, the normal brakes get hot after an hour on the track and need to cool down for a while. And since they run the cars for two hours or more during their events, they fitted the cars with brakes that dissipate the heat quicker.)
After setting up the driving position properly, I drove down the pit lane and onto the track.
The instructor was sitting next to me and giving where precise information on when to change gear and when to brake.
I took the first lap out of the pit lane comparatively slow, to get a feel of the car and the track.
And at the start of Curva Parabolica, the last corner before the main start/finish straight, I had to stay on the right (you stay left when you head towards the straight) and go back to the pit lane.
That was a bit disappointing.
I had assumed (although it was, admittedly, stated nowhere), that "one lap" meant one full lap from starting to finish line, so there would be one warm-up lap from the pits, followed by the hot-lap and then the out lap back to the pits.
But it turned out that to do that, you need to pay for three laps.
Looking at the info sheet that the instructors had, everyone else must have known about that, since I was the only one with only one lap. Everyone else had booked either three or four of them.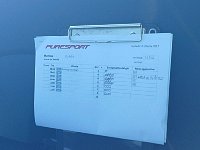 So before driving the Ferrari, I went to the counter and quickly purchased an additional lap, so that I would have at least one full lap (albeit not really starting at the start/finish line) and would be driving at least once down the main straight at full speed (or at least as full speed as I dared and could manage).
Unfortunately driving a supercar in Monza is not cheap (I already mentioned that) and I had already hesitated to buy one lap each in the Lamborghini and the Ferrari instead of choosing one of them, so I didn't want to spontaneously upgrade the Ferrari to three laps or have another two in the Lamborghini. (Driving a supercar at Monza is fun, but at about 2 Euro/second it is also a way to burn money more quickly than I like to.)
The two Ferrari laps were much better.
Not because the Ferrari was inherently the better car, but obviously I didn't try to take it slow the first time around, but speeded up right from the start, accelerating and braking as hard as I could.
At least mostly. I didn't dare to go through the corner quite as quick as the instructor was telling me. I am aware that, for example, Curve di Lesmo can (and probably should) be driven at higher speeds than 150 km/h, but that still felt plenty to me (despite the instructor's "open up steering and more gas" remarks).
Going down the main straight at Monza is impressive.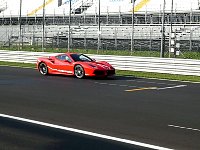 Yes, it's a tourist experience, not a race. The stands are empty and in the end you are just driving a car down a straight road, which isn't much of a challenge.
It still feels special.
Too short, though.
At the speed you're driving, the experience is over in little more than ten seconds. (Though these ten seconds are truly worth the 2 Euro/second price tag...)
At the end of the main straight I was at 269 km/h before I has to hit the brakes (hard, obviously) to avoid running into the first chicane.
I couldn't time from start to finish line, since I crossed that line only once, but measuring from the entrance into Curve di Lesmo to the same point, I had (according to my GPS) a lap time of 2:28, which is pretty much the same speed I get in a computer game under similar conditions. (I.e. trying to make it safely through the lap - I can achieve a faster lap time on the computer, but then I tend to crash nine times out of ten and only get the good time on the one lucky round. Which is not the proper attitude to take in a real car on the real track.)
Note: The lap time was taken from my GPS. It is probably pretty accurate (though it varies a bit depending on the point that I take as the start/end point - if I measure from the pedestrian bridge over the track, it's 2:26). The maximum speed is from the car telemetry data. There was a video from the in-car camera available and thay included telemetry data, so this is the more accurate information. (Ignore the "Best Lap Time" on the image - that is from some other driver.)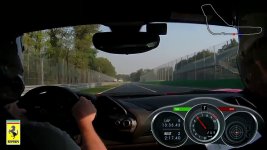 And here are some more screenshots from the in-car video. It is noticeable that I took the first chicane very carefully - while it should be driven slowly, 34 km/h is very conservative - but I took the second chicane a bit faster and had a reasonable speed coming out of Parabolica and going into the main straight. The final image is from the lap in the Lamborghini, where my highest speed was "only" 219 km/h because I thought it was just the "warming up" lap.
After I had finished my laps I spent some time in the pit lane, taking pictures of the sports cars and the Formula 3 cars going by. (Someone must also have driven the F1 car, as they had been preparing and fueling it in the morning, but I didn't see it on the track. Probably whoever had booked it had still been doing his Formula 3 car in the morning and didn't get to drive the F1 until the afternoon.)
After I left the pit lane area, I did what I had done in February - I rented a bike and drove around Parco di Monza with that to get some other views of the cars along the track and not only along the start/finish straight.
(If one of the cars looks like neither like a Lamborghini or Ferrari: There was also a company offering laps in a Lotus Exige. Not quite as fast or powerful as the Lamborghinis or Ferraris, but at much lower rates. I wouldn't have traded it for the laps I did, but if I had known about their company, I would have added have a dozen laps in the Lotus to the experience I had.)
While the race track in Monza is probably the most famous thing in the park, there's also a large golf course in it. I hadn't noticed it the first time I was there, but this time, when going around the (now mostly unused) oval race track with the bicycle, there were a large number of TV trucks and golf carts parked on it. As it turned out, the Italian Open Golf Tournament was starting two days later and they were setting up for the transmission.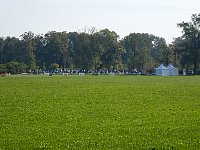 The golf tournament also explained (presumably) the large target circle I had seen somewhere through the trees. Hitting a target suspended from three cranes is (as far as I know) not part of a regular golf tournament, but I assume it was (like the driving range) part of the supplementary entertainment.
I assume that the dinosaur sculptures that were located nearby had nothing to do with the golf tournament, but were an attraction in their own right.
Time to return the bike to the bike rental station, get back to the rental car (which was definitely not the car to drive on a track - it would have probably been easily outpaced by the van) and drive back to Milano.
So what are the "lesson learned" from all this?
Best is to decide on one car, the Lamborghini Huracàn, and do three or maybe four laps with it. And if you have more time and money to spare, spend it on driving a Lotus.
Why?
Because doing a lap in Monza is not the way for experiencing what it is like driving in a supercar. If you want to know what it is like to drive a Ferrari or Lamborghini, rent one for a day and drive on the Autobahn.
I'll cost you roughly the same as four laps in Monza. (Well, that's not quite true. It's usually the "per day" price, if you rent it for a week. If you rent it for the day, you generally pay twice as much And that is assuming they give you the car. One of the rental companies is asking for around 8000 Euro deposit, which is significantly more than the limit on my credit card. So renting the car for a day is not really a "similar cost" option. But the gist of the argument still applies. Driving a car for two or three minutes won't give you a "feel" for the car.)
The only reason for driving at Monza is speed.
So if you desire to drive a car at 300 km/h or more, then you should go to Monza, take the fastest car available, and do some laps. (While the Ferrari might not do, the Lamborghini might be capable of going beyond 300 km/h, although any YouTube videos I've seen don't go above 255 km/h, so there might be some speed limiter keeping you from doing that.)
If you like to enjoy driving a supercar, rent one. And if you like to take a fast car on a racing track, then you are probably better off driving a Lotus on some other track with more corners - you will have more sections of "interesting driving" and will drive more (a lot more) for the same money.
But if you want to go faster in a car than you are likely to in any other circumstances, doing laps at Monza is the best!
Just be aware that one lap is not enough.
No, I am not really grumpy about that. I should have asked in advance. And it's somewhat understandable that they don't put it in big letters on their web site "to get the experience you think you will be getting, you have to pay at least three times as much (or even four times as much if you do one lap and then spontaneously purchase the other three)". It is not good advertisement.
But they could sell it differently. In the worst case, they could use that as an upsell on site (when customers are already committed) and then give the option of buying more laps. "You have only purchased one lap - you are aware that this is just from pit lane to pit lane?" As a matter of fact, I did buy an additional lap, but would have felt better if I had known it before the first lap I did. Or, better from a marketing point of view, they should put some 'rebate' for in and out laps. Make them 10 Euro cheaper. That won't really make much of a difference in price, but it would alert customers that you pay for these laps, while putting a positive spin on it.
I probably would have been happier if I had my first lap in the Ferrari, so that I could upgrade the Lamborghini rounds instead of the Ferrari ones. At 2 Euro/second you should walk away with a big smile on your phase instead of providing only an "yes, fine, my fastest speed in a car ever and I've been driving it myself" checkmark. (For comparison, flying a Tiger Moth comes at about 10 cents/second. Although, admittedly, that plane is significantly slower than the Ferrari was...)