Dogsledding in Canada, April 2013
Inuvik
On the plane to Inuvik, I met Constanze again, who was on last year's tour as well. She told me that we've already acquired a "mission" - make sure that a box with cooking utensils will be unloaded and added to our equipment. (It had gotten left behind in Whitehorse when packing the van...)

We were picked up by Gerry and driven to the hotel, where we joined the rest of the group. We were four clients. In addition to Constanze and me, there were Chuck (who also had been on last year's tour) and Peter (who I hadn't met before - he was on previous tours as well, but not the one that we were on). And they were four 'tour guides'. Frank Turner (experienced musher, Yukon Quest winner and organizer of the tour), Gerry (who was the local expert by virtue of essentially knowing everything and everyone in the Northwest Territories), Alan (who is a dog expert working for Frank and usually responsible for the dog yard) and finally Frankie. Frankie had a rather ominous role at first - his job was 'monitor'. For some reason it was decided that our tour should have a 'monitor' and at first probably everyone assumed that we'd get some government official with a checklist and a book of rules, disciplining and fining us every time we made moved some snow to the wrong spot. Luckily, this was about as far from the truth as it could be. In the end he turned out the hardest working guy in the whole trip and his snow shovelling and endurance and skills became near-legendary. (And I'm quite serious about that.) At the hotel we also met the other 'rest of the group', namely Aida, Gandalf, Mizu, Yuki, Jacob, Snickers, Rocket, Nutmeg, Basil, Haley, Yahtzee, Gator, Dunjeh, Sirius, Destiny, Namik, Crosby, Arwen, Nisquali, Nash, Liard, Kake, Tasman, Justin, David, Shelby, Ravel and Gimli - the dogs. Side note: Given that two of the dogs were named Crosby and Nash, I always assumed that there might be a Stills somewhere. In even looked at the dog houses at the dog yard last year, trying to find one labelled 'Stills'. Turns out that there never was supposed to be a 'Stills'. Crosby and Nash are named after sportsmen. Crosby is named after Sidney Crosby, an ice-hockey player and Nash is named after some sportsman as well (I think it was Steve Nash a basketball player, though there are also two Canadian ice-hockey players named "Nash".) The dogs were in the dog trailer, parked in the hotel parking lot.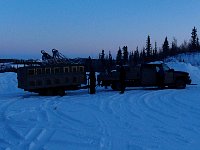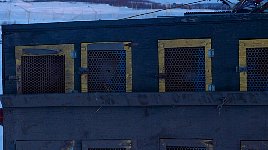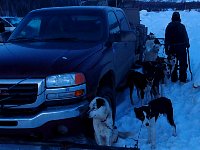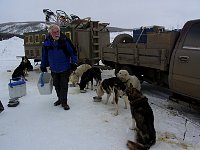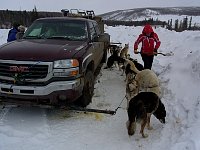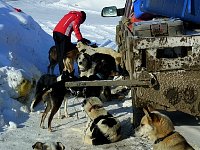 So about four times a day they needed to be taken out of the trailer and attached to the cable running alongside the trailer and the van to allow then to 'stretch their legs' a bit (and get fed twice a day). Given that the dogs aren't exactly small, that the dog boxes are on two levels, the upper ones being about shoulder high and they needed to be lifted in and out of their boxes (they were not allowed to jump to avoid injuries), this also gave us a bit of a work-out.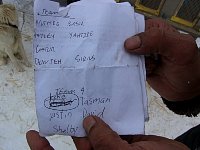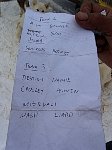 We also got our teams assigned. My consisted of Kake, Tasman, Justin, David, Shelby, Ravel and Gimli. There were some constraints on the placements of the dogs - Ravel and Shelby are nice dogs on their own, but aren't overly fond of each other, so they should kept as far apart as possible, so if Ravel is on wheel, Shelby goes in lead and vice versa. Also, David and Justin work really well with each other, so it's best to keep them side - by side. And you don't really want a single lead on these tours (if you go out on your own or race, there are some advantages to have a single leader, but on tours it's better to have two lead dogs). And a single wheel dog doesn't make much sense either. Ignoring who runs left and who runs right, this leaves 24 combinations that could possibly work. (It's hard to predict what will be the best combination, though - that's mostly up to experimentation.) I started out with this one:
| | | | |
| --- | --- | --- | --- |
| Kake | David | Tasman | Gimli |
| Ravel | Justin | | Shelby |
It was also time to get the gear sorted out and the sleds prepared - as we didn't have a formal packing list in advance, so everyone brought what they thought they needed - which might not necessary be what was needed. In my case the problem was mainly bringing too much stuff. So there was a triage to be made - stuff to take on the sled, stuff that goes in a bag that can also be put on the snowmobile toboggan and stuff that can stay behind in Inuvik. I also lacked some 'essentials' that tend to be recommended, like an LED light and a knife - stuff that make almost all 'outdoor essentials' lists, but which I never found useful. I bought a pocket knife in Inuvik, though. (And Frank lent me an LED light, which I never actually used.)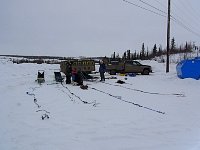 I was really fond of my sled, since it had a handle bag (which is a feature I really like, as it allows me to put in reserve gloves, mittens, neck-gaiters, face-masks, balaclava, ski goggles and other small stuff, so I can change stuff in mid-run without needing to stop the sled and rummage through the main sled bag) and also a couple of pockets on top, so I could organize necessary stuff (like the 'nightline' - the wire gangline to which the dogs are attached at night -, spare neck-lines and tow-lines, extra dog-booties and so on) and get at it quickly if needed. (For example, if a dog, after days of being well behaved, suddenly decides to chew through two necklines and a tow line.) Packing stuff also helps to figure out what else might be missing - such as two snow-hooks, which should have been there, but weren't. There also weren't enough thermos flasks around. But the weather forecast for the next day wasn't that promising anyway (it was nice and sunny, but fairly windy), so we stayed in Inuvik for another day and had some time for shopping (and getting the snow hooks sent in from Whitehorse with the next plane) and sightseeing. There was also time to find some temporary home for Snickers, who had an injury and wouldn't be part of the trip - so one of use had to go with six dogs instead of seven.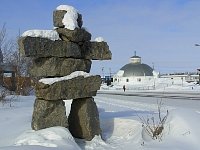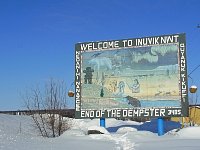 Though walking part of the Trans Canada Trail wasn't really an option. At least without snowshoes.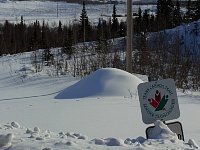 There is a DC-3 in Whitehorse that acts as a weather vane. Inuvik has something similar, but using a Cessna 170.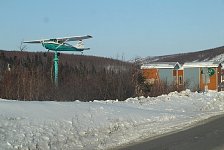 And there was some more time to socialize with the dogs and getting to know them before we got going. (Ravel had been in my team the previous year, but hadn't any experience with the others in my team.)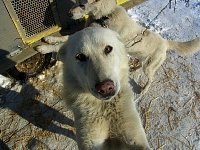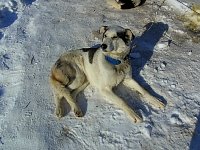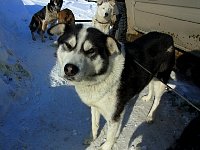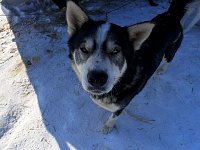 And, of course, some hanging around in the hotel lobby, being bored.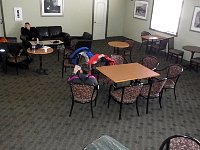 It would have been a good time for writing some postcards, but at that point there wasn't much to write about. The next day the weather was much better and it was time to actually start the trip and do some dog sledding. Although not a lot of it. As Gerry is a friendly guy, knows almost everyone in and around Inuvik and has a number of connections due to previous jobs (working for the RCMP and Canada Park), we were allowed to use two cabins along the route, so we didn't have to stay in tents all the time. And as a first stop (to sort of 'ease us into the trip') we would be staying at "Edward's Cabin". Unlike the cabin at Shingle Point, which is for general use of the NWT Wildlife Service and often unoccupied, Edward (shown below) lives in his cabin year round (unless he's out somewhere and visiting people), so the cabin is quite nicely furnished and comfortable.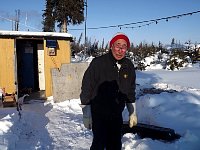 The original plan was to use the dog sleds to go from Inuvik to the cabin, but there wasn't any useable trail, so the decision was made to drive down the ice road (the one that connects Inuvik and Aklavik) to the point closest to the cabin, unload everything there and dog sled from there. The day started with an interesting sight, a 22° halo. The halo is not a lens flare, but appears like this the sky.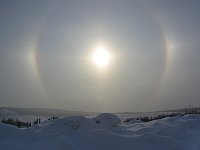 According to Wikipedia, such halos often appear a few days before a large storm front. Maybe we should have paid attention to that. But we were heading out on the ice road, so no Internet or Wikipedia for us...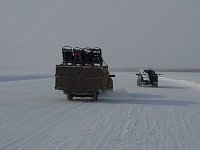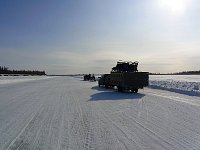 We found a convenient spot and started to unload.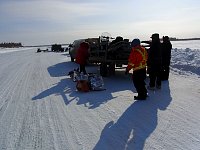 As the snow was a bit harsh (it was quite cold, so there were lots of ice crystals and not much soft snow), the dogs needed booties to protect their paws.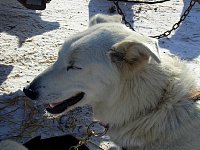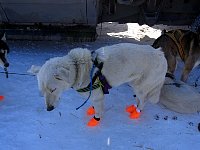 Putting on booties is the thing that takes the most time when getting ready to go on a dog sled. The most obvious reason for this is that there are four paws on each dog, while there's only one harness or dog coat. So even if everything took the same time per item, booties would still take longest. But there are some additional complications with booties. First of all, I'm not very good at them. I'm always amazed if someone is just able to grab a dog leg and slide the booties on. For me, it's always tricky to get the paw in properly without some toe or claw getting stuck in the opening of the bootie. I got a bit better over time, but it still is a slow and fiddly process. This isn't helped by the fact that you can't to booties with gloves on. To quote Frank Turner: "Even if it's 40 below, you still do the booties bare handed." As it was only about -20°C that day and the sun was shining and there wasn't much wind, this wasn't too bad on the first day, but on other days this meant that you could bootie up about two dogs before putting your hands in the gloves again and beating them against each other for five minutes to get them warmed up before doing the next dog. And while dogs like the harnesses (it means that they're going somewhere) and don't mind the dog coats, most of them are at best indifferent to booties and some really dislike them. In my team it was David who always tried to take the front booties off and got fairly good at it as well. So by the time you did your last dog, you went back to David and re-did his booties. (Well, at least the first two days - then you just don't do David's front booties until you're really ready to go and put the booties on immediately before you put him in front of the sled and just hopes he forgets to pull them off in the excitement.) But, in summary: Booties take time. Part of the first day was also spent trying to remember which dog was wearing which bootie size. The booties are colour coded (note that it's not the colour of the bootie itself that counts, but the colour of the fabric that the velcro attaches to - in the picture above Tasman is wearing blue booties on the front legs and red booties on the back legs) and as I don't have an eye for dog leg sizes (so I can't just look at a leg/paw and say "That needs white booties), I needed to take notes which booties belonged where and then started to memorize those notes. I also tried to come up with some mnemonics to remember the relative size of the booties (green booties are larger than yellow/orange booties, which are larger than blue. Next size is red and the smallest is white), but there wasn't anything useful coming out of GYBRW or GOBRW, so in the end I just remembered the five colours directly. Finally we were ready to go - the sleds were unloaded and packed, the snowmobiles and the toboggans were packed, the dogs had their coats, harnesses and booties on. The weather was fine and everyone was eager to go. After more than a year: Dog sledding time again. The dogs were eager to go and we were having fun, even though it was just a short run. Edward lives less than five kilometers from the ice road, which takes about half an hour with a dog sled. Edward did welcome us with coffee and tea and we had a relaxed evening.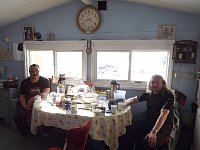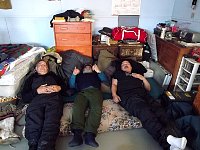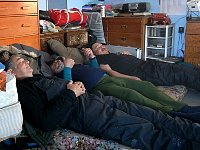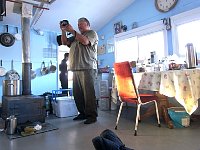 The cabin was highly convenient. It had a heating stove and kitchen stove, so melting and heating water for drinks was independent from cooking. And there was another stove in a shack nearby, so heating water for the dog food was done there. The dogs liked the place.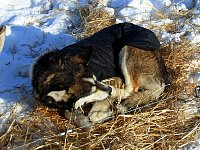 Edward had dogs of his own, which also seemed to be quite relaxed.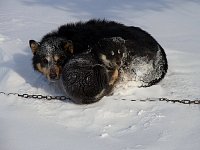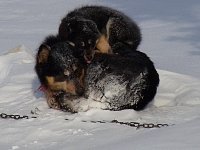 And the view across the river was great. (In good weather there are also some mountains visible near the horizon, but we weren't able to see them. We figured out why the next morning.)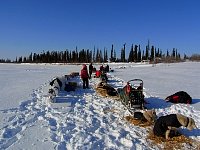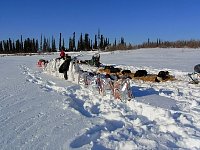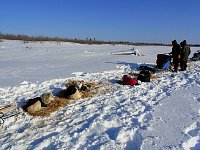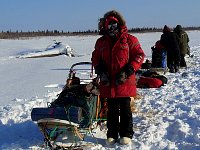 All in all, it the cabin was a pretty neat and comfortable place. Which, in essence, was the whole point. If you are going live somewhere 'out there', and go through all the effort to build a cabin there and equip it, it doesn't make much sense to pick a dull spot. You're going to look for a great location and make your home there. We liked the place so much, we stayed there for another day. That wasn't the real reason, though. The wind had picked up over night and the conditions weren't good for dogsledding, so instead of getting out and giving it a try anyway, staying for another day in the cabin seemed the better option. (The approaching bad weather was the reason for not being able to see the mountains the previous day.)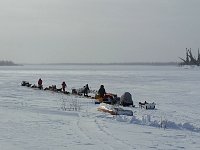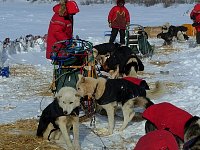 At least this gave us some time to plan the rest of the trip. So the intended schedule for the journey to Herschel Island was drawn up. We would travel to Shallow Bay (where there's a small 'pond' next to the river, which gives a bit protection from the wind - it's also a place where it's easy to find some driftwood for a fire), then take two days to get to Shingle Point, where we could use a cabin, then another two days to Herschel Island (where we wouldn't be allowed to use the cabins), stay a day there, do some resting and sightseeing and then follow the inverse schedule back to Inuvik.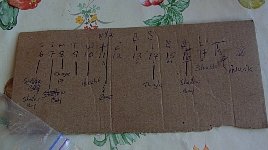 It was a good plan. But, as those things go, it was valid for about two days. Next day was a perfect day for dogsledding, though. Blue skies, not much wind, good snow conditions. Neat.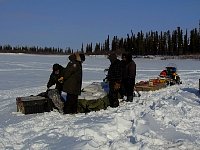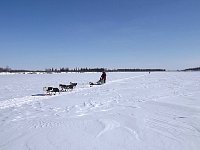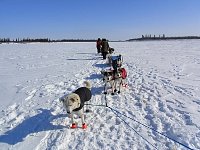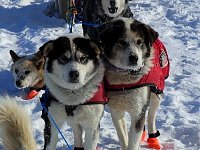 So after a nice trip of about 50 kilometers we reached Shallow Bay, put out some straw, got the dogs settled down, melted some snow and fed the dogs.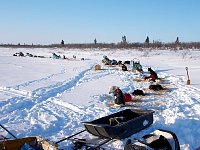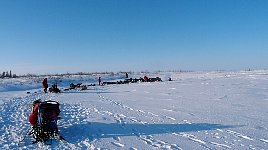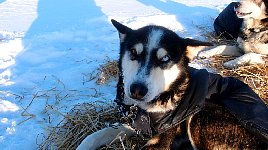 Then it was time to get some food for us.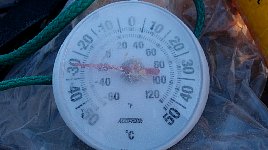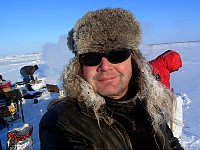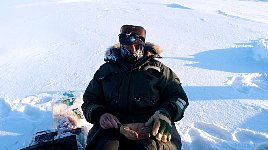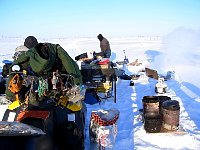 The main course tonight - steaks. Massive steaks.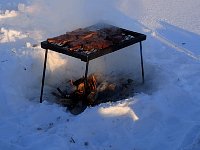 And some pasta. Eating at -30°C can be tricky, though. While the first couple of bites are fairly normal, things get cold very quickly (even if you're a fast eater) and by the time I got to the last bits of pasta, they were already frozen to my plate. It is also a good idea not to touch the fork with your lips. (It's not like it will get stuck to them, but there is a distinct 'glue-ish' feel to eating.) When setting up the tents, we noticed a problem. We had two tents, a larger and a smaller one. Usually, tents for winter camping have two walls. the outer one primarily acting as a windproof shell. (In theory, the air layer between the tents also acts as isolation, but realistically that probably just keeps the inner tent warmer for an additional minute after the heater is turned off.) At least the tents should have two walls each. But the outer fly for the larger tent had been left behind, so only the inner part could be set up. An attempt was made to tie some plastic planes together and use them as an outer fly, but that wasn't very effective.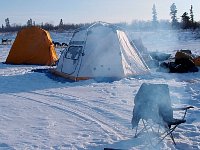 Luckily, there was no wind, so it didn't really matter much. Without wind, it doesn't matter much in these conditions whether there is an outer shell. (In summer camping, the outer fly also serves as rain protection, but that was something we didn't need to worry about.) So we were all set up and it was our first night 'camping out' on the trip. The basic idea was to have four people in each tent, but Constanze decided to sleep out in a bivy sack. Which is a neat idea. In conditions like the ones that we had, a tent doesn't actually do much. It's not warmer, it doesn't protect much against the wind (if there isn't any (or if someone forgot the outer fly]), so why not just do without it? As I've once read in a guide book (by someone who dislikes carrying a tent around) "...if you're going to spend all the time, effort, and money to enjoy the great outdoors, why not sleep in it?" (Although that passage was more about African plains than Arctic environments). And, admittedly, it was a great night for sleeping outside, as there were some nice northern lights to be seen. (I noticed them when I went out in the middle of the night and considered for a moment to get a camera and take some pictures, but as I was, essentially, out in my underwear at -35°C, I decided that it would be preferable just to note that there were northern lights and head back for my sleeping bag.)