Lofoten, October 2010
There wasn't any particular reason to go to Lofoten.
I did have a couple of vacation days that I needed to take, and due to work and meetings I didn't have much choice about the dates.
So I found myself with a week off and nowhere to go.
Since I hadn't been going anywhere at all (either work related or on a private trip) for quite some time now and no work related foreign travel was coming up for the rest of the year, I decided that I should travel somewhere and not just stay at home.
I was considering going to Norway for a weekend trip, since a Norwegian low-cost airline had been advertising cheap flights, but, as usual, once I tried to get those flights, prices are started to add up to the point where the 'budget' airline turned into a 'full cost' airline, only without the service, convenience and reliability.
And once it became obvious that I had to pay normal flight prices, going just for a weekend became somewhat impractical. And instead of 'Where can I go for cheap?' it suddenly became 'Which part of Norway might be interesting at this time of year?'
It was pretty much off-season all over Norway - too late for summer activities, so most local day tour providers had already closed and too early for winter activities, so it was clear that I would spend most of the time just walking or driving around.
Lofoten seemed like a good idea, mostly because I hadn't been there before and it was north of the Polar Circle - as I said before, there wasn't any particular reason to go to Lofoten.
I pretty much hit the week where weather turned from autumn into winter.
This meant that the place turned from wet, drenched and muddy to cold, frozen and slippery. And it suited me fine.
The trouble with Lofoten is that it's a popular destination, so while it's a great place, it's also (most likely) a crowded place. But being there off-season, the islands were pretty much (touristically) deserted (and it was also easy to see why this was the case), so instead of sharing the place with thousands of other tourists, I had a lot of them to myself.
But then again, the thousands of tourists mighty have had a chance to see more of the scenery than I did.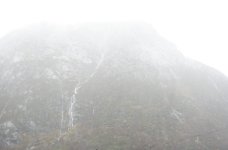 Weather was usually quite bad in the morning, but sort of mellowed a bit during the course of the day.
I was based in Svolvær and on the first day I visited places around that area, like Ørsvåg and Henningsvær.
One of the nice features of the area (not only on the islands, but also in a few of the places on the mainland) is the sculpture landscape (Skulpturlandskap), where they put some piece of art somewhere in the landscape. Usually there is some sign to a nearby parking place, but no further description (at least locally - you can look it up on their web site, of course) of what to expect.
There's only one sculpture per municipality, so they are some distance apart.
For this district, the sculpture turned out to be some curved glass box that reflected the landscape. You could also step inside the box (at least on this day - it was frozen shut three days later), but then it just felt like looking out of a window.
(Same place, three days later:)
I also walked up a local hill to have a look at Svolvær itself.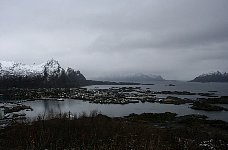 On the second day, I drove to Å at the end of the main road.
It was the second time I was in a place called Å, the first time was in Sweden, more than a decade ago.
Å has a proper 'end of the line' feeling. (Yes, formally every road that ends at some coast has that, but this is a major road, and it has a nice, ragged feeling towards the end and then turns into just a public walkway, then some soggy vegetation and mossy rocks and finally just some rocks somewhere in the drizzle and fog. (Weather helps a lot here - wouldn't be the same desolate feeling on a warm and sunny day.)
Time to turn around and head back to civilisation.
I also passed the next sculpture (of the Moskenes district), but I have to admit that I didn't find it. There was a parking lot and some very wet landscape and I walked around for a bit, but couldn't figure out what the artificial/artistic bit was supposed to be (nice landscape, nonetheless).
I only found out later that there was some 'cave' (more like a crack between some rocks) nearby and the sculpture was at the entrance to it.
But at least I managed to find the sculpture of the Flakstad district, which is, admittedly, hard to miss.
Weather kept changing a lot during the day, so at times there were some suitably dramatic looking clouds, but there was also a bit of sunshine later on.
I also did a bit of walking around, but a minor problem at this time of year is that most paths seem to be on some kind of time sharing deal with streams. So while this is a decent path in summer time, in autumn it requires fairly waterproof boots. (Or someone not caring about getting the feet wet...)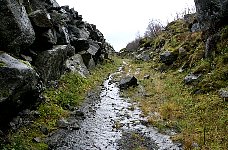 There are some boat tours that go specifically for spotting sea eagles, but you can also spot them easily when driving around. (At least I assume so - I'm no birder, so I give no guarantees that this isn't a buzzard or some deformed seagull. But it looked like an eagle to me.)
And, as a close to the day, a nice sunset.
Next day the drizzle of the previous day had turned into heavy rain, so I wondered whether it would be worth getting out at all (and waiting for the ferry to Melbu, I was seriously considering to turn around and just drive back).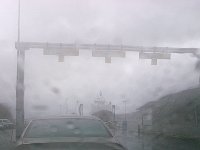 But then the rain stopped and it was actually a nice day to walk around and even see some of the scenery.
Even though, once again, some paths had turned into streams for the season...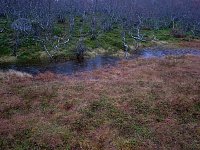 Near Teigan there was a nice, unexpected beach hut. I was wondering whether some wannabe hermit was living there, but it turned out to be (sort of) 'public domain' and you could just sign the guestbook, light a fire in the oven and relax and look out at the sea.
Another unexpected sight was the beach volleyball field in the hills above Melbu.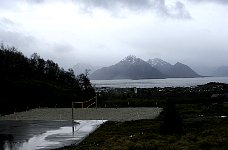 But then it was time to head down again and catch the ferry and drive back through the heavy rain, which just started the moment I got off the ferry.
Next day had lots of snow and it wasn't much fun driving around, so I didn't go anywhere, but had a relaxing day in Svolvær instead.
And since subzero temperatures seemed to be the theme of the day, I visited 'Magic Ice' in the evening.
'Magic Ice' is pretty much the result of the Hurtigruten schedule.
A big flock of tourists (well, big flock in summer, a handful in autumn) arrives in Svolvær at 18:30 and 21:00. The southbound Hurtigruten ship arrives each day at 18:30 and leaves at 20:00, with the northbound ship arriving at 21:00 and leaving at 22:00.
Which means that a lot of the tourist trade has its 'peak time' between 18:30 and 22:00. (I had been wondering why a local museum and a design shop had opening times until 22:00 until I noticed the ship schedules.)
But shipbound tourists have only limited time for excursions, since the stop is only about an hour (or 90 minutes going southbound), so the real 'town time' for tourists time' is probably more like 45 minutes.
Hence an attraction is needed that is right next to the pier (preferably at the pier), can handle a reasonably large amount of tourists in a short time and takes less than half an hour to experience.
So they took an old fish-freezing plant, put in a number of ice sculptures some mood lighting and a bar and called it 'Magic Ice'.
I went in around 20:00 (just when the southbound ship was leaving outside), so I had the place to myself for about an hour (a bit less, since obviously nobody expected a visitor at that time and I needed to find someone to sell me a ticket and a drink and let me in...)
The whole place had a bit of an uncoordinated feeling - it seemed a bit like they just got a lot of ice sculptures and crammed them into one room. No overall theme, style or structure.
But quite a nice collection of different things, from ice engravings and projections to soft, almost feathery looking snowy shapes, to big 'classical' ice sculptures - some reasonably detailed, some looking more like arbitrary blocks.
Something that was very interesting to notice was how much flash photography killed the 'magic'. While the 'primary colours' light choreography looked a bit 'Willy Wonka' (and reminded me a lot of an exhibition of ice sculptures I've seen in Berlin), seeing it in pure white light made things look quite bleak.
On the other hand, with the available light, it was sometimes difficult to see the shapes clearly.
But it was great to have such a 'magic' place to myself for almost an hour, so it was well worth the visit.
Next morning the snowing had stopped and there were nice, blue skies, fresh air, great views and rather icy roads. So I drove to so I drove to Unstad. (No particular reason, except that it's supposedly "one of the most beautiful views in Lofoten" and (as unlikely as it sounds) a surfers' paradise - which I don't really care about, since I don't surf, but at least it was a mark of distinction for this place.)
Surf surely wasn't up when I got there, but it's easy to see how, with a bit of wind from the right direction, waves could pile up in the bay to reasonably heights.
But Unstad was an arbitrary destination anyway. The real point was just to drive around, stop whenever a place looked nice, take a couple of pictures, walk around a bit, step lightly due the fact that mushy landscapes had turned into icy terrain, look at icicles and just enjoy the day.
And it was quite important to take it easy and, specifically, go slow, since the roads were somewhat icy (this was one of the rare times where I was happy that the roads were pretty much empty, so I could go way below the speed limit and not annoy anyone else).
Though the driving was still carefully watched by some...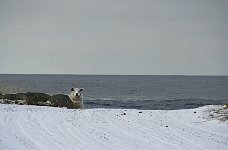 I also managed to miss another sculpture that day. I drove to Eggum and found this structure and assumed it was part of the sculpture landscape.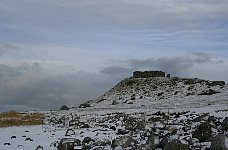 It turned out that this actually was an old radar station from WWII. It was a bit tidied up, so it didn't look all-concrete and ugly, but I couldn't determine whether it was built that way originally (to hide its purpose) or whether it was originally just the concrete structure underneath and the stones had been added later to improve the look.
The actual sculpture (a head that showed different profiles depending on which side you were looking at - a bit like the sand sculpture I've seen earlier this year) was a couple of hundred meters further down the road, but I only found about that later when I looked up the Skulpturlandskap web page.
But it didn't really matter. It just gave me some point to drive to and enjoy the landscape on the way and whether I did see the sculpture didn't matter much.
And while it still was a ten days early, there was a nice Halloween-y sunset that day.
And then it was almost time to head home again. I had an early afternoon flight, so I had some time to visit the aquarium in Kabelvåg.
I had a stop-over in Bodø, so I had some time to visit the local aviation museum.
Which turned out to be the most impressive museum of this kind that I've seen so far. They have a nice mixture of "hand's on" exhibits to explain the principles of flight (and even flight simulators, but they are more 'funfair style' than the 'flight training' sort), a good overview of the history of flight in Norway, quite a lot of background information about other flight related stuff (like air traffic control - they even got a proper air-traffic-control tower looking out over the Bodø runway), which is usually underrepresented in other museums, and also an interesting collection of airplanes, with some of them presented in kind of oversized dioramas.
They also have, for some strange reason, a hall of mirrors (probably they just needed to fill some empty room somehow).
The 'tower' control room has a bit of an 80's kind of look and feel to it, but it's fun to sit there and see the real planes taking off. (Unfortunately the air-traffic radar just shows some pre-recorded information - not sure whether that's for some silly security reason or whether current data streams just aren't compatible with the equipment anymore.)
The main exhibition is divided in two separate areas, civilian and military aviation, but for some reason, the U2 'Spy Plane' (or 'high-altitude reconnaissance aircraft' as the exhibition has it) is in the civilian aviation hall. (The reason for having that in the exhibition, by the way, is that it was stationed at Bodø and the famous one that was shot down over the USSR in 1960 was supposed to land in Bodø)
For the military part of the exhibition, at least I got a new candidate for the ugliest looking plane I've ever seen, the "Consolidated PBY-5A Catalina". (There wasn't any good place to take a picture of the whole plane, since too many stuff was in the way, but it pretty much looks like someone build a fuel tank and started to add bits, pieces and extensions until it looked like a flying toad with warts.)
At that point, I was pretty much rushing through the museum, since it was close to closing time, so I didn't see much of the military stuff (which mostly suited me fine - I would have liked to spend at least two hours more in the museum, but in the tower and the civilian part).
But it was kind of strange to see a Tiger Moth hanging from the ceiling - presented like this, it really looks like a museum piece (which it, admittedly, is) and it was odd to remember that it was just a bit more than a year ago when I was a passenger in one.
And that's about it. I just had some more time to walk around, see a bit of Bodø, enjoy the nice weather, look at the scenery around Bodø and watch the sunset (by then, the weather started to turn a bit cloudy again).
Next morning it was time to get to the airport proper and fly home.
(And while I'm aware that this is mainly a photo collection with an "I went there, looked around and then I went there and after that I went there." kind of description, that was essentially what I did on this vacation. Just relax and get around - no exciting or strange activities at all...)
---