Stampe SV-4 birthday flight
I have been on a sightseeing flight with an Antonow AN-2 to celebrate my 40th birthday. So after being on a biplane on the first two-digit birthday starting with a '4', it seemed sensible to be on a biplane on the last birthday starting with a '4' as well.
And while 40 is a round number, 49 isn't, so obviously, it had to be a smaller plane.
Which is all plausible, and sounds well planned, put it really was a coincidence that it happened that way.
It sort of started back in 2002 when visiting Bryce Canyon. They offered sightseeing flights in an open biplane. But I was there in late March and the plane was still stowed away for winter, and there weren't any flights before April that year.
Then, in 2004, I was in New Zealand and they offered sightseeing flights in an open biplane in Rotorua, but that somehow failed to happen (I had asked by e-mail in advance and everything seemed to be ok, but in Rotorua nobody answered the phone and there was nobody in the office at the airport.)
In 2006, I tried to find a biplane closer to home. I got into contact with someone who offered sightseeing flights and, luckily, he we going to an airport reasonably close to me a couple of weeks later. But then there was a time of rather bad weather (and open planes are really no fun to ride in rain, storm and lightning), so that was cancelled.
So I tried again this year.
And it turned out that there's a Stampe SV-4 located reasonably close to home and there was the chance of a sightseeing flight. So I asked about possible dates and it just happened that the suggested date was my birthday.
So while it might seem that it was all part of a clever plan, it really just happened by chance.
Though at first it might (once again) not work.
When I arrived at the airstrip, there was no Stampe in sight.
Not much of a problem, since it landed about five minutes later.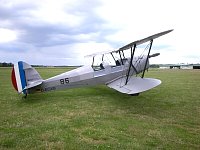 But then it started to drizzle and the pilot moved the plane to the hangar.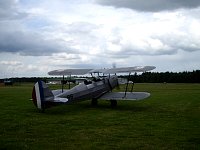 End of flying for the day?

But the plan was just to have a coffee and wait until the rain cloud was gone, which happened about half an hour later.

So the plane was pushed out of the hangar again and we were ready to go.

Though, looking at my face after boarding the plane and strapping in, it seems that I was still a bit sceptical...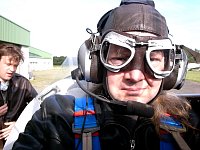 But after a short run along the grass runway, we were airborne.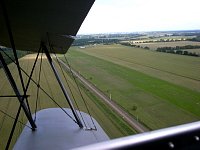 And I was looking much happier already...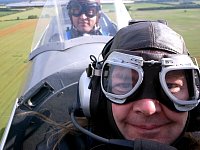 Something that always surprises me in small planes is the short distance they need for take-off. While commercial planes usually run down almost all of the runway before they finally lift off, small planes only need a comparatively short roll. And with a biplane, it seems even more extreme, since the take-off speed is quite low due to the large wing area in relation to the weight. So for the Stampe, it didn't feel like a driving on the runway at all, it pretty much seemed like driving up a hill - the plane was starting to climb almost the moment it picked up speed.
The other interesting thing on start is that you don't see where you are going. Even in the front (passenger) seat, the engine is in the way, so you can't see the ground in front of you. And the pilot behind you sees even less. So when taxing to the runway, you have to look left and right and try to stay somewhere in the middle of the lane. And then hope that the runway is really empty when you start, since they could drive a truck in front of the plane without you noticing.
Once the plane is airborne, the tail lifts up a bit, the plane levels out and you can see what's in front of you.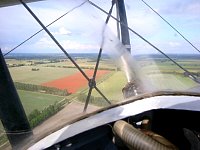 There were two fields with lots of poppies in bloom, so they were a nice colourful splash in the landscape and a useful navigation aid.
Since the Stampe was mainly constructed as a 'trainer' plane, most of the instruments were replicated in front of the passenger seat as well. Since the instrument panel is rather small, I was even able to follow most of what was going on. The big three instruments are speed, altitude and altitude change. The more modern looking one in the middle is speed (again) and total hours of flight (a planes equivalent of an odometer), though in this case it's probably just "flight time since the instrument was built in".
There was also engine speed on the far left. In addition there were two more instruments 'outside' (attached to the 'hood') for engine temperature and oil pressure.
So, except for the altimeter and altitude change part, it was pretty similar to a car panel.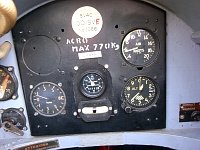 Since the plane was a trainer plane, there was also a yoke and steering pedals in front of me (and the throttle to my side), so I had to take care where to put my feet and not to grab anything unthinkingly in a moment of excitement...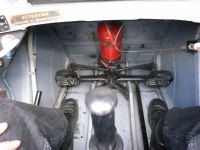 The red steel bottle, by the way, is not the fire extinguisher, but the starter. (Unless I mixed up something during the explanation.) The engine is not started with an electric starter, but with air pressure. Once the engine is running, air is pressed into the steel bottle to have enough air pressure for the next start. (If air pressure is lost, the propeller can also be started by hand, of course.)
The flight itself went in a few twists and turns over a couple of fields.
Then passing by the small village of Kienberg.
Then we passed a couple of large broadcast antennas. I never heard about them, but Nauen has a big history of broadcasting (starting back in 1903) and, as far as I can find out, they are still used for short wave broadcast of the international 'Deutsche Welle (DW)' radio program. (Which is a bit like the German equivalent of the BBC World Service.)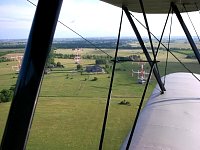 And then it was already time for the last big turn and to head back to the airstrip.
Just one more small circle over a couple of trees (just for the fun of it - the turning radius of the plane is surprisingly small) and we were heading for the landing.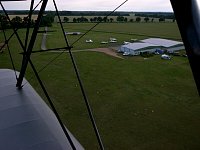 Some short taxing to the restaurant at the side of the airfield, and the trip was over.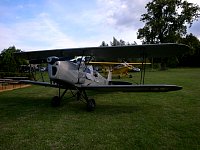 Time for a coffee and watching the plane get ready for another flight.
The flight path itself looked like this: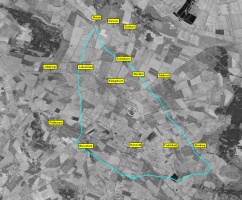 If you want to look at it in Google Earth, use this KML file.
A couple of numbers:
Flight time 18 minutes, distance 42 km, maximum speed about 180 km/h, maximum altitude over ground 730 ft (230 meters),
Flying in an open biplane was as much fun as I had hoped it would be. The flight was surprisingly smooth. I had expected a much rougher ride. But while the plane was certainly being blown about by the wind a bit, it was more like going on a swing, with very gentle motions, unlike the 'driving a car over an uneven field' feeling you get when a large airplane hits a turbulence.
Since it was early evening by now and the restaurant was nice, I stayed for dinner, when a surprise came up. There was another biplane coming in, though this one was a lot bigger than the one I just had flown in.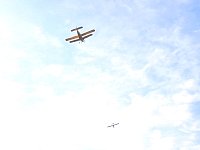 A guy from Denmark was coming in with his Antonow AN-2, being on a family vacation with his wife, kids and airplane.
I just read about him and noticed that he's a pilot for Air Greenland. So I might have been a passenger with him as a pilot once, but I didn't know that he worked in Greenland, so I didn't get to chat about the place.
But anyway, even though that wasn't planned at all, sitting there, having dinner next to an Antonow AN-2 in the sunset, somehow made a nice link from the Stampe SV-4 biplane flight on my 49th birthday to the Antonow AN-2 biplane flight on my 40th birthday and a fitting closure to the day.
---