Australia (Sydney, Tasmania) and New Zealand - 2003/2004
New Zealand - North Island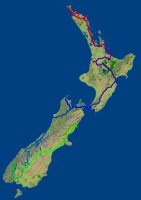 The Lord of the Rings Films were made in New Zealand. In case you didn't know that and still went to New Zealand, Air New Zealand made sure that you would know. They had a couple of their planes painted with motives from the movie. I happened to be in the Arwyn/Eowyn airbus on the flight from Sydney to Auckland. (My flight from Hobart was via Sydney.) In case you didn't notice when you came in, they distributed special commemorative postcards with the image on it. (Supposedly you could only get these postcards if you were on the plane with the same image.) They had a 'making of' trailer for the movie as part of their video entertainment and on one of the audio channels was a 90 minute special interview programme about the Middle Earth and New Zealand. (When I flew out of New Zealand in January they also had these little covers they put on the head rest of the seats printed with "Return of the King" logos.
Given that "Return of the King" started its regular run in the cinemas the day before I came to New Zealand and that for more than two years almost any report you heard in Europe about New Zealand was somehow connected to the Lord of the Rings movies, combined with the advertising onslaught by Air New Zealand, I was kind of worried that New Zealand might have turned into some Lord of the Rings theme park. Fortunately, this turned out to be not the case. Actually it were only Air New Zealand and New Zealand Post who had big advertising campaigns featuring stuff from the movie (and I really liked the ad for the Gollum stamp "If you want to send something precious"), but otherwise there was very few Lord of the Rings related stuff to be seen. Yes, there were a couple of tours going to places were the movie was filmed, but you didn't notice much outside the tourist info places. So New Zealand itself was relatively unspoiled by the movie.
The first thing to do in Auckland was to have a bit of an overview of the place, so I went up the Skytower to have a look.






In the afternoon I went sailing. Well, sort of. The basic concept was intriguing. To sail on a really fast racing yacht. In Auckland there are two racing yachts originally built for the America's Cup race that you can ride on as a passenger (and help out on the winches). Now I normally don't care much about sailing, but the idea was that if you're going to go sailing at all, you should start at the top. And that there would probably never be the chance to go on a sailing ship of that capability ever again. So I went for a ride.
Only to find out an obvious truth I hadn't noticed before: However sleek, high-tech and well designed a sailing yacht might be, it won't go faster than the wind. Which means that with a wind speed of about 9 km/h, the actual 'racing speed' of the boat was about 6 km/h, which means that any rowboat could have easily overtaken it. While it were two pleasant hours cruising through Auckland harbour (and you could tell that you were in New Zealand since the harbour bridge had a warning sign telling you to beware of bungee jumpers), it wasn't any kind of a speed thrill.



Before driving north the next day, I went for a visit at "Kelly Tarlton's Antarctic Encounter and Underwater World", which is a big name for a pretty small attraction. It has a replica of Scott's hut, a small colony of king penguins in a freezer room (which is interesting, but you can only watch them closely from a sort of closed box with windows, moving on a track, so you just get a short view and that's it) and a tunnel through a large fish tank (similar to the aquarium in Sydney). And that's it. Nice for a twenty minute walk-through, but not much more.




After that I drove north from Auckland to Paihia at the Bay of Islands, having the standard tourist stop in Kawakawa.
Which is the public toilet.
It seems a but strange, but the toilet was designed by Friedensreich Hundertwasser, who lived in New Zealand for a while. It's rather unusual, but actually it fits his artistic style, which usually includes a lot of ceramic tiles anyway, quite well. It is however slightly irritating if you're actually using it for its intended purpose to have people telling you to hurry up so they can take a picture...





In the late afternoon I got a bit of the speed thrill I hadn't got on the racing yacht. A bit outside the Bay of Islands, there's a rocky island sticking out of the ocean which has a natural tunnel through it. This is a popular attraction and there are two companies offering jet boat rides to the "Hole in the Rock". I went with "Mack Attack". At more than 70 km/h through the bay, it's a jet boat catamaran that's moving seriously fast for something moving on water. The ride to the rock is a bit rough. At first it's like going over a cobblestone road at speed and then, when you leave the bay and head out to the open ocean, it's more like going over a road with large potholes. But fun. The trip through the hole itself was a bit of a letdown, though. The jet boat was waiting outside the hole, engines roaring, waiting for the right moment in the ups and downs of the waves, like an animal ready to pounce - and then it slowly drove through the hole. Everyone expected it to rush through at speed, so just having a leisurely glide through it was anti-climatic. But after that it was a fast ride again, back to Paihia. Not much variety, basically just a quick trip to the "Hole in the Rock" and back, but my first ride in a jet boat.




Next day I headed even further north, but this time not on my own. I wanted to go to Cape Reinga, on near the north end of New Zealand, but since this included driving on unpaved streets and also because part of the attraction is driving down Ninety Mile Beach, where you can't go with rented cars, I went on a bus tour. The tour was great, the only drawbacks being the various 'commercial stops' on the way (first for breakfast, then for icecream, then at a wood craft shop, then at a fish'n'chips shop and a fruit stall, but all were reasonably ok and not overly tacky) and the fact that all bus companies seem to have the same schedule. I had selected the smallest bus to avoid big crowds, but we arrived at all attractions along the way about the same time when the big busses were there, which sort of defied the purpose.
But even with a hundred tourists around, Cape Reinga looks good. And most of them stay around the lighthouse anyway, so if you walk down a path for a hundred meters, you're almost alone again.







After Cape Reinga, the next stop was at a small bay nearby for some pictures and lunch.




And on to the active fun part...
We stopped at a large dune on the north end of Ninety Mile Beach and the bus had a number of sandboards in the back. It doesn't show much on the pictures, but the dune was quite high and, especially looking down, seemed dauntingly steep. Almost everyone (who, like me, had never done that before) got on their boards and said "I'll be breaking with my feet all the time and go slowly", which held true for about two seconds going downhill before everyone noticed "This is not scary at all, this is fun!" and sped down.


After that the bus went all the way down Ninety Mile Beach. This time it stopped away from the other busses, halfway down the beach, so there was an empty beach to both sides as far as the eyes could see.



Next day I went sailing again.
Which is unusual for me. I don't really like ships and boats as such. This might sound strange, given the number of times I am on ships during vacations (especially this one). But that's because I want to go to a specific place or see some interesting things on the way or because there's something special about the boat (like it being a fast racing yacht or a jet boat). And I don't mind being on boats, since I don't get seasick. But going sailing just to be out on the water? I don't do that.
And the irritating thing is that I enjoyed it. Having a lazy day during a vacation. What an odd concept...
In effect, it was a coincidence. The company that operates the America's Cup racing yacht also has a sailing catamaran in the Bay of Islands. And since the sailing trip in Auckland was a bit slow and it was reasonably windy in the Bay of Islands and because the catamaran looked "like it was going fast even when standing still", I wanted to go on the big cat. Which didn't sail that day due to maintenance work. So I wanted to get onto another big, sleek racing catamaran. Which was fully booked that day. So the tourist information suggested another sailing catamaran. That was much smaller and a bit less sleek, but had free spaces. ()Lots of them, actually. While there can be up to 16 guests on a trip, there was only a group of five, so it felt more like a family outing than a tourist trip.
We went sailing somewhere across the Bay of Islands, mostly following the wind, then we spotted a couple of dolphins and sneaked up to them (it's not really the dolphins that required sneakiness, but more the other ships - you need a dolphin watching licence if you want to go close to the dolphins and if you haven't got one, you sort of need the dolphins happen to come to you).





After a morning of sailing, we headed for Urepukapuka Island. The island is on the 'outside' of the Bay of Islands, so one side is towards the bay and the other side towards the open ocean. Although it probably doesn't make any sense geologically, the island looks appropriately. Flat and slightly rounded green hills on the 'calmer' bay side and steep rocky cliffs on the 'rough' ocean side. With the ship anchored in the bay we went around the island, had boxed lunches and went walking further around the island until we came back to the boat. One interesting sight along the way were odd spider webs. Instead of spinning 'traditional' round webs, the spiders built sort of 'web bags' around bits of plants. This looked especially impressive on one plant that must have had a lots of spiders in it (or one very busy one) and was almost completely covered in spider silk.
Going back to the boat the water in the bay was even warm enough for swimming, so I went for a bit of a swim. (Which I never do. The last time I went swimming somewhere was in a volcano lake in Iceland. And I have no idea when I went for a swim the last time before that. But here I went a swimming just for the fun of it. I was really getting into vacation mode. Odd thing.) After that it was time to sail back to Paihia (well, mostly, since two on the boat needed to catch a bus, so part of the return trip was motor driven to save some time).





Next day I had to drive back to Auckland, but in the morning I had still some time to go out on the Bay of Islands. There was a small company renting jet skis, and since I had enjoyed riding on a jet ski on Lake Powell, I wanted to have a go. It did take a while until I could actually go, since they weren't quite sure whether they should rent out any jet skis at all that day. The tide was coming in as well as a wind blowing in from the sea, which made the water in the bay a bit 'bumpy' (which didn't matter much to me - I assumed that it would be more fun to fool around on a rougher sea anyway) and also brought in some floating debris and they were worried that the jet ski might get damaged and it would be difficult to get it repaired during the Christmas season. After sitting around at the beach for half an hour or so the wind calmed and I did some jet skiing, which is a great way to start a day and really wake up.
On the way to Auckland I stopped at the Kaiwiti glow-worm cave, the first of the glow-worm caves I visited in New Zealand. It's a 'walk-through' cave, so you enter at one side and through another exit, walking back to the car on a bushwalk track. Not overly crowded, tours more or less 'on demand', and quite a lot of glow-worms. Good stopping point.
Then it was back to Auckland again.


Next day I drove to Pauanui on the Coromandel peninsula. Didn't do much in the Coromandel region, since it's mostly an area for forest walks and it was raining most of the day. It got better in the afternoon, so I did at least some walking along the beach.



It was kind of odd walking along the beach, which had little to do with the beach, but more with the date. It was the 24th of December, and it was around 5pm. Which means that it would be the time for Christmas celebrations back home. While friends and relatives would probably sit somewhere near a candlelit Christmas tree, I was walking along the beach, enjoying the sun and watching people on jet skis. Not a bad way to spend Christmas Eve. But a bit untypical for me, so it felt strange.
Onwards to the next part about New Zealand, starting with Rotorua.